More than 130 cash bidders from South-East Queensland fought for a slice of Caloundra in an $18 million plunge on the family holiday favourite.
In a pre-Christmas real estate binge, buyers descended on Ray White Caloundra's latest in-room auction.
In less than two hours, 15 properties sold with a total of $18,179,500 changing hands.
The Ray White Caloundra Group managing director Andrew Garland was not surprised by the interest.
Mr Garland said many of the 131 bidders had fond memories of family holidays in the area during their youth.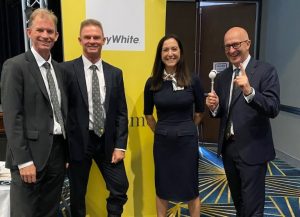 It wasn't just the waterfront homes of Moffat and Dicky Beach that were drawing in the big auction numbers.
Lesser-known suburbs like Battery Hill and Caloundra West also saw considerable interest.
A pale brick, partially refurbished, three-bedroom, two-storey house at 11 Saracen Street in Battery Hill passed the $1 million mark.
Listing agent Tom Garland said the 13 bidders saw value at around $900,000.
"But they then went head-to-head to pay $1.020 million," he said.
Elevated and catching the ocean breezes with the beach only a short walk away, he said the key attraction of Battery Hill was it was beachside of the Nicklin Way.
The buyers were a Brisbane couple who grew up on the Sunshine Coast, went to Brisbane to work, but will now return to bring up their family on the Coast.
"The neighbouring suburb Dicky Beach has an average price of $1.3 million," Tom Garland said.
"Battery Hill has followed in behind. It's now considered affordable real estate."
Caloundra West's 6 Galway Street, a four-bedroom low-set house (pictured below) that was a deceased estate sale, attracted 12 bidders.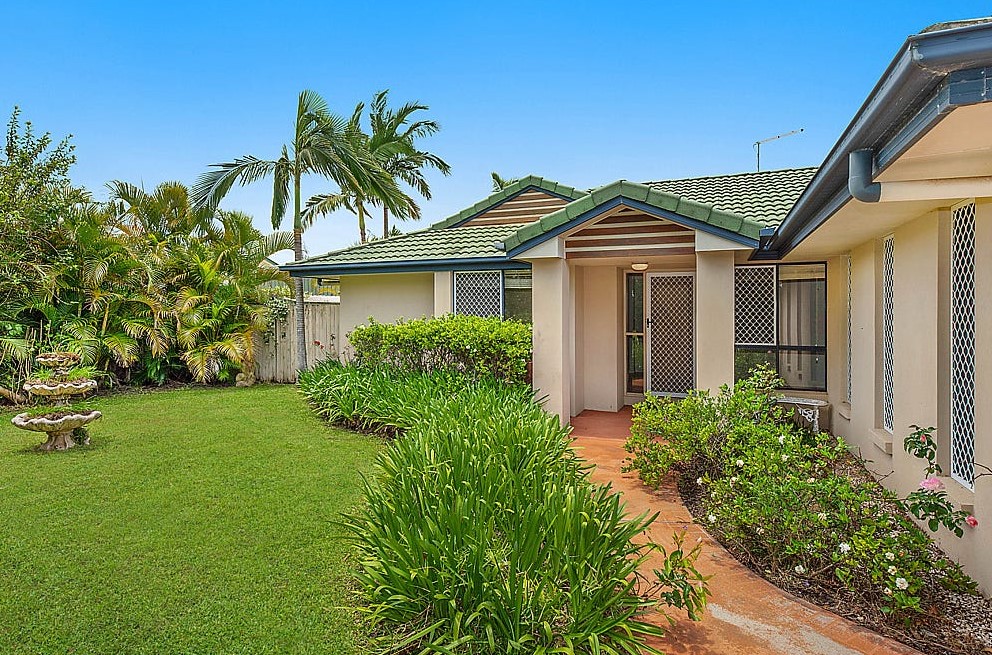 They were looking for value in a good location and willing to spend upwards of $40,000 to refurbish the original condition home.
"The buyers recognised they couldn't buy a 650 sqm block with a large four-bedroom home for $760,000 anymore," Tom Garland said.
"In today's market, a beautiful home, fully refurbished is going to be worth between $880,000 and $900,000 in the same area."
With a family in tow, the local buyer saw Galway Street as his last chance to buy an affordable property.
Of the 16 properties under the hammer at the in-room auction, there was an outstanding 131 registered bidders. Online there was also 40 plus people watching via Zoom.
Fifteen of the properties were sold under the hammer.
"There were a lot of outstanding results. Number 18 Stewart Way in Shelly Beach sold for $2.3 million and 23 Grigor Street in Moffat Beach sold for $1.61 million – both incredible prices," Andrew Garland said.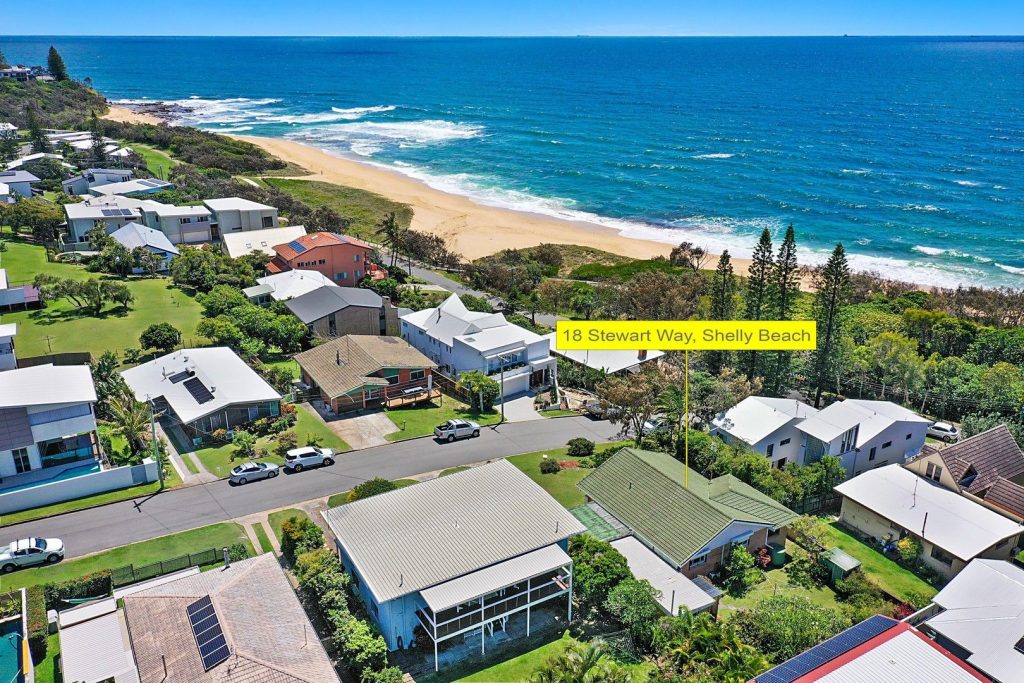 "The prices are still going up."
The atmosphere at the auction was electric. Some of the properties had 15 registered bidders vying for their possible new home.
The three-bedroom house at 18 Stewart Way had an extraordinary 27 registered bidders. It achieved the top price of the morning.
There were a couple of people who bought their property sight-unseen while others came to buy one and walked away with another.
"The people who bought 11 Cooroora Street (Dicky Beach) had hoped to buy 18 Stewart Way but missed out and ended up buying Cooroora Street.
Ray White Caloundra in-room auction results:
Lot 1 – 18 Stewart Way, Shelly Beach SOLD for $2,300,000
Lot 2 – 6 Galway Street, Caloundra West SOLD for $760,000
Lot 3 – 23 Grigor Street, Moffat Beach SOLD for $1,610,000
Lot 4 – 29/1 Raleigh Street, Golden Beach SOLD for $1,400,000
Lot 5 – 11 Saracen Street, Battery Hill SOLD for $1,020,000
Lot 6 – 17 Cooroora Street, Dicky Beach SOLD for $1,380,000
Lot 7 – 9/4-6 Orvieto Terrace, Kings Beach SOLD for $1,725,000
Lot 8 – 52 Blaxland Street, Golden Beach now listed at offers over $1 million
Lot 9 – 11 Coonowrin Street, Dicky Beach SOLD for $1,320,000
Lot 10 – 17/40 Esplanade, Golden Beach SOLD for $900,000
Lot 11 – 8 Pinaroo Street, Battery Hill SOLD for $880,000
Lot 12 – 13/38a King Street, Kings Beach SOLD for $670,000
Lot 13 – 5 Kuthar Street, Pelican Waters SOLD for $1,540,000
Lot 14 – 2/45 Chestnut Crescent, Caloundra West SOLD for $560,000
Lot 15 – 1/88 Bells Reach Drive, Caloundra West SOLD for $564,500
Lot 16 – 15 Undanbi Place, Pelican Waters – SOLD prior for $1,550,000
Adelaide buyer triumphs in Kuluin
Situated in a tranquil Kuluin location, 14 Taree Court caught the eye of an Adelaide relocator couple who fought off two other bidders.
Bidding started at $700,000 and moved quickly up with the final bids moving in $5,000 increments to finally sell under the hammer at $800,000.
Listing agent Jason Burns of First National Riverside said the buyers were from South Australia.
"We consider the price very fair," Mr Burns said. "Both the sellers and buyers are delighted."
Mountain Creek demand
Listing agent Jodi Price of Ray White Mountain Creek said the auction of 65 Karawatha Drive in Mountain Creek was one of those events that can only be described as brilliant.
Bidding started at $1.2 million with nine registered bidders chasing the three-bedroom house.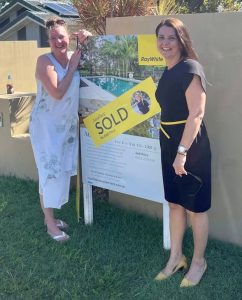 Right to the time the hammer came down there were four active bidders. It sold well over the reserve for at $1.305 million to a local buyer.
"There were 39 bids in all," an ecstatic Ms Price said.  "It was a great outcome for the owner."
Lucky Buderim buyer
The lucky buyer of the three-bedroom home at 29 Golf Links Road in Buderim came armed with what he needed to secure this prized property.
Listing agent Brenden Southey from Prime Property said there was plenty of pre-auction interest and a large crowd in attendance, but only one bidder took the sale to under the hammer for $1.130 million.
"There was a quite a number of other parties that couldn't buy at auction," Mr Southey said. Without their finance pre-approved these hopeful buyers were waiting to see if the property would pass in and a sale could be negotiated afterwards he noted.
MORE AUCTION RESULTS:
58C ALFRISTON DRIVE, BUDERIM
SOLD UNDER THE HAMMER FOR $1.230m
4 Bed, 2 Bath, 2 Car, Define Property, Scott Henshaw
3/17 AMAROO DRIVE, BUDERIM
PASSED IN AT $889,000
3 Bed, 2 Bath, 2 Car, Ray White, Robert Horne, Sally Horne
11/59 BUDERIM PINES DRIVE, BUDERIM
SOLD UNDER THE HAMMER FOR $473,000
2 Bed, 2 Bath, 1 Car, Define Property, Ross Cattle
2 MILJEE COURT, BUDERIM
SOLD UNDER THE HAMMER FOR $1.025m
3 Bed, 2 Bath, 4 Car, Ray White, Kylie Kis
16 CAMDEN WAY, MAROOCHYDORE
SOLD UNDER THE HAMMER FOR $955,000
5 Bed, 2 Bath, 3 Car, Ray White, Rowan Woodbine
2/16 DULIN STREET, MAROOCHYDORE
PASSED IN AT $700,000
3 Bed, 2 Bath, 1 Car, Ray White, Sarah-Louise Anderson
13 MYOORA COURT, MINYAMA
FOR SALE. OFFERS OVER $3m
5 Bed, 3 Bath, 2 Car, Next Property Group, Richard Scrivener, Loren Wimhurst
40 BRENTWOOD AVENUE, MOOLOOLABA
SOLD UNDER THE HAMMER FOR $2.1m
5 Bed, 3 Bath, 2 Car, Ray White, Taylor Sierp
62 BRENTWOOD AVENUE, MOOLOOLABA
PASSED IN AT $1.230m. UNDER NEGOTIATION
4 Bed, 2 Bath, 2 Car, Define Property, Ross Cattle
15 MONDARRA CRESCENT, MOOLOOLABA
PASSED IN. OFFERS OVER $2.795m
5 Bed, 3 Bath, 3 Car, Next Property Group, Richard Scrivener, Loren Wimhurst
10/95 PARKYN PARADE, MOOLOOLABA
PASSED IN AT $2.150m. UNDER NEGOTIATION
2 Bed, 2 Bath, 2 Car, Define Property, Grant Whisker
15 HUNTINGDALE DRIVE, NAMBOUR
SOLD UNDER THE HAMMER FOR $550,000
3 Bed, 1 Bath, 1 Car, Ray White, John Bartsch