A Sunshine Coast man who lost his sister to melanoma is hoping for a record number of people joining Australia's Biggest Bakslap.
After Tess's heart-breaking death in 2012 from inoperable melanoma in the middle of her back, Raph McGowan learnt that was one of the riskiest areas of the body.
He created Bakslap in 2017 to promote sun safety and this year hopes to set a world record for the number of people applying sunscreen within a 24-hour period, aiming for 5000 participants.
This year's event will be held online on December 12.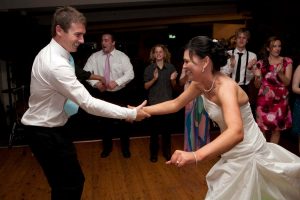 "I didn't want Tess's death to be in vain and after doing a lot of fundraising and research we found that getting sunburn on your back is the most at-risk place for developing fatal melanoma," Raph said.
"With skin cancer numbers on the rise, particularly in South East Queensland, we are constantly working to raise the awareness of sun safety and this event is an easy and fun way for people to participate.
"The event has grown and grown over the past three years and to help manage logistics in the current Covid-19 environment, we've taken it online so we can get more people to help spread the word about sun safety as we head into the summer period.
"The previous record was set last year when 3,190 people participated so we are working hard to reach more people so we can achieve our goal."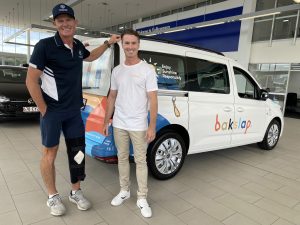 Over the past five years Bakslap has increased its distribution to over 80 retail outlets across most states and is also sold in Singapore and the USA.
More recently Bakslap has formed a partnership with Cricks Volkswagen Sunshine Coast, where Raph recently took possession of a brand new Volkswagen Caddy Van with Bakslap branding to help promote sun safety.
Cricks Volkswagen Sunshine Coast dealer principal Dean Stuart said having lost a colleague to melanoma in 2017 it was an easy decision to partner with Raph and the Bakslap brand in helping spread the word on sun safety.
"This initiative with Australia's Biggest Bakslap takes the sun safety message all over the country which shows where a simple idea can take you.  And for Raph, we know the new Volkswagen Caddy Van will help make the journey he is on even easier," Dean said.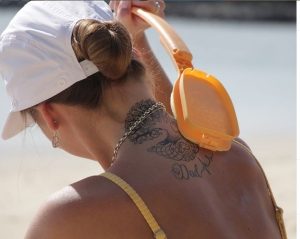 Raph said he was thrilled to have the support of such an iconic, family owned brand like Cricks to help promote my message about sun safety.
"The new Caddy Van is a dream to drive and there is plenty of room for storage. I love the fact that wherever I go there will be people who will see the Bakslap branding which will raise consciousness about the importance of sun safety.
"If we can help people enjoy their time in the sun more safely then my job is done," Raph said.
To register for Australia's Biggest Bakslap visit: https://bakslap.com/australiasbiggestbakslap