A stunning beach wilderness on our doorstep is being "pummelled to near-death" as more than 100,000 four-wheel drives and thousands of campers leave their mark on the natural wonder.
Environmentalists fear the Cooloola Recreation Area has become a "sad shadow of its former self" as vehicle numbers on the beaches soar, especially during the pandemic.
So far in 2021, there have been 111,069 four-wheel drive permits issued — an increase of 22 per cent on 2020 — and that's before the peak summer holiday season.
Sunshine Coast News can reveal that the number of camping permits in 2021 has risen to 42,534, an increase of five per cent on last year (although 2020 had a temporary closure).
The surge in visitor numbers has sparked urgent calls for vehicle and camping reductions and caps as a crucial State Government-commissioned study is undertaken on the area's capacity.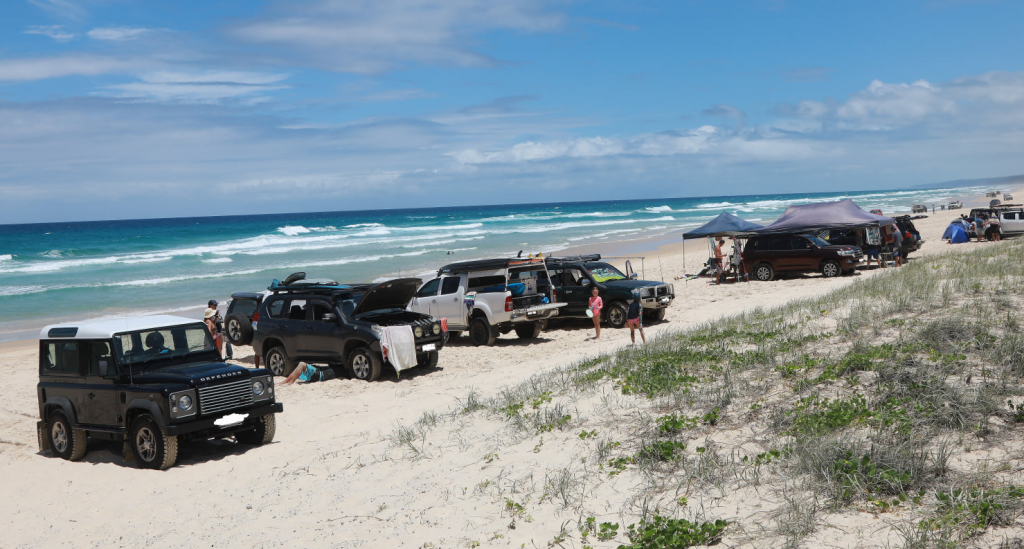 The Cooloola Recreation Area is part of The Great Sandy National Park and stretches from the Noosa North Shore to Rainbow Beach, including Double Island Point, Freshwater and Teewah.
Only accessible by four-wheel drive, it has recently been experiencing volumes of day-tripper numbers that used to only occur over summers.
As a result, University of the Sunshine Coast Marine Science Professor Thomas Schlacher said what were once spectacular beaches had turned into a "fun, booze and games playground".
"If the Noosa North Shore were a human, it would lie gasping for air in an intensive care bed. The difference is that there is neither a bed, a doctor, medicines, etcetera. Our beach patient is left to die painfully," he said.
"At this point of the debate, the 4WD lobby habitually cries foul, throws red herrings, and cites a plethora of fake news re: vehicles in natural areas.
"However, there is now a wealth of reliable research out there that shows unequivocally that vehicles cause serious environmental harm on beaches. Full stop."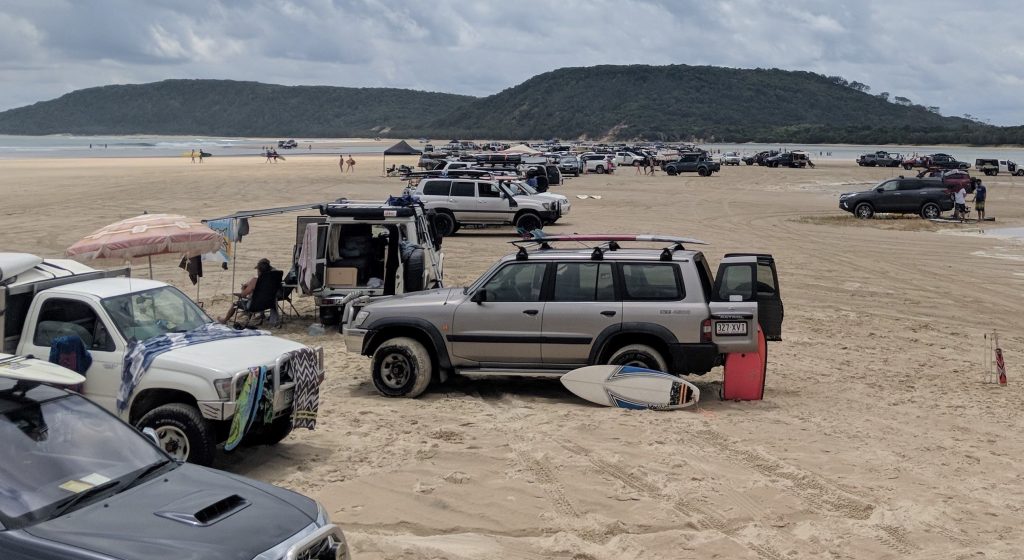 Professor Schlacher blamed cars driving up and down the sands for creating most of the "massive and widespread environmental harm".
"There is this false perception out there in the community that beaches are 'mere piles of sand' and 'the tide will make everything fine again', ready for more vehicle onslaughts on the next day," he said.
"The truth is starkly and sadly different: sandy beaches are ecosystems in the same fashion as any other habitat. They create habitat for species that are highly sensitive to vehicles.
"Consequently, the Noosa North Shore has become a sad shadow of its former self, having been pummelled to near-death by thousands of vehicles every week."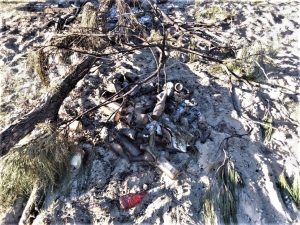 Prof Schlacher has been researching the Cooloola Recreation Area for 20 years and said the environment had changed dramatically with high visitor numbers and poor behaviour.
He is one of the world's leading scientists, researching how sandy beach ecosystems work and how they can be conserved for future generations.
Flow-on effects of more people and cars include huge piles of rubbish and camping gear left behind, hooning, dangerous driving, vehicle "beach bashing" and other traffic infringements.
This has led to a chorus of calls for the State Government to introduce immediate short-term changes and longer-term solutions.
While there are no limits on day-tripper numbers, capped camping permits have been reduced from 2200 to 1500 a night in direct response to poor behaviour on the golden sands.
Number-plate surveillance cameras that operate 24 hours have been introduced at Teewah Beach where camping has been divided into seven zones.
Like stories about Sunshine Coast people doing great things? Help us deliver more by registering for our free daily news feed. All it requires is your name and email. See SUBSCRIBE at the top of this article.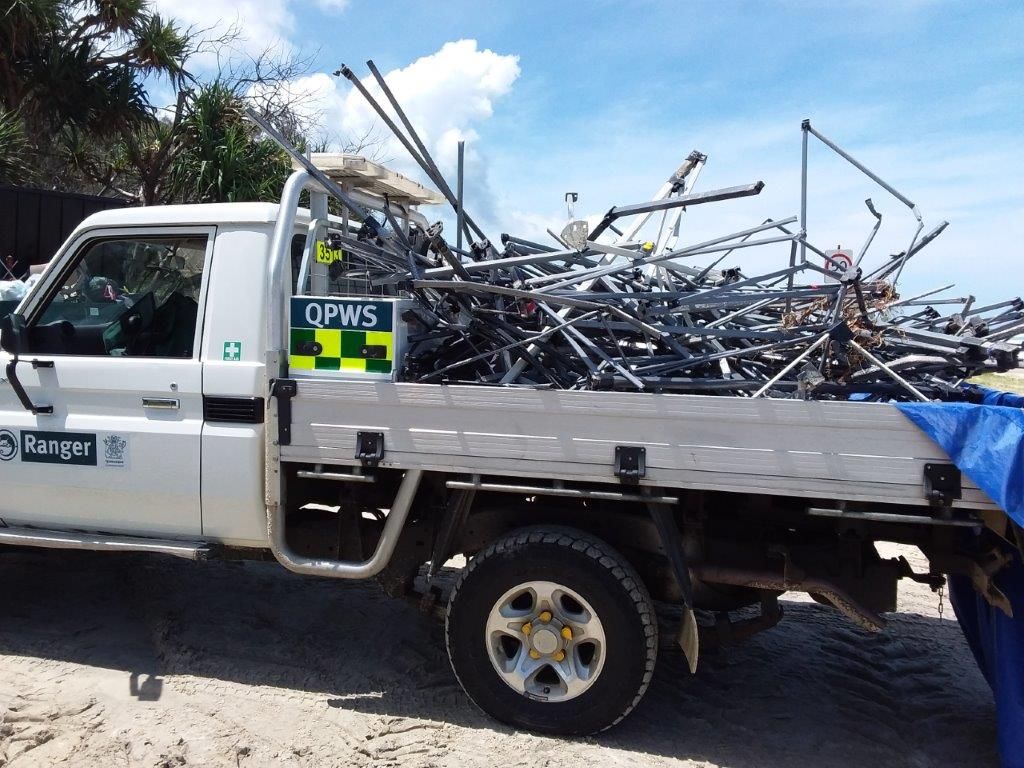 A Department of Environment and Science spokesperson said DES was funding a sustainable visitor capacity study of the Cooloola Recreation Area, Bribie Island National Park and K'gari (Fraser Island) and had engaged EarthCheck Pty Ltd to deliver this.
Through the study, DES is seeking strategies that will:
specify sustainable visitor capacities across specific parts of these areas
improve public enjoyment of these areas, with an emphasis on social behaviours
enhance protection of the environment and cultural heritage sites and improve respect for country, and
facilitate improved behaviour in the use of vehicles on beaches within these areas.
EarthCheck is reaching out to a range of partners and stakeholders, including First Nations organisations, authorised commercial operators, community organisations, industry groups and state government departments, councils, and elected representatives.
The spokesperson said the study would seek to enhance and improve the management of these areas for environmental and cultural heritage protection and for public enjoyment.
It is expected the study will be finalised by mid-2022.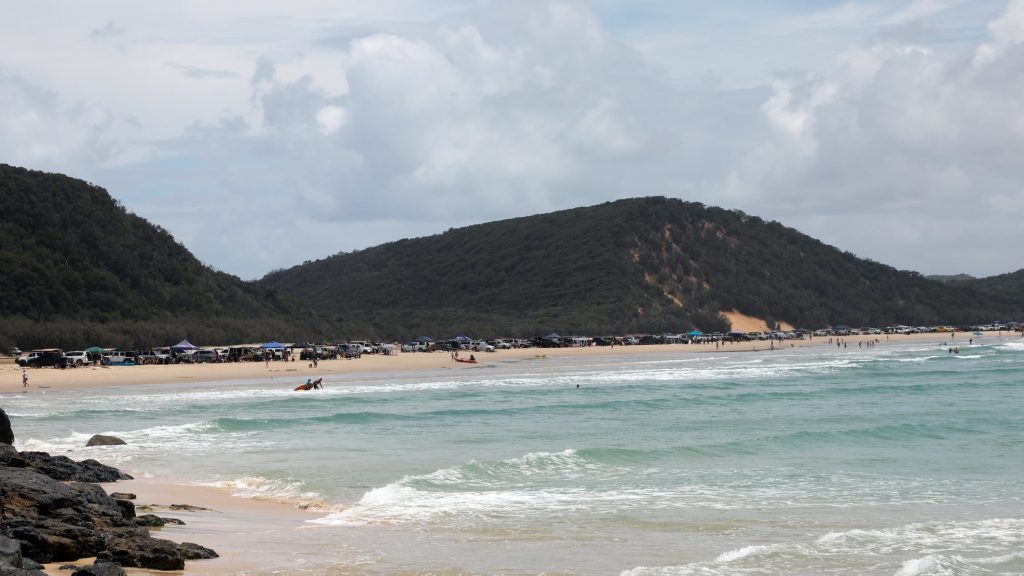 DES announced on August 13 it was reviewing visitor capacities for the Cooloola Recreation Area following ongoing poor behaviour and unsafe activities by some visitors to Teewah Beach.
A new portable waste facility was installed and portable toilets are now mandatory at Teewah Beach from October 12 to combat human waste being inappropriately dumped.
Meanwhile in April, QPWS imposed a permanent fire ban, except in the QPWS provided fire rings at Poverty Point camping area. Campfires are no longer permitted in the recreation area including in the Teewah Beach camping zones 1-7.
For Cooloola Recreation Area and Great Sandy National Park park specific conditions, go to the website. 
Calls for extra policing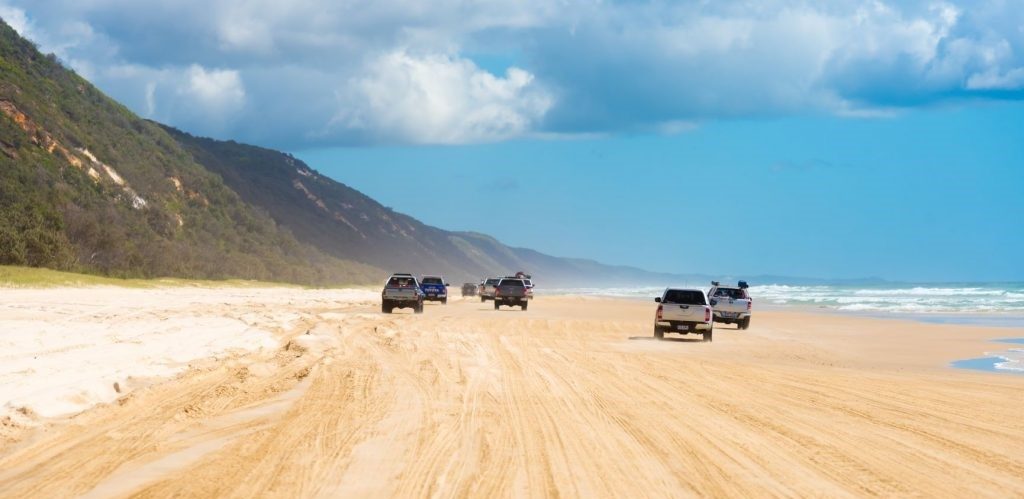 Member for Noosa Sandy Bolton said the State Government was aware of calls by the Teewah-Cooloola Working Group for extra policing, rangers and Maritime Safety Queensland patrols over the holidays.
"Some members of the TCWG actually live on the North Shore and Teewah, and there is always active monitoring," Ms Bolton's spokesman said.
"Since COVID, the peak times have increased, with most weekends seeing the same daily volume as experienced at Christmas, hence why this Sustainable Visitor Strategy is so important and urgently needed.
The spokesman said that over the past three years, a number of actions had occurred in response to the TCWG and Ms Bolton's efforts, including number-plate recognition and increased patrols.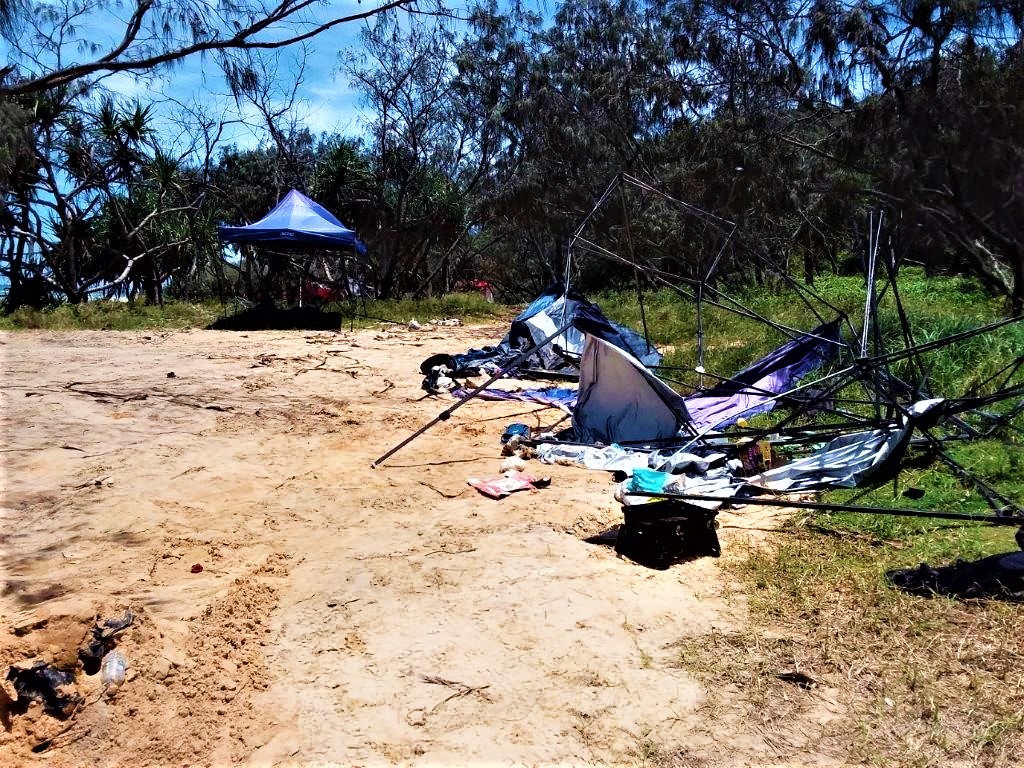 Cleaning up Cooloola
Surfrider Association Sunshine Coast president Stephen James said his group had been collecting rubbish left behind in the Cooloola Recreation Area for the past 10 years, the latest only six weeks ago.
The twice-yearly clean-up, which had been curtailed to once a year during COVID-19, usually resulted in bagging and transporting two to five tonnes.
"On a positive, it was the best it's been; we collected just over a tonne, 1036kg, of rubbish," Mr James said.
He attributed the reduction in rubbish since the last clean-up to a three-month closure in 2020, the drop in capped camping numbers and the Containers for Change scheme that now offers 10c for recyclable cans and bottles.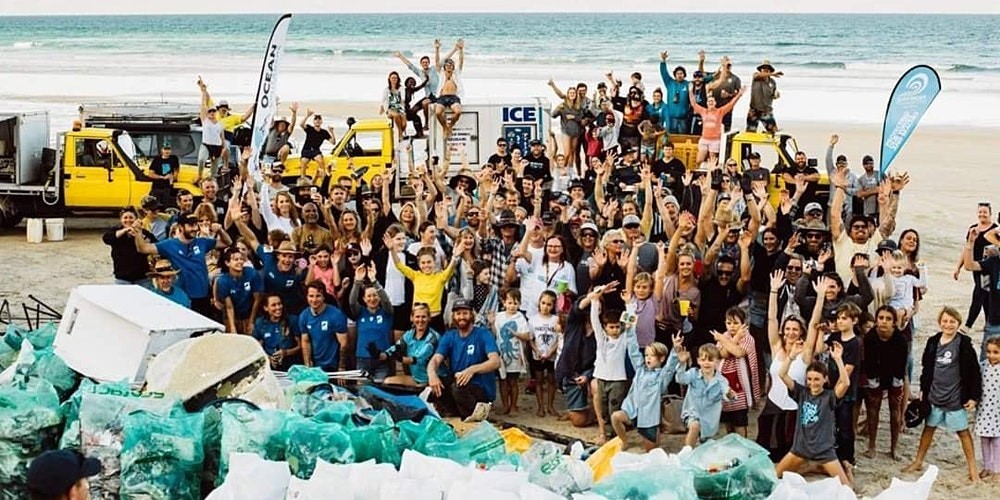 While a boat's keel was the most surprising item collected this time, Mr James said volunteers had come across a "proliferation" of wipes that, unlike biodegradable toilet paper, did not break down well and were often buried in sand dunes only 50m from the waterline.
Mr James congratulated the State Government for bringing in mandatory toilets for Cooloola Recreation Area – the first in Queensland where that has been enforced.