The Sunshine Coast's motor-bike riding, lycra wearing MP with a reputation among his colleagues for "hard work" and "humility" has been appointed the 31st Speaker of Federal Parliament.
Andrew Wallace, the member for Fisher, was nominated by the Liberals to replace the former Speaker, Victorian Liberal MP Tony Smith, who resigned.
A ballot was held on the floor of parliament on Tuesday after Labor nominated its own candidate Rob Mitchell, the Victorian member for McEwen.
Mr Wallace was elected to Parliament's highest office with 70 votes to 59 for Mr Mitchell.
The last Queenslander in the role was Peter Slipper in 2012 who had also previously held the seat of Fisher.
A former construction lawyer, Mr Wallace was first elected to Parliament in 2016 and was re-elected in 2019.
Prime Minister Scott Morrison congratulated Mr Wallace and said he was a compassionate man with a breadth of life experience who could connect with people from all walks of life.
Mr Morrison said he had known Mr Wallace since his election and described him as a man of strong faith, but also reason.
"One of the things I've always admired about the now Speaker is the broad experience he has brought to this place, beginning working life as an apprentice carpenter and joiner, completing his apprenticeship, becoming a builder, starting in his own business," said Mr Morrison.
"Later, well into his 20s with three young children — four daughters now — completed a law degree at Queensland University of Technology, becoming a construction lawyer and barrister. And then he came here to this place, as a member and now as a Speaker."
"Of all the qualities that I know of the Speaker, he is a considered man, he is a very intelligent man. He has a keen attention to detail, we all know, he's passionate and he has a compassion in his heart and in his soul which so many of us who know him well have been touched by.
"He has known difficult times, tragic times, hardships in his life. He has also enjoyed success and this enables him, I think, to connect with people through all manners of their life experience.
"He is a good man. He is a very decent man and he is a very experienced person.
"But when I'm asked to nominate one quality of why it's so important he occupies this chair, is the Speaker is a very fair man, he has a great sense of fairness about him and it is born of all those other qualities and that's why I think it is right of this House to give him this opportunity."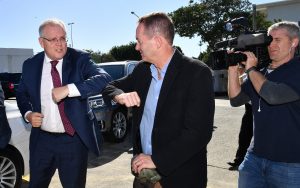 Like stories that inform, connect and celebrate the Sunshine Coast? So do we. Join an independent local news revolution by subscribing to our free daily news feed: Go to SUBSCRIBE at top of this article to register.
Taking the Speaker's chair Mr Wallace expressed his "grateful thanks for the high honour that has been conferred upon me".
Mr Wallace said his predecessor Mr Smith was one of the best Speakers and would be a "tough act to follow".
He promised to adhere to the "golden rule" of giving all members of the House "a fair go".
"To be an effective Speaker is to enforce our standing orders fairly, to manage the administration of the House in the interests of all and to represent this place and the will of its members in the world outside.
"I intend to give my all in pursuit of those ancient duties. I will respect the independence of the Chair and seek to enforce the standing orders without fear nor favour."
As such, he said he had made the difficult decision to no longer sit in the Liberal party room.
In nominating his colleague, Julian Leeser MP said Mr Wallace was collegiate and hardworking, and had an endless supply of dad jokes.
"I can assure the house that with his innate humility, the Member for Fisher will not let the role go to his head," said Mr Leeser, telling how seven Speakers had in fact lost their heads holding the ancient office between 1394 and 1535.
Mr Leeser said Mr Wallace was "thoroughly clean living" as he did not drink and was against gambling, although he was known for riding his motorbike around Canberra and had ridden from the Sunshine Coast to Parliament House.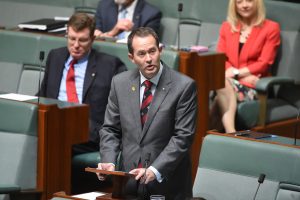 "The Member for Fisher is very much his own man, he's a deep thinker and true parliamentarian. In my view he is one of the most decent people ever to set foot in this place," he said.
Member for Moncrieff Angie Bell, who seconded Mr Wallace's nomination, said the Member for Fisher was an excellent listener, measured and calm but "sadly does love his lycra outfit".
He had also produced a "flurry" of reports on issues including homelessness, credit cards, gambling and domestic and family violence.
She said he had fought against a casino and light rail on the Sunshine Coast.