Lengthy delays, confusion and now an accident have kept the spotlight on a busy thoroughfare in Caloundra, despite council monitoring traffic flow and reinstating sensors.
Lane changes heading south at the traffic lights at the Buccleugh/Roderick St intersection – used by motorists to access Moffat, Dicky, Kings and Shelly beaches, as well as the Caloundra CBD –  are causing peak-hour chaos daily, with traffic banked back in some instances to Currimundi, 1.5km away.
Until recently, motorists could turn left to Moffat Beach via Roderick St at the Buccleugh St lights or go straight on to Caloundra, and use the right-hand lane to turn right into Roderick Street or continue southbound towards Caloundra.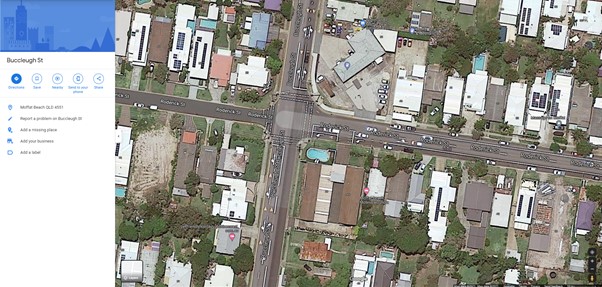 The headaches have been created by the two straight lanes that were previously used being made into one lane only to go straight or left into Roderick Street, and by the right-hand lane being changed to right-turn-only, which locals say is "bizarre" as hardly anyone turns right there.
It is controlled by an arrow at the lights, forcing great volumes of traffic heading left to Moffat Beach or straight ahead to Caloundra into the single left lane.
The intersection was the scene of a two-vehicle crash just after 10.30pm on Saturday, in which two patients were transported to Sunshine Coast University Hospital.
Queensland Ambulance Service reported both patients – a female in her 40s with neck and knee injuries and a male child with a neck injury –  were stable the next morning.
Resident Kassi Isaac is angry the council's traffic monitoring over the past week to optimise traffic signal phasing and the reinstatement of sensors under the bitumen still haven't improved the situation enough.
She can't see how the traffic flow will ever improve if the situation isn't rectified, given the high amount of traffic that uses this road to go into Caloundra and on to the other eastern beaches.
"We live locally and drive from Dicky Beach to Shelly Beach daily for school, which was a four-minute drive," she said.
"It can take up to half an hour now. I do know the lights have improved somewhat (since sensors were put in) but it's not the solution.
"It's also blocking or backing up Roderick Street (east) and that's never had a problem.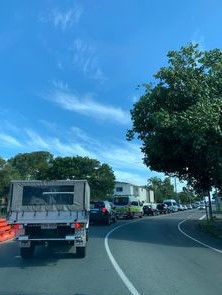 "Since they changed the light system, of an afternoon or of a morning, Roderick St is backed up because the lights are not allowing the same amount of cars through that they used to.
"I can't see why there needed to be a designated right turn going southbound, given the light amount of traffic needing to turn right here.
"The residents of these streets can turn right either the street before or after Roderick Street to get to the west side of Buccleugh Street without interrupting the flow of traffic, which most have done for years.
"Now, because of this right-hand turn only in the right-hand lane, you've got a bottleneck of pretty much 90 per cent of the people who used to share two lanes sharing one, which is ridiculous.
"There's so much road rage and so much frustration."
Ms Isaac said that being a local Dicky Beach resident, she used to exit towards Caloundra from Neil Street, which is closed off to Elizabeth Street traffic at Dicky Beach.
Rather than spend precious time waiting to be let in to the long line of cars backed up the 700m towards Moffat Beach, she has resorted to driving towards Currimundi to the north and joining the end of the queue that at times meanders past Dicky Beach Family Holiday Park and shops.
"I've got at least five friends who can't get out of the area of Dicky Beach. They can't get into the stream of traffic because no one is going to let you in. It is just insane," she said.
"We're not in the holiday season and it's not forward planning for the Coast.
"The Coast is just getting busier. It's (changed traffic conditions) taken things backwards as far as what's happening.
"It's so frustrating for everyone."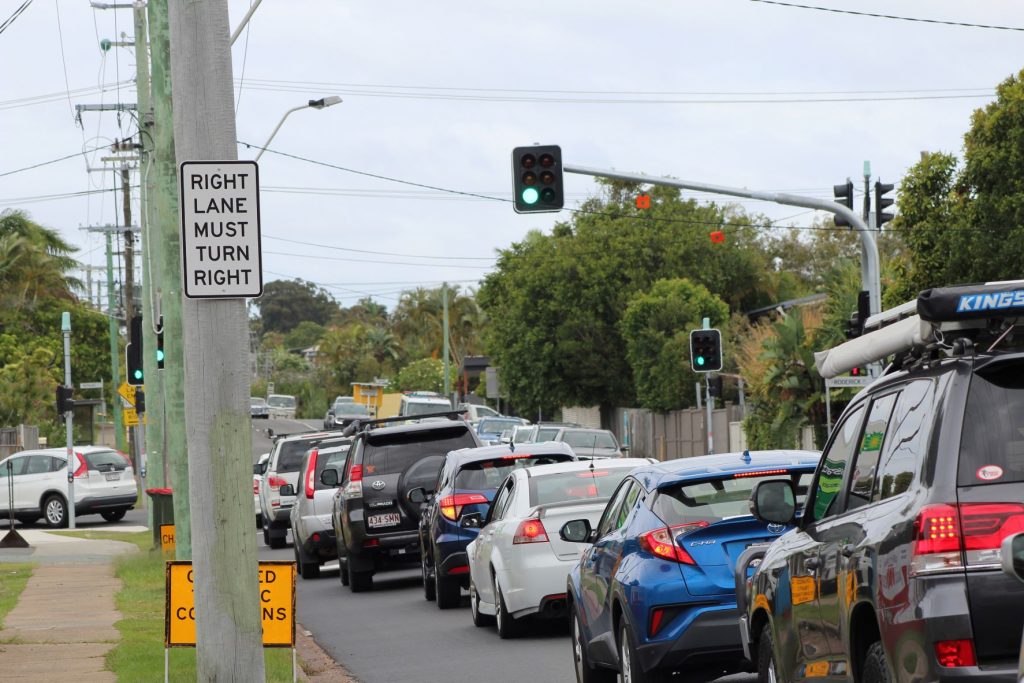 Ms Isaac believes the council should revert the right-hand southbound lane back to allow motorists to make a right-hand turn and continue straight ahead, or, better still, remove the right-hand turning arrow altogether.
And many agree with her. A total of 1845 people have already signed a change.org petition to remove the right-hand turn completely.
Ms Isaac said some motorists were attempting to avoid or circumvent the problem by "rat-running" the back streets, but to no avail.
Caloundra resident Liset Teis was another caught at 3pm on November 17 in a long line of southbound traffic stretching over the hill in Elizabeth Street, with an seemingly endless  number in a "car park" of vehicles stopped behind her.
"I don't know how far it reached back," she said after contacting Sunshine Coast News.
"They haven't fixed the problem."
In a Facebook comment on November 11, she wrote that the traffic in the Moffat-Dicky Beach area was still an "absolute nightmare".
Help keep independent and fair Sunshine Coast news coming by subscribing to our free daily news feed. All it requires is your name and email. See SUBSCRIBE at the top of this article.
The council has said the intersection upgrade was in response to a history of crashes and pedestrian safety concerns. But Ms Teis does not believe the change was warranted for pedestrian safety.
"I don't know what they were thinking," she wrote.
Important safety improvements are underway at the intersection of Buccleugh and Roderick streets, Moffat Beach.
A Sunshine Coast Council spokesperson said the intersection operations had been monitored during the past week and changes to phase times and tuning of vehicle detectors had been carried out on November 16.
A traffic survey identified that vehicle queues and travel times were reduced significantly during the November 17 and 18 morning peak times, they said.
A spokesperson said that while undertaking monitoring, a vehicle detector fault had been identified on November 19 which had caused delays during the morning peak time.
"Council's contractors are working to resolve the issue as quickly as possible and further monitoring of both morning and afternoon peak traffic flows will be carried out," the spokesperson said.
"There are on average 26,000 vehicles per day using the intersection of Buccleugh St."