A new initiative to boost drink-container recycling through a local shopping centre will help raise funds for a Sunshine Coast children's charity.
Queensland's Containers for Change scheme has launched the Partners for Change initiative which will encourage shoppers to recycle thousands of used drink containers each year.
Kawana Shoppingworld is the first shopping centre in the region to sign up for the initiative, with the refunds donated to The Board Meeting charity.
Partners for Change has provided designated bins at the shopping centre so customers can ensure their containers are being recycled.
Warana refund-point operator The Bottle Community will collect the bins and ensure the 10-cent refunds paid on each are funnelled to The Board Meeting: a charity that assists children with disabilities through a variety of surf-related events.
Like stories about Sunshine Coast people doing great things? Help us deliver more by registering for our free daily news feed. All it requires is your name and email. See SUBSCRIBE at the top of this article. 
Ken Noye, chief executive of Container Exchange – the not-for-profit organisation that runs the Containers for Change scheme – said recycling containers was "a job for everyone".
"The Partners for Change program allows Kawana Shoppingworld's customers to ensure their containers are disposed of correctly while they are shopping," he said.
"The customers that recycle through these bins will not only provide a benefit to the beautiful natural environment on the Sunshine Coast, they'll also be assisting a wonderful organisation."
Kawana Shoppingworld centre manager Robert Smith said sustainability and community support was important to the organisation.
"Kawana Shoppingworld have committed to reducing the amount of beverage-container waste that ends up in landfill whilst supporting the work of one of our great local charities, The Board Meeting," he said.
"We want to thank our customers for helping to make the Sunshine Coast a cleaner and greener place while supporting a worthy cause."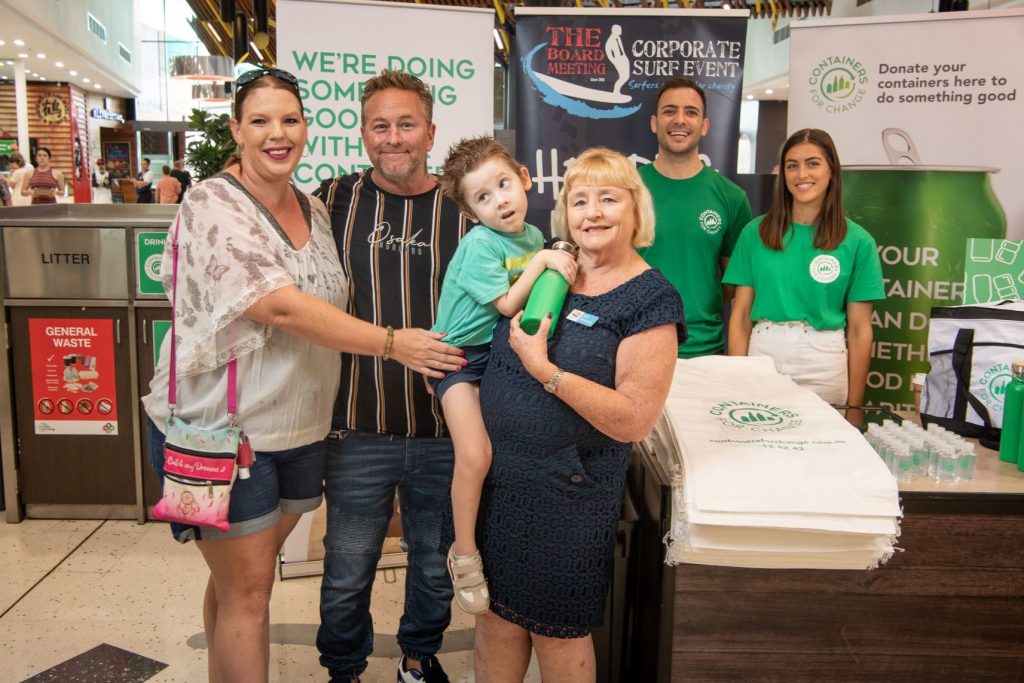 The Board Meeting chairman Mark Skinner said the recycling initiative would help the charity continue its important work.
"In the last 12 months alone, The Board Meeting has helped 220 local families with children with disabilities by providing them more than $260,000 in funding," he said.
"We are so excited to be involved with this Kawana Shoppingworld and Containers for Change scheme initiative and look forward to continuing our work in the community through this support."
Containers for Change celebrated its third birthday on November 1, and Sunshine Coast residents have recycled more than 327 million containers since the scheme was established.
That figure means a staggering $32.7 million in 10-cent refunds has been injected into locals' pockets in just three years.
A total of 128 million containers have been recycled on the Coast in the past year, which was 39% more than in the first 12 months of the Containers for Change scheme.
Help keep independent and fair Sunshine Coast news coming by subscribing to our free daily news feed. All it requires is your name and email. See SUBSCRIBE at the top of this article. 
But Sunshine Coasters are being urged to continue to improve their recycling habits for the good of the natural environment.
We are being asked to get behind Queensland's target to recycle 85% of all eligible beverage containers to make us  one of the best recycling states on the planet.
Mr Noye said everyone needed to be aware of the correct way to recycle containers.
'It is important to note there are only two ways people can be sure their beverage containers will not end up as permanent fixtures in landfill," he said.
"That is by returning them at one of our registered refund points across Queensland in exchange for 10 cents, or by placing them in the council-provided yellow-top bin.
"They must never be placed in a general waste or red-top bin or they are destined to be buried as landfill.
"We all have a responsibility to reduce landfill and this is an opportunity for every Queenslander to do their part to ensure the future of our beautiful natural environment."
For more information on the Partners for Change program or Containers for Change scheme, visit the website