They say necessity is the mother of invention, and that was certainly the catalyst for this award-winning children's tableware created by Mountain Creek parents Mateya and Uros Lotric.
The industrial designers, who came to Australia a decade ago from Slovenia with their son Lan, now 12, had to buy new eating utensils for daughter Lara, now 3, when she first transitioned to solid foods.
But the couple were unhappy with the bowls, plates and spoons available specifically for toddlers.
"Everything we bought in products were too small, the wrong design, staining easily or the suction didn't work," Mateya recalled.
"I said to Uros, 'Oh come on. This is our opportunity. We should do something about it'."
Industrial designers are problem-solvers, so Mateya set to work to find a better solution to their children's tableware dilemma and started the company Brightberry (a nod to their Brightwater estate) two years ago.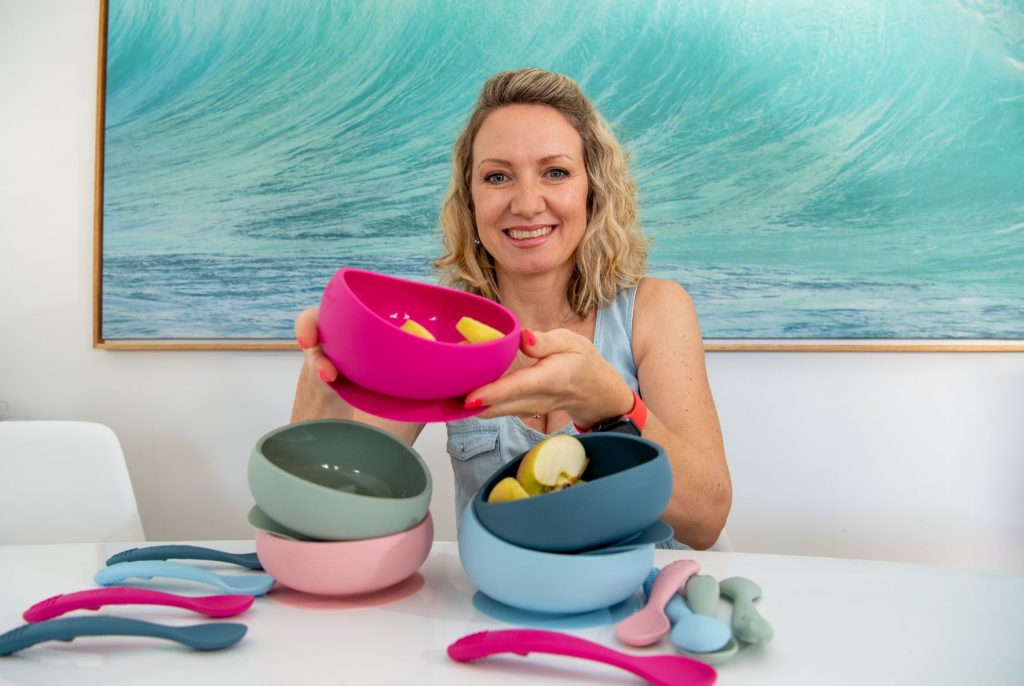 The Lotrics submitted Brightberry's theOne silicone suction bowl and spoons entry in March to the prestigious Australian Good Design Award 2021 in the product design category and were thrilled to secure a win.
"It's such a great recognition," Mateya said of the prestigious international awards which recognise and honour the best in Australian design and innovation.
Uros and Mateya, who met at their five-year industrial design studies at university, started with samples already available, testing their size, depth and shape for suitability for children before making their first attempts to improve on them.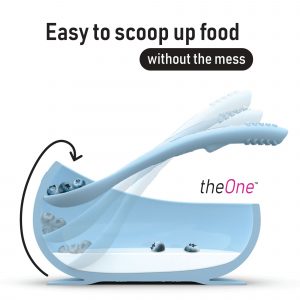 "The problem (in traditionally designed suction bowls) was that it was in at least two if not three parts," Uros said.
"So you had plastic bowl and the suction was some sort of rubber and then this can easily come apart or you had seams where food would get stuck.
"You couldn't clean it and it would get mouldy.
"The problem also with plastic is that with time, it starts leaching all sorts of chemicals. And that's not good.
"With these ones (theOne design), everything is one piece so there's no joins.
"It can be properly cleaned and silicone lasts pretty much forever. It's the most abundant material on Earth because it's made out of silica sand."
What resulted is a study in patience and the art of trial and error – from Mateya's initial idea and sets of drawings on paper, to Uros translating those concepts into a 3D drawing, ready to be 3D-printed.
The 3D print is crucial.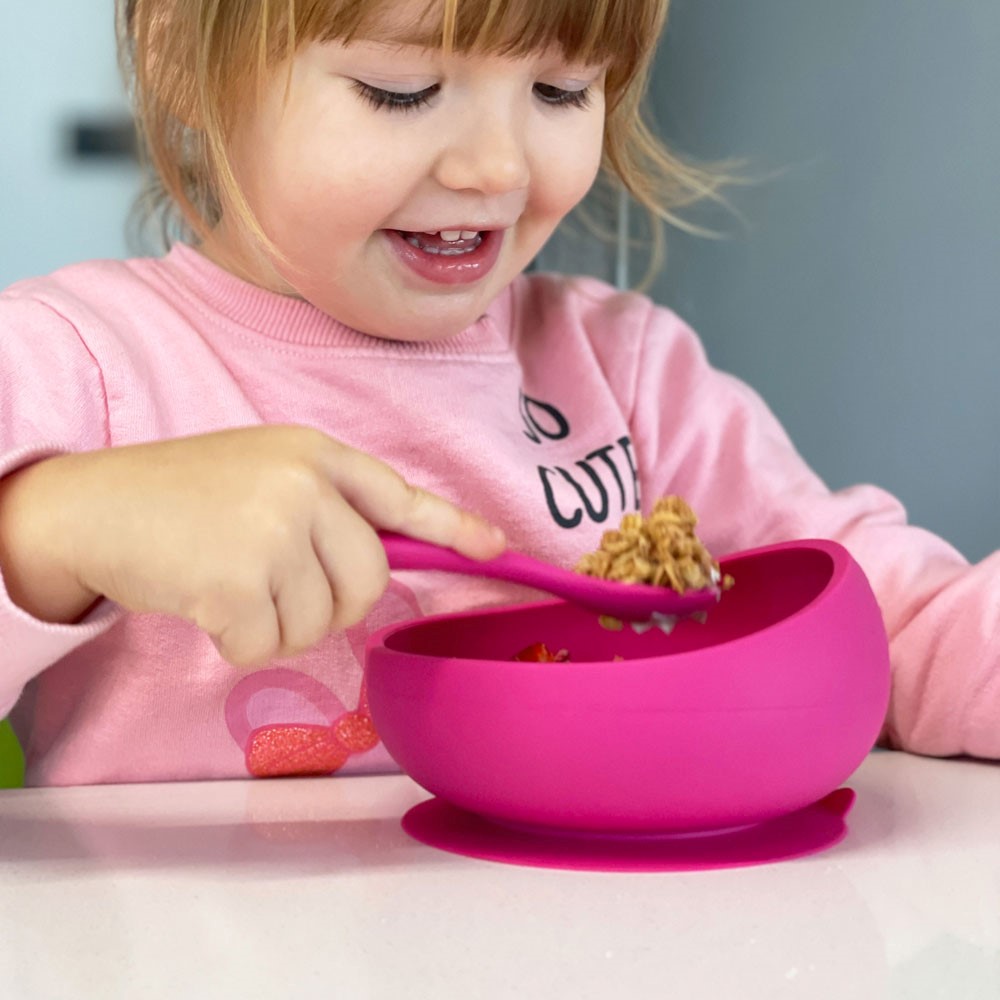 "Only once you see and hold the product you can actually go 'OK, that's too big, that's too small, too thin, too thick or this needs to be changed'," Uros said.
"If it is a minor adjustment, I just do it on computer. If it's from (one prototype to another), then Mateya would draw again what she had in mind and then we repeat the process until we're happy."
With theOne bowl, air displacement has been increased so the suction is much stronger but with an easy-to-pull tab to release the bowl from a table or high-chair surface.
Of particular note is the negative angle or inward curve of the bowl that ensures any attempt to scoop food up the sides remains on the spoon or runs back into the bowl for virtually zero wastage.
While some people might say a spoon is a spoon is a spoon, Mateya and Uros alone know how much effort has gone into their ergonomic version for little fingers and mouths.
Like stories about Sunshine Coast people doing great things? Help us deliver more by registering for our free daily news feed. All it requires is your name and email. See SUBSCRIBE at the top of this article. 
It's all about the raised arc so the spoon is easy to pick up, the wide handle for baby to grab on to, and the teether on the end to chew on as teething starts.
Then there's the tabs at the end so the spoon doesn't slide completely into the bowl and the wide "mouth" to avoid gagging (because it can't be shoved in too far).
And there's just the right type of thin nylon rod in the neck to take the heat but not break on cooling, and allow the handle to bend, flex and bounce back into shape (unlike a metal rod that might even push through the silicone surface and pose a choking threat).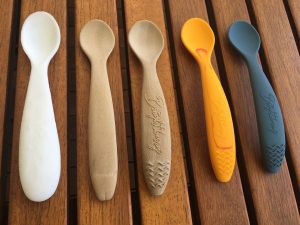 A line of prototypes – including a timber-look PLA polyester 3D-printed version – is testament to their commitment to the adage: "If at first you don't succeed, try, try again".
And there's a reason why two spoons are supplied with every Brightberry bowl pack.
"When you feed a baby, you start feeding them and they start grabbing the spoon from you," Uros said.
"This process takes probably an hour to feed the baby. So that's why we include two spoons.
"Once they start grabbing the spoon from you, you just give one to them. It's like 'Here, you play with that spoon and I'm going to feed you'. So this speeds up the process.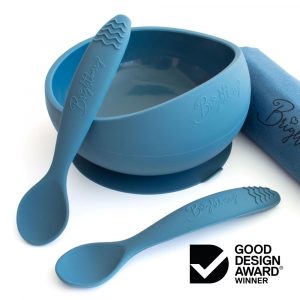 "But what's great about it, once you start feeding them and they hold the spoon, they start mimicking their parents. They learn how to feed themselves in no time, which means you have all the time for yourself while they're feeding."
The Brightberry designs meet all Australian, US and European standards.
"You can put it in a freezer, in a microwave, in an oven to 220C, dishwasher and (the silicone) doesn't leach," Mateya said.
The toddler tableware doesn't need to be put away in a cupboard once children graduate to the family dinnerware, either.
The Lotrics said the designs come in handy on picnics and they know customers who have teenagers using the bowls for cereal, as well as elderly parents or others with disabilities who have trouble using conventional plates and bowls.
The packaging is environmentally friendly – something Mateya is especially passionate about – and even the silicone products are able to be recycled in some countries overseas, though not as yet in Australia.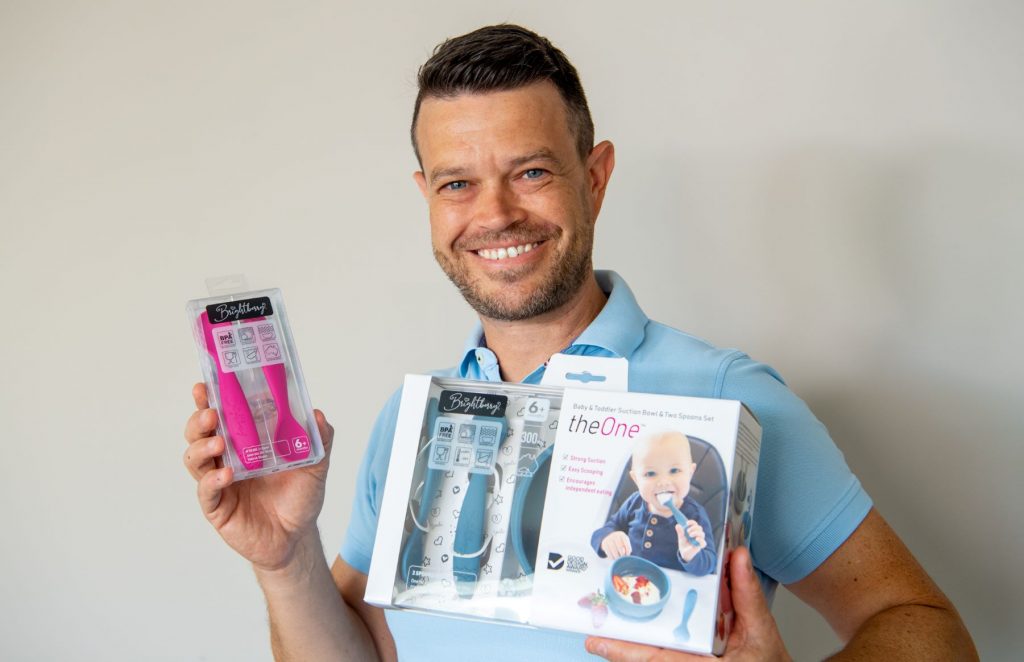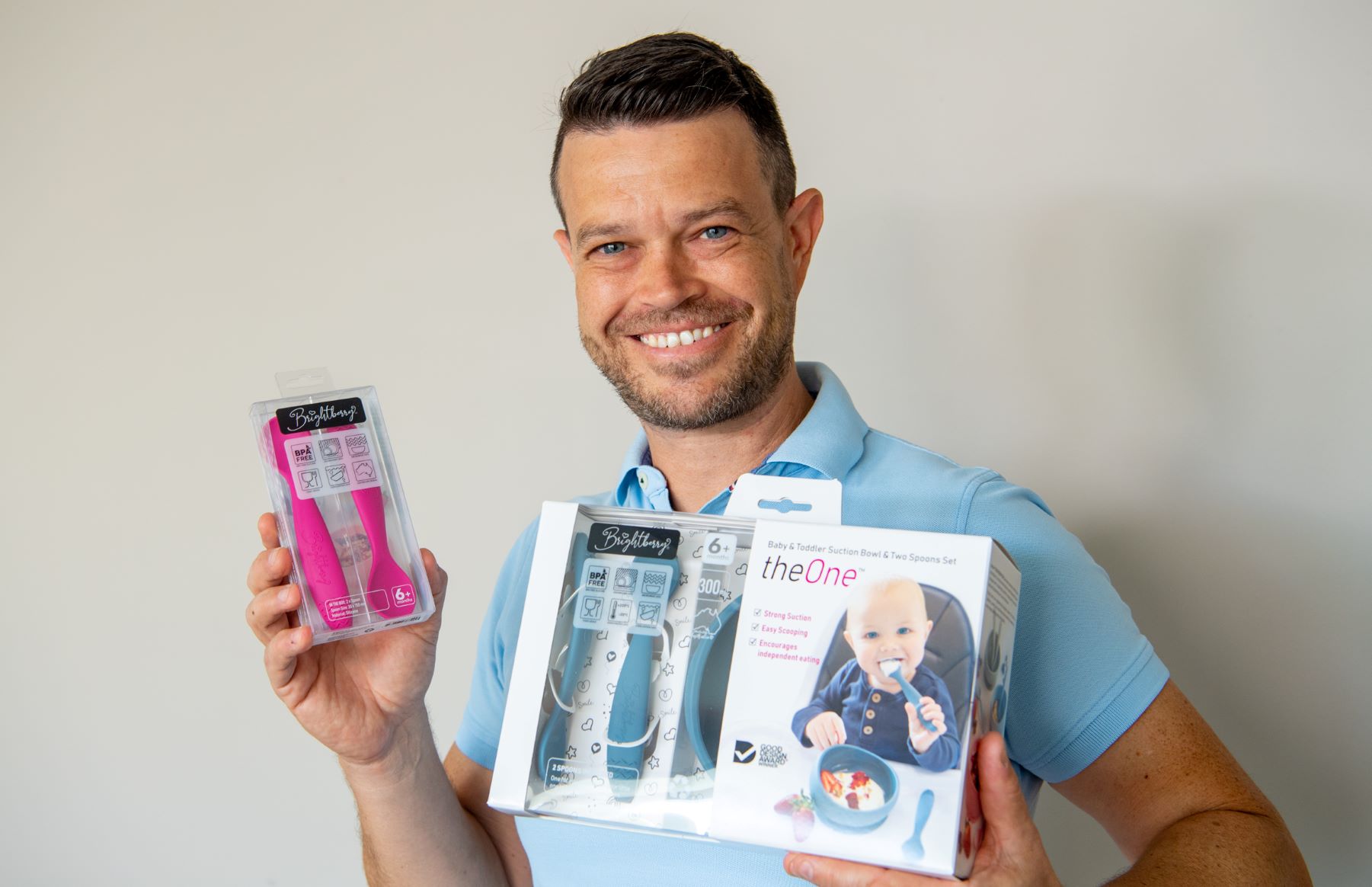 The Lotrics knew they were on a winner when they watched Lara as she fed herself without making a mess.
But they are no strangers to accolades for their work, with Uros even laying claim to a Red Dot Design Award for an electrical connector while working for a lighting company.
They won their first Australian Good Design Award in 2015 for brown paper packaging for LED lights that was eco-friendly and reduced packing space (and waste) by about 70%. The bags needed for 40 individually packaged lights was equivalent to the space of two boxes.
Follow us on Facebook: www.facebook.com/scnews2020/
Now the Lotrics' home is bursting at the seams with orders of the well-designed tableware that encourages more efficient and speedier meal times, ensures less mess, promotes independent eating and, importantly, looks funky and appealing.
Space is at a premium as they live and work out of their large suburban home with office-cum-design studio in a 24/7, two-person operation. They concede they'll need a warehouse sooner rather than later for the mainly online business – if only to reclaim the "packing counter" as the family dining table.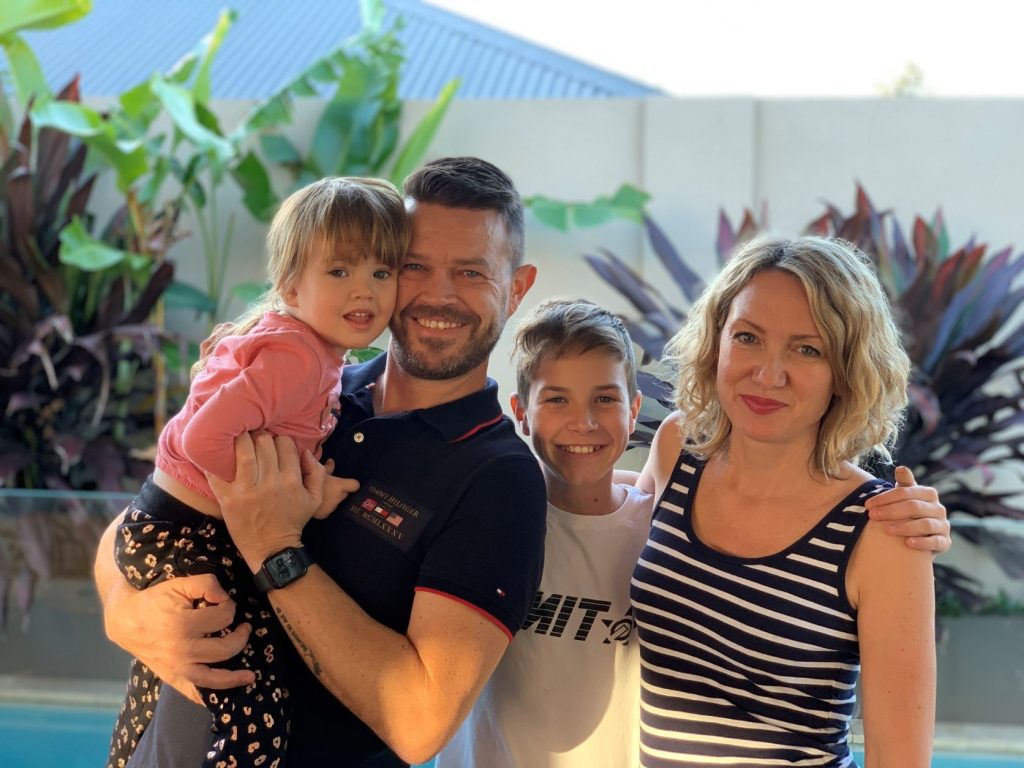 "Our garage is full, the cars are out plus we have a storage shed," Mateya said.
"In the next few months, definitely with our orders, we have to move out of the house."
Now mentored by Kawana Chamber of Commerce members, the Lotrics may still be waiting for the latest Good Design trophy to be sent to them but they are far from resting on their laurels.
New tableware is in the pipeline, including another suction plate.
A divided plate, that is already available, is another clever and practical design for children.
"The suction is hidden. If you look at it from the top, you can't see (suction rim) it so the kids don't see that there's something to undo," Mateya said.
"We've done dividers that are lower so it's easier to scoop out food and all the corners are round so the food doesn't get stuck.
"We've made the (top) edge a bit overhanging so the food doesn't fall over (it goes back on to the spoon) and we made this (hole area) for dipping sauce or a cup.
Help keep independent and fair Sunshine Coast news coming by subscribing to our free daily news feed. All it requires is your name and email. See SUBSCRIBE at the top of this article. 
"We have many ideas.
"It's just that development is so slow.
"It takes six to 12 months before we can release a new product – from idea to making sample  moulds, getting the first samples, fixing whatever we're not happy about, then making the real mould, and then production and shipping."
About 25 stores stock the Brightberry products in Australia, including Ideas in Kawana Shoippingworld and Sunshine Plaza and Wholelife Maroochydore on the Sunshine Coast.
For information, go to brightberry.com.au
The Lotrics already supply a set of five stores in Hong Kong, along with another in Singapore, that had all contacted them to stock the products.
Uros said they would first meet the demands of the Australian market but planned to export overseas – perhaps even to Slovenia.