Surf Life Saving Queensland held its 2021 Lifeguards Awards at Alexandra Headland Surf Life Saving Club with about 35 of our finest lifeguards in attendance.
The team was joined by Sunshine Coast Mayor, Mark Jamieson, and Federal Member for Fisher, Andrew Wallace, to recognise the outstanding contribution to our local community in keeping Sunshine Coast beaches safe.
Numerous awards were presented, including for the first time National Service Medals.
These recognise long and diligent service in organisations that are dedicated to protecting life and property and are awarded to those individuals who risk their lives, or safety, to protect or assist the community.
The National Medal is awarded to individuals on behalf of the Governor-General of Australia, His Excellency General the Honourable David Hurley AC DSC (Retd)
Lifeguards who received the National medal were: Max Pettigrove, Adam McKane, Anthony King, Isaac Smith, Dylan Newbiggin, Luke Paterson, Corey Jones, Darren Hooper, Matthew Hadland, Michael Daly and Jon Wadling.
Lifeguards were also recognised for their ongoing service to Surf Life Saving Queensland.
Awarded for 20 years of service were Michael Daly, Max Pettigrove and Adam McKane, while those acknowledged for 15 years of service included Anthony King, Isaac Smith, Dylan Newbiggin, Luke Paterson, Corey Jones, Jason Smith, Matthew Hadland and Jon Wadling.
The decade veterans praised were Rhys Drury, Trent Robinson, Beau Farrell, Josh Jones, Rowan Simpson, Dean Connelly, Robert Adsett, Jake McKellar, Shane Bevan, Calan Dick, Blair Day, Zac Turner, Nicholas Bolton and Timothy Maulder.
Congratulations to all of our team members recognised on the evening. We're very proud of the calibre of lifeguards that we have working across our region and we know that the beaches are in good hands!
Looking now to the weekend conditions, the rain is expected to clear with sunny skies and temperatures in the high 20-degree range making for perfect beach weather.
Light winds should help take the edge off the warmth before increasing through Sunday afternoon where conditions will likely get choppy as the winds pick up. The UV rating is expected to be in the very high range so make sure to put on sunscreen.
The surf should be in the 0.5m range or just above for most of the weekend with most beaches providing decent conditions.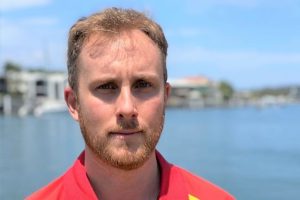 Enjoy the weekend and as always enjoy the beach and make sure you of course only swim between the red and yellow flags!
Aaron Purchase is Surf Life Saving Queensland's regional manager for the Sunshine Coast. His column in sunshinecoastnews.com.au keeps the community informed of what's happening on the beach and offers tips on how to stay safe.