The State Government is advancing its proposal to establish a remand centre and rehabilitation hub for young offenders in the centre of Caloundra.
The Youth Justice Department has put up a sign on the site at 3 Gregson Place, which outlines the proposed repurposing of the local watchhouse.
Residents will have until November 15 to make submissions before the Minister decides the future of the controversial project, which community groups say is not a good fit for the tourist town.
The notification, titled North Coast Remand Centre, says the facility will accommodate a small number of young people while they are waiting for a place to become available in a youth detention centre.
"The Caloundra facility will only operate when Queensland's three other youth detention centres are at, or near, capacity.
"During these periods, young people may be held in custody at the centre in Caloundra for a short amount of time before they are moved to a youth detention centre.''
The proposal's Environmental Assessment Report reveals plans for a significant support program.
"The department will ensure young people detained at the centre are provided with opportunities for rehabilitation through daily routine and program delivery,'' it says.
"Daily routine will provide structure, clear expectations and a framework for young people to access programs that assist to address their offending behaviours and successful reintegration back into the community by promoting their social, behavioural, educational and vocational development.
"Daily activities will be coordinated with partner agencies including the Department of Education and Queensland Health.
"At the centre there are two non-contact rooms which are very small in size to support family visits.''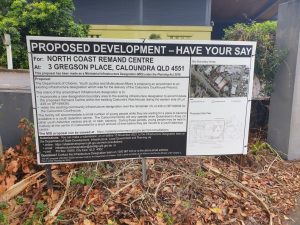 Caloundra Safe spokesperson Tony Bridges, who worked in corrective services in South Australia, said there had been petitions and meetings and much discussion about the plans and the majority of the community was not in favour.
"Build a centre by all means, just not here,'' he said.
"It's not practical. It would be the only one in a residential area, the others are all in industrial areas, for good reason.
"If something goes wrong, there will be people in immediate danger.
"In this case, there could be children going to or from the nearby school.''
Sunshine Coast Councillor Terry Landsberg agreed there were considerable community concerns about the location.
"Now is the time for people to stand up and voice their concerns on this proposal by making a submission,'' he said.
Caloundra Chamber of Commerce president Michael Shadforth recently told Sunshine Coast News there were fears the youth remand centre will "tarnish" Caloundra's reputation, impacting local business and tourism.
He said it was important to note the facility was not a result of local crime statistics and he wanted further transparency from the state government on how it would operate.
The department invites submissions on, or before, November 15, 2021, to the Infrastructure Designation team via:
Online: www.statedevelopment.qld.gov.au/mid-consultations
Email: infrastructuredesignation@dsdilgp.qld.gov.au
Post: PO Box 15009, City East QLD 4002.