People with nowhere to live are being fined for sleeping in carparks, sand dunes and bushland as authorities held another meeting on how to address the homelessness crisis.
Eight months after the Mayor's Homelessness Roundtable, people are pitching tents in the dunes, families are sleeping in carparks and setting up makeshift shelters in bushland because of a major shortage of affordable and emergency accommodation.
Surf clubs have noticed people emerging from the dunes with their swags in the mornings while early exercisers and walkers have also reported an increasing number of people sleeping rough from Coolum to Caloundra.
One leading charity has called for council leniency as people who are already at a low point in their lives are hit with hefty fines for illegal camping and parking.
St Vincent de Paul Northern Diocese president, John Harrison, said the charity had received calls for help from people who had been told to move on and had even helped pay an infringement.
"These are people with the least resources — how can we be fining them?
"In relative terms, for them that's a lot of money.
"I've had calls from people who were staying at the beach and the ranger said 'You've got to move on'.
"The Sunshine Coast Council seems to be a bit more relaxed. A homeless person posed the question 'Where should I go?' and their answer was 'I have no idea'.'
"They're probably a bit more lenient than they used to be across the Coast, but it's not solving the issue really.
"We have even paid a $200 fine. A guy who had no option but to live in a van came to us for help and I think that's a bit cruel."
"I would have thought we need to show some leniency because where are these people meant to go?
"There's no housing for people on JobSeeker. There's nothing. Even if there's a room it's expensive so their options are so limited."
Do you have an opinion to share? Submit a Letter to the Editor with your name and suburb at Sunshine Coast News via: news@sunshinecoastnews.com.au
Charities and community groups on Wednesday regrouped for a second Homelessness Roundtable with the council, but the council did not release an update from the meeting.
A council spokesperson said as a matter of practice, council did not not issue infringement notices to people experiencing homelessness.
"To do so would be insensitive to the circumstances of the person involved and show a lack of empathy for those in need of support and assistance.
"When a person identifies as homeless, council officers will work to refer that person to accommodation providers and local support services for assistance.
"Council fully appreciates the stress some families and households are experiencing in accessing affordable and available housing on the Sunshine Coast.
"The Queensland Government is the lead agency responsible for housing policy, social housing, financial assistance programs and for delivering programs and services targeted at reducing homelessness in Queensland.
"Council is not funded to deliver such services, with the funding arrangements for housing and homelessness support and services the subject of bi-lateral agreements between the Federal and State governments."
The spokesperson said council was continuing discussions with the State Government and local community organisations to explore other opportunities.
Help keep independent and fair Sunshine Coast news coming by subscribing to our free daily news feed. All it requires is your name and email. See SUBSCRIBE at the top of this article 
After the first Homelessness Roundtable in April, a number of ideas were put forward to progress including:
Piloting an overnight accommodation project
Trialling overnight crisis housing at council facilities and carparks
Exploring ideas like sleep buses
In June, the council said a facility in Maroochydore had been identified that could be repurposed and trialled as an overnight shelter.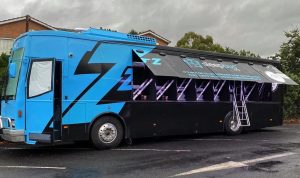 The Maroochy Neighbourhood Centre did its own fundraising for a sleep bus (pictured) and was able to get enough money for a second bus in a matter of weeks after Sunshine Coast News raised awareness of their project.
However, Mr Harrison said he was unaware of progress being made on any of the other roundtable suggestions and many locals had been forced to leave town.
The housing crisis is also causing friction with long-time residents who are upset about people "camping" in places like Shelly Beach.
One Shelly Beach resident said he had been "constantly abused" for reminding people about the rules that dictate no camping or overnight stays and no parking from 10pm to 4am.
He said ratepayers had the right to visit their local beach without it looking like a "gypsy camp" and he said it appeared the council had put the issue in the "too-hard basket".
Sunshine Coast Council's website states that camping is not permitted on public land, parks and foreshores whether in a tent, a vehicle or on the ground.
Family can't afford rental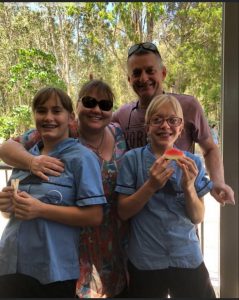 Meanwhile, Vinnies Queensland is calling for an increase to JobSeeker, with the average unit on the Sunshine Coast now renting for $440 compared to the $338 per week Commonwealth payment.
Sunshine Coast mum Nadine Campbell is one of numerous locals unable to keep up with the skyrocketing increases in rents.
After seven years living in the same rental home in Bokarina, Nadine and her family were forced to move when their landlord increased the rent by 19 per cent per week, placing significant financial strain on their family.
Despite Nadine's husband holding a steady job and the family receiving support from Vinnies to help pay for food and other essential bills, they could no longer afford the rent.
With no other option, the Campbell family are now living with Nadine's mother in a small two-bedroom housing commission unit, with Nadine and her husband sleeping on the floor while their three kids share a single room.