The developer behind one of the Sunshine Coast's fastest-growing estates, Harmony, has vented his frustration at council delays that he says have forced locals to wait months for land releases that should have been approved in a "matter of weeks".
AVID general manager Queensland, Bruce Harper, is also unhappy that residents have been waiting more than two years for their first shopping centre, which would include a supermarket, takeaways, service station and specialty shops.
Mr Harper said Sunshine Coast people were "clamouring" to own a block of land and secure a home in Harmony at Palmview and were feeling "aggrieved" at the long wait, especially during a critical shortage of housing in the region.
He said because the Sunshine Coast Council was taking so long to process applications, AVID took a calculated risk and on Saturday morning released 41 blocks in the latest stage, Serenity, before they had received council's final tick of approval.
When AVID informed its database about the release on Friday afternoon, around 30 groups camped outside the sales office that evening and by 8am Saturday there were more than 55 groups lined up and others coming and going when they realised their chances of securing one of the lots was very low.
All lots were sold by 11.30am Saturday morning and a further 300 phone enquiries were received that day and given the bad news that they had missed out.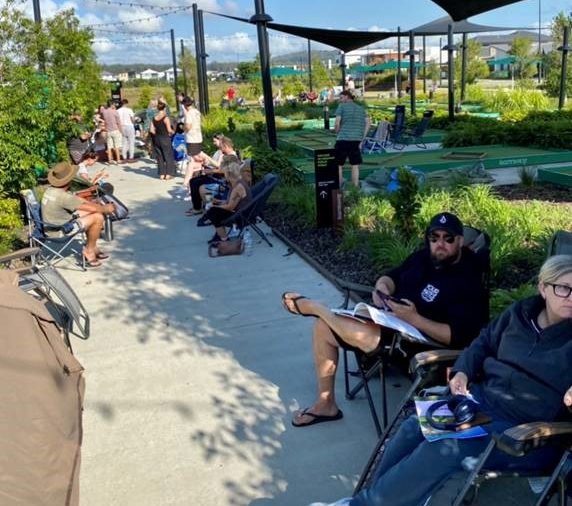 Serenity includes 193 lots that have been sitting with council for seven months, which Mr Harper said had been a "very long and unfortunately tortuous process".
By comparison, he said other councils were approving sub-divisions in around six weeks.
"It's an incredibly long time for those many, many Sunshine Coast residents who are on our waiting list for more land to be released," Mr Harper said.
"We could virtually sell all of those lots tomorrow given the waiting list of Sunshine Coast residents that are waiting for land. We have more people who have expressed interest who are waiting for land to buy than we could produce at the moment.
"It's very frustrating and obviously six months is a very, very long time to wait for a council to deal with a subdivision application."
The Sunshine Coast Council responded by saying it has been working closely with AVID to try and get more blocks released, with the average assessment timeframe for most development applications ranging from three to six months.
A spokesperson said council had approved more than 2,300 lots over the past five years and, to meet the current market trends, had allowed the release of almost 2,000 lots "quicker than initially expected".
Join an independent local news revolution by subscribing to our free SCN daily news feed: Go to SUBSCRIBE at top of this article to register.
AVID lodged an application in April 2019 for a neighbourhood plan that would encompass Harmony's first shopping centre in the heart of the estate and two years later is still waiting for an outcome.
Mr Harper said they had since been told the council planning officer who had been dealing with the application was going on leave.
"So they now have to start again and outsource it. We don't know what that means but probably some external planning company will look at it. I don't know if from scratch, but I presume that's what they mean."
Currently, families living in Harmony estate have to drive to the nearest shopping centre, which is in Sippy Downs.
"We've got about 5000 residents waiting on a shopping centre we are mad keen to start building," said Mr Harper.
Mr Harper said council had blamed a lack of "resources" for the delays to development application approvals.
"Let me just say I'm not doing a round of council bashing, but I'm feeling sorry for customers who feel quite aggrieved in the delays that are occurring."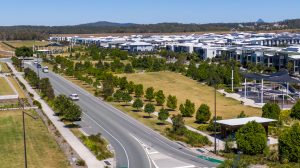 A  spokesperson said council had a dedicated assessment team to manage and assess development applications for Palmview and worked "closely and proactively" with the developer.
"In times of heightened market activity, it is not uncommon for land to be sold at a rate quicker than it can be brought to market," said the spokesperson.
"Council needs to have a balanced development approach, ensuring essential infrastructure delivery can meet current and future community needs.
"The average assessment timeframe for most development applications can range from three to six months or longer depending on the complexity of assessment considerations under the relevant planning legislation."
"Further delays may occur in the assessment process when key community infrastructure has not been provided in accordance with timeframes under the Infrastructure Agreement."
Do you have an opinion to share? Submit a Letter to the Editor with your name and suburb at Sunshine Coast News via: news@sunshinecoastnews.com.au
Mr Harper said AVID had thousands of people on its database eager to snap up one of the 193 news lots in Serenity (which will eventually be a neighbourhood of 285 blocks).
"The good news in this is that we are going to release more land very, very shortly of those lots even though they haven't been formally approved by council.
"We cannot wait. Our customers are banging on our doors wanting land and we're going to release land very very shortly," said Mr Harper.
He said the Serenity estate would be released on a first come first served basis, not a ballot system.
Serenity marks almost the halfway point for Harmony estate which is now well ahead of schedule, with its timeline for completion halved from 15 years to seven.
The estate will eventually house 12,000 residents and is expected to now be completed in 2025 rather than 2031.
Mr Harper said there were about 2800 dwellings remaining to complete the estate.