A large community vaccination hub that health authorities reopened in a bid to double the region's ailing jab rate has fallen short of expectations in its first weekend.
The Sunshine Coast is among the areas lagging behind the rest of the state and nation, which is pushing for a minimum 80 per cent vaccination rate so it can reopen borders, hopefully by Christmas.
A target of 2000 vaccinations a day was set for the facility at Caloundra Indoor Stadium, which resumed operations on Friday. It was popular in June, when it saw 14,000 doses administered.
However, attendance this time around has been significantly short of the latest goal, with 3754 people turning out over the past three days.
This included 985 on Friday and 1338 on Saturday, with Sunday seeing some improvement, attracting 1431.
Authorities are hoping it will gather momentum and urged those who have not yet been vaccinated to attend.
It will remain open 9am to 5pm seven days a week for two months and will only deliver Pfizer, which is now available to anyone over the age of 12.
Some attendees told Sunshine Coast News that they had put off having their shots, but now realised it "had to be done".
"I want to travel, so there's no choice really. You are going to need your COVID vaccination 'passport'," a young surfer said.
"This hub is great. It's super organised and I was surprised how easy it all was," another local getting their first shot said.
Queensland has among the lowest vaccination rates in Australia and the Premier has raised concerns about slower uptake in some regions, including the Sunshine Coast.
While the Sunshine State has almost reached 52 per cent, NSW has 75 per cent of its population protected, the ACT is at 73% vaccination and Victoria is closing in on 60 per cent.
Federal Government statistics current to October 4, show 52 per cent of people in the Sunshine Coast Local Government Association area and 54.2 per cent in Noosa Shire had received their second dose. This will improve in coming weeks as 70.4 per cent of people in the Coast LGA and 73.1 per cent in Noosa had received their first dose.
Sunshine Coast Hospital and Health Service (SCHHS) CEO, Dr Peter Gillies, said it would be ideal to reach up to 90 per cent coverage on the Coast and he encouraged people not to delay.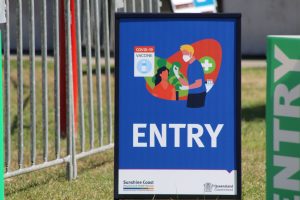 "This is the way we get out of this pandemic and get back to life as normal. These vaccines are really good, really safe and we really encourage you to all turn up," Dr Gillies said.
"You can either do that by booking an appointment, which would be preferred, or we are going to allow walk-ins as well."
You can book vaccinations online now via https://www.health.qld.gov.au/vaccinebookings.
State-run vaccination hubs delivered 20,811 doses on Friday and 25,507 on Saturday.
"That means, Queensland, that we're almost at 70 per cent vaccination," Premier Annastacia Palaszczuk said Sunday as the state held another Super Pfizer Weekend allowing walk-ups.
"We're at 69.71 per cent at least one dose and 51.75 per cent that are fully vaccinated," she said.
Local journalists supporting local people. Help keep independent and fair Sunshine Coast news coming by subscribing to our free daily news feed. All it requires is your name and email. See SUBSCRIBE at the top of this article 
Queensland recorded zero locally acquired COVID-19 cases for a fourth consecutive day.
There are 34 active cases across the state, with more than 2000 patients having made a recovery from infection.
While Queensland has not set a date, or vaccination target, for state borders to reopen, Health Minister Yvette D'Ath said more people were getting the jab and "as we talk about Christmas, we talk about borders opening".
"Those people who have been sitting back and going 'We don't have an outbreak here, I can afford to wait': time is up," she said.
– with AAP