If coconuts and the swaying palms of Fiji are at the heart of COYO organic products, then Henry and Sandra Gosling are its soul.
But the success they enjoy today has taken plenty of trial and error, life experience and even failures on their part to create.
And the couple would be the first to admit that good timing is everything in business.
"We've worn a few hats over time, most of them very unsuccessfully," Sandra told a group of travel media on a Visit Sunshine Coast Meet the Makers tour.
"Our journey of failures has brought us to where we are now. That's where you learn, don't you?
"Henry had managed newspapers in his other life. He did for a short period of time manage a dairy factory many years ago.
"And then really we went into sort of semi-retirement.
"We have six children and so I'd been busy for a number of years just with kids. I had a natural interest in health so I delved into naturopathy and various other health modalities as well as an interest in property and we were just cruising along in our own way – probably closer to looking at retirement before we started this.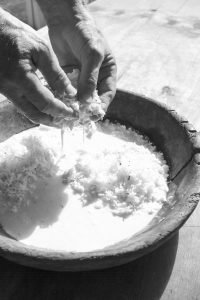 "It was just the coconut. That's the thing that made it happen.
"It wasn't any great experience in this field. Neither of us knew how to make yoghurt or anything like that.
"It was just this one's (Henry's) hankering to do something with coconut that he'd grown up with and loved so much."
When the Goslings set out to create COYO: the world's first coconut yoghurt, they saw their niche as the dairy-free market.
But the coconut water revolution was just beginning – unbeknown to them – and the health benefits of the coconut were being hailed by vegans, the health-conscious and social influencers alike.
Scroll down for some amazing recipes
"The coconut revolution was started by Madonna," said Henry, who was born and raised in Fiji, the grandson of a shipwrecked mariner from England.
"When we came along, she had taken a shareholding in a coconut water company and at that same time, 2010, that's when the coconut water market started to expand and we were just part of that.
"We were the first in the world (for coconut yoghurt). That market was 0. Now 10 years later, the global market is worth about $1.4 billion in coconut-type yoghurts."
Sandra said the COYO story started with making only 500 litres – half a tonne – of yoghurt every two weeks (in 2021, COYO now produces 45 tonnes a week).
Like stories about Sunshine Coast people doing great things? Help us deliver more by registering for our free daily news feed. All it requires is your name and email. See SUBSCRIBE at the top of this article. 
"Henry was making the yoghurt, packing the yoghurt. I was selling it. Two of our boys were distributing it and no one knew what it was," she said.
"We spent our weekends in stores, putting it in people's mouths, making sure they  could actually taste it and know what it was like. And that's how we grew the business every weekend.
"We couldn't go too far afield. We got down as far as about the Gold Coast, Brisbane and the Sunshine Coast. I always said to (Henry), 'This thing has got a mind of its own – it's like magic'.
Follow us on Facebook: www.facebook.com/scnews2020/
"Suddenly, it's organically growing and so people are talking and, next thing, we get calls  from stores saying, 'Can we stock that stuff? Someone's been in here asking for it'.
"We were very lucky in really hitting that wave of coconut popularity, even though we didn't know it at the time. Coconut was starting to come into its own.
"It was on its own journey and there was nothing we could do to stop it if we wanted to."
The COYO site – a totally renovated former macadamia nut factory behind the Big Pineapple on Nambour Connection Road, Woombye – is COYO's fourth home, having outgrown three other locations, including two in Yandina.
They moved into Woombye in December 2019. A colonial-style house nearby acts as the administration offices.
As well as yoghurt, the factory also produces ice cream as its next biggest seller, supplying all of Australia, and with licensees in the United Kingdom and United States.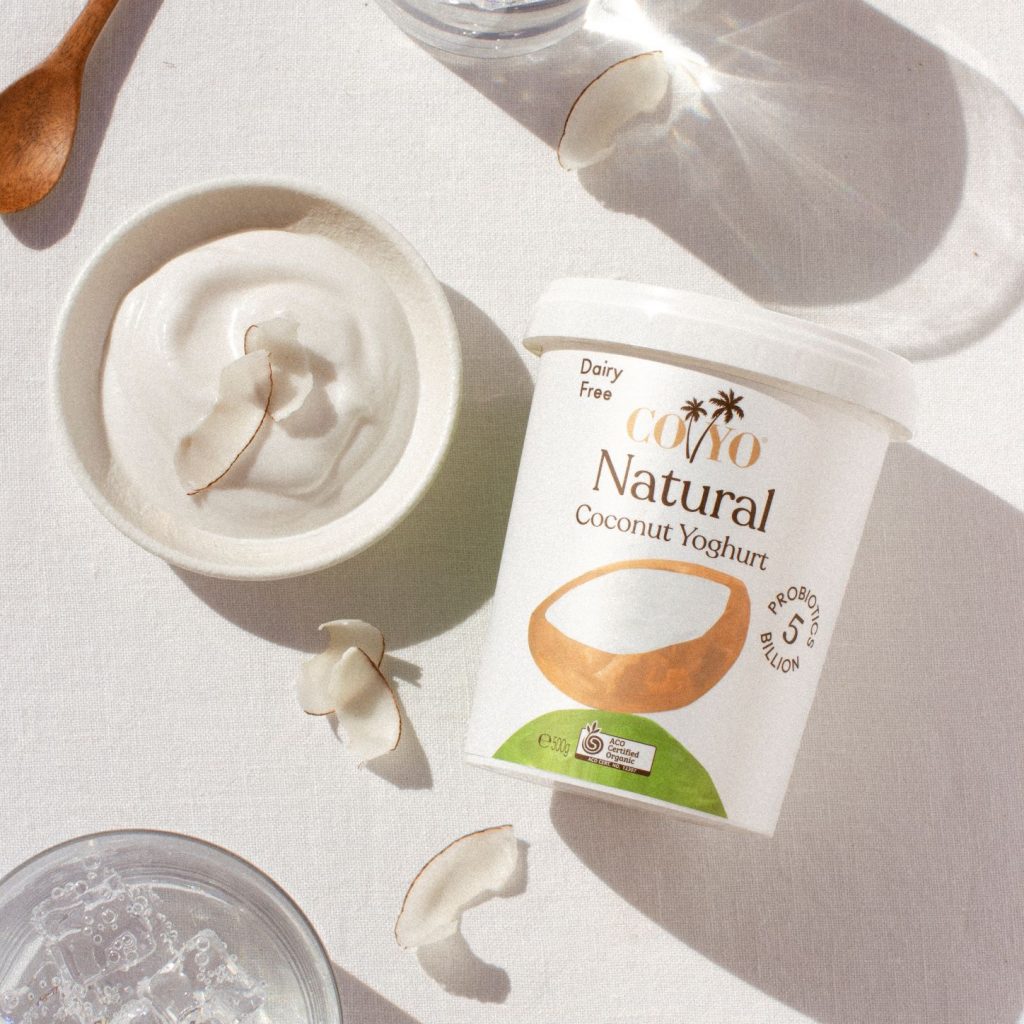 Sandra said sometimes the former Sydneysiders still had to "pinch themselves" to see if it was true that they had come such a long way in business.
"Henry came up with this crazy idea to make coconut yoghurt back in 2009," she said.
"There was no such thing on the market at the time. So, like anything, when you're the pioneer, you have no one to ask and no one to follow so it was a huge  learning curve from where we were to where we are today.
"We started off pretty much trundling tubs or containers of yoghurt across our soggy paddock in the winter to our cool room out the back of the paddock.
"Over the years, we've also, I must say, have been lucky enough to gather the most amazing team around us."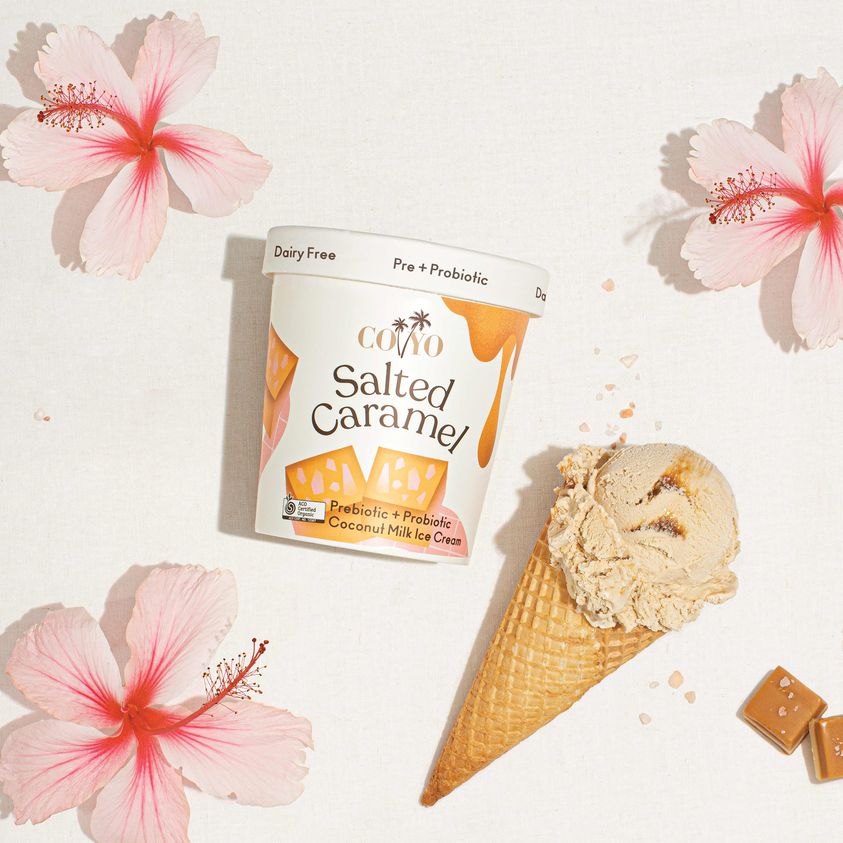 The Goslings started producing coconut ice cream two years after the yoghurt from about 2012, and it's now available in 500ml or smaller snack size tubs.
Salted caramel, choc mint and triple choc are the top-three in-demand flavours.
Having tasted success, though, the Goslings are not ones to rest on their laurels. Retirement still seems a far-off dream.
"But of course now, the reality of it is that we are no longer the only coconut yoghurt in the market and it is a competitive market," Sandra said.
Help keep independent and fair Sunshine Coast news coming by subscribing to our free daily news feed. All it requires is your name and email. See SUBSCRIBE at the top of this article. 
"Now the challenge is staying ahead of the game, being innovative and focussing on our strengths as a small company.
"We're 100% family-owned and Australian-owned. They're our strengths against these big companies that come in and are really very difficult to compete with these days."
For stockists, recipes and more on the Goslings' story, go to the COYO website
STICKY HONEY AND COCONUT RICE PUDDING WITH PASSIONFRUIT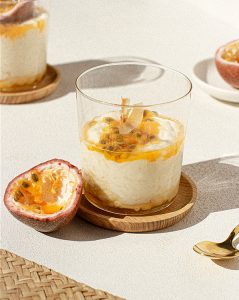 Rice Pudding Ingredients:
350g short grain rice
4 tbsp COYO Honey
700ml water
Pinch of salt
1/2 tsp vanilla paste
To serve: 
4 tbsp honey
Toasted coconut flakes
4 passionfruit
Method:
Place rice, a pinch of salt, water and vanilla paste in a pan over a medium heat.
Simmer for about 25 minutes until the rice becomes thick and sticky. Stir occasionally to avoid the mixture sticking to the bottom of the pan.
Once cooked, remove the pan from the heat and allow it to cool slightly.
Stir through the COYO Honey until the rice becomes creamy.
Place the mixture in the fridge to cool further.
To serve, drizzle honey around the wall of serving glasses.
Remove the rice pudding from the fridge and divide between the serving glasses.
Slice passionfruit in half, and spoon the pulp on top of the pudding.
Garnish with toasted coconut flakes, serve and enjoy!
GLUTEN-FREE CHOCOLATE WAFFLES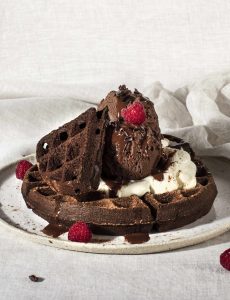 Ingredients:
1 cup buckwheat flour
1/4 cup cocoa powder
1/4 tsp salt
1 tsp baking powder
4 tbsp coconut oil
2 tbsp maple syrup
1 cup coconut milk
Raspberries to serve
300g COYO Probiotic Natural Coconut Milk Yoghurt
2-3 scoops COYO Cacao Choc Chip Coconut Milk Ice Cream
Vegan chocolate sauce
Method:
In a large bowl, combine the buckwheat flour, cocoa, baking powder and salt. Mix together well.
Next stir in the coconut oil, maple syrup and milk.
Preheat your waffle iron and brush on some oil. Then pour your batter into the waffle mould, ensuring to fill right to the edges. Cook for approximately 5 minutes.
Serve stacked waffles with a plentiful dollop of COYO Coconut Milk Yoghurt, 2-3 scoops of COYO Cacao Choc Chip Coconut Milk Ice Cream, a dusting of cacao powder, a drizzle of vegan chocolate sauce and then sprinkle with cacao chips for crunch and sweet raspberries for freshness.
PREBIOTIC FLAX SEED CRACKERS WITH COYO YOGHURT AND KIMCHI DIP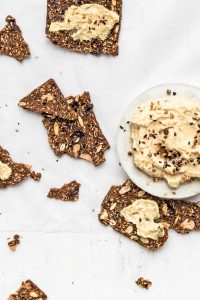 Ingredients for flax crackers:
1/4 cup flaxseeds (soaked in 1/2 cup water for 30 mins)
2 cups sunflower seeds
1/4 cup brown teff flour
2 tablespoons psyllium husk
1 teaspoon rosemary
1 teaspoon thyme
1 tsp sea salt
1/4 cup water
1/4 cup dried cranberries (roughly chopped)
1/4 cup slithered almonds
1 teaspoon roasted sesame seeds
2 teaspoons sesame oil
Ingredients for COYO Coconut and Kimchi Dip:
200g COYO Probiotic Natural Coconut Milk Yoghurt
80g of good quality fermented Kimchi
Black pepper to serve
Method for flax crackers:
Pre-heat your oven to 150C.
Roughly chop the sunflower seeds in a food processor or using a knife. Add them to a large mixing bowl, followed by the teff flour, psyllium husk, herbs and salt. Mix the ingredients together well, then add the water and mix together.
Add the soaked flaxseeds to the bowl and fold the mixture through until well combined.
Line a baking tray with baking paper. Spread the mixture out on to the tray, pressing firmly down until thin and flat (you want it to be about 1cm thick).
Use a knife to faintly press vertical lines into the mixture about 3cm apart. This makes it easier to break apart once it's cooked.
Place the tray into the oven and cook for about 45-60 minutes. They are ready once they're brown, dry and crisp.
Method for COYO Coconut Kim Chi Dip:
In a food processor, combine 200g of COYO Probiotic Natural Coconut Milk Yoghurt with 80g of the fermented Kimchi of your choosing.
Once smooth, place contents into a bowl and serve with a sprig of coriander and cracked black pepper alongside your Prebiotic flaxseed crackers for a gut-loving snack.