A beauty teacher and a film-maker are poised to represent the region at the Queensland Training Awards.
Narelle Crick and Mikayo Mundy will be involved in the virtual awards, to be held Friday, October 8, after winning their respective categories at the North Coast regional final in July.
Ms Crick and Mr Mundy beat nominees from Bundaberg to Strathpine to secure a place in the state final, an incredible achievement that recognises their commitment to training and the skills they have developed.
North Coast VET Trainer of the Year Narelle Crick said she was overjoyed to hear she had won the regional final. The passionate educator was excited just to be nominated.
"There are so many amazing teachers delivering training in this region, so I feel so honoured to receive this award," she said.
Ms Crick started out as a student at the Mooloolaba TAFE campus.
The already-qualified hairdresser and salon owner initially started a Certificate III in Beauty and Diploma of Beauty to expand her business.
However, her career path changed when her trainer encouraged her to expand on her already-evident mentoring skills, to become a trainer as well.
A natural educator, Ms Crick has now spent 13 years skilling the next generation of beauty therapists as a teacher in the VET sector, with the last five years spent at TAFE Queensland's Mooloolaba campus, working alongside the teacher who supported her through her own learning journey.
Now, her contribution to vocational education and training in Queensland is being recognised in the state final for the awards – but for Ms Crick, her role supporting others in kick-starting their careers is better than any accolade.
"I love working with students and seeing them achieve their goals," she said.
"For me, that's the greatest reward possible – watching them go on to have successful careers and knowing that I've helped them accomplish that."
Follow us on Facebook: www.facebook.com/scnews2020/
North Coast Vocational Student of the Year Mikayo Mundy has also had his dedication to achieving his dream recognised.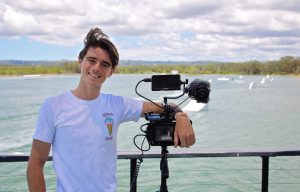 The professional wakeboarder (pictured) completed a Diploma of Screen and Media at TAFE Queensland's Nambour campus in 2020, and is currently on track to complete a Bachelor of Film and Screen Media at 18-years-old, giving him a head-start on his film career.
"The diploma has opened up a lot of other opportunities for me," he said.
"It's changed my thoughts about filmmaking, and my videos have really improved from spending that extra time to work all that out."
Ms Crick and Mr Mundy are joined by Bribie Island resident and fellow TAFE Queensland student Loralei Coleman, who was awarded School-based Trainee of the Year at the North Coast final, for her efforts in studying the Certificate III in Dental Assisting.
Get more great Sunshine Coast News stories to your inbox by subscribing to our free daily news bulletin. All it requires is your name and email. See SUBSCRIBE at the top of this article.
TAFE Queensland General Manager (East Coast region) Ana Rodger said she was proud of the trio's achievements.
"There is nothing more rewarding than seeing our students excel in doing what they love most," Mrs Rodger said.
"TAFE Queensland is committed to providing its students with the knowledge and practical skills they need to succeed, so when Narelle, Mikayo and Loralei were selected from such an inspiring group of their peers and acknowledged on this scale for their passion, dedication, calibre, we felt their win as if it was our own.
"TAFE Queensland congratulates our deserving winners, and wish them the very best of luck at the state final."
To find out more information about courses available at TAFE Queensland, call 1300 308 233 or visit tafeqld.edu.au.