The Sunshine Coast hinterland can be less than a 30-minute drive from our beaches, yet a world away in experiences.
And for foodies and gin lovers, especially, one of the most exciting enclaves is emerging around The Big Pineapple at Woombye.
The tourism icon, which celebrated its 50th anniversary in August this year, is undergoing a rejuvenation and the flow-on effects have been rippling out to surrounding areas.
On the slopes and fertile soils where pineapple and macadamia nut farms once ruled, certified organic farms, acclaimed food-industry businesses and distilleries producing alcoholic ginger beer, gins, vodkas and rums are putting down roots and growing strong.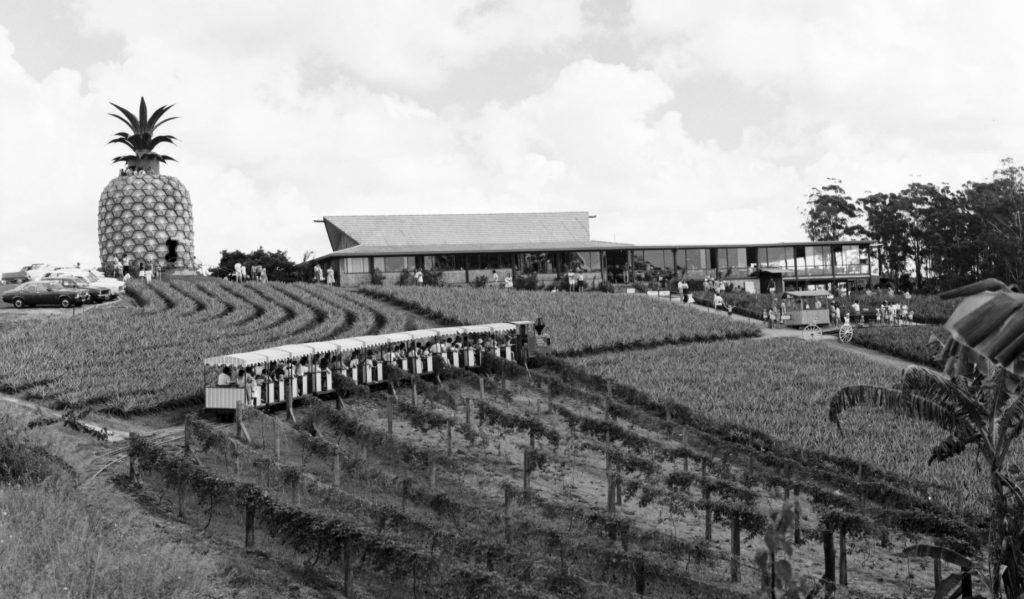 Many belong to the Food and Agribusiness Network (FAN): a not-for-profit food industry group of 320 members in the Greater Sunshine Coast region (Gympie, Noosa, Sunshine Coast and Moreton Bay) which fosters an atmosphere of collaboration, innovation and mentoring.
FAN marketing and events manager Nicole McNaughton calls this internationally recognised Australian food cluster "a collaborative ecosystem" made up of business owners who are extremely passionate about what they do.
"Our purpose is to bring together our industry – producers, makers, distillers, brewers, artisan chocolate makers, you name it – to create an ecosystem where we all grow individually as businesses but also grow together as an industry and a region."
And a recent "Meet the Makers" media event organised by Visit Sunshine Coast around the Woombye and Nambour areas, some of these FAN members told the stories of their personal business journeys.
Diablo Australia, COYO, Sunshine & Sons (Cavu Distillery), Good Harvest Organic Farm and Mill Street Kitchen and Pantry are all making a name for themselves across the region and Australia.
And Sunshine Coast News will bring readers the story behind these groundbreaking businesses over coming weeks.
DIABLO AUSTRALIA, WOOMBYE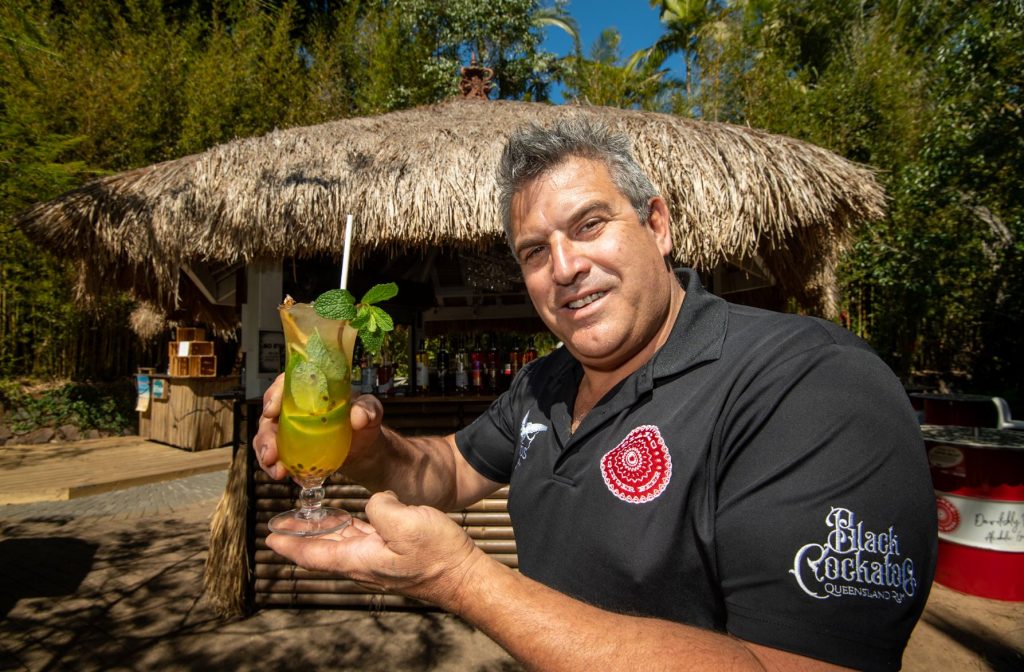 He has a reputation as a "do-er", and many would recognise him as the man who helped breathe new life into Maroochydore's Ocean Street.
As the owner of successful businesses including venue Solbar, Dimi Limnatitis has rubbed shoulders with thousands of celebrities, corporate high-flyers and grassroots music fans.
But in 2017, his business interests took off in another trajectory.
He saw an opening for a refreshing alternative to the craft beers that seemed to have flooded the market overnight.
His new passion project, Diablo Alcoholic Ginger Beer, was born and the first customers were his Solbar patrons.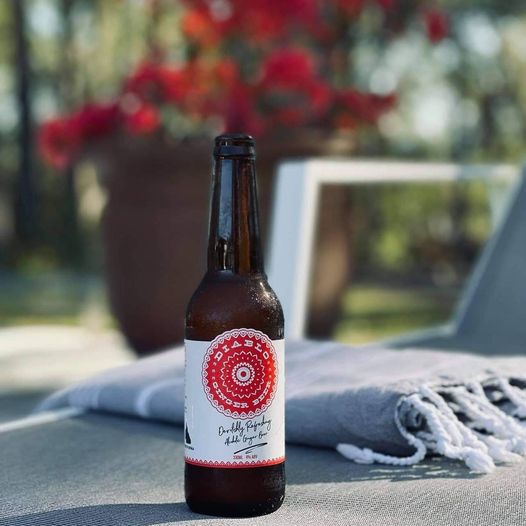 The refreshing drink is the alcoholic ginger beer for those who don't like ginger beer: a flavoursome and distinctive blend of 13 ingredients, herbs and spices that's also a gluten-free beverage.
​"Five/six years ago, when all the craft beers came out, I  thought we'd do something more substantial than the craft beers because all the craft beers are hoppy and poppy and amazing … but no one would come back for them in the Queensland climate," Dimi remembered.
"I started making that (alcoholic ginger beer) behind the bar for our customers, so this is  a 100% Queensland-produced product.
"We distil out of sugarcane and then our white spirit gets infused in chillis – that's where you get the kick.
"It's so easy drinking. Believe it or not, being a white spirit, there's no headaches the next morning. It's a nice, clean spirit. It's only 4% (alcohol). So, it's easy to 'session'."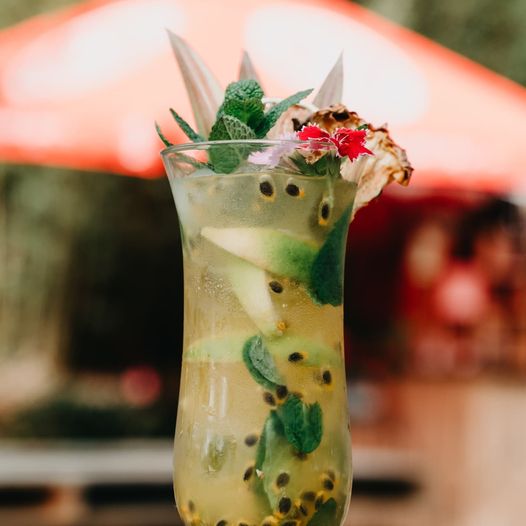 Operating from the Diablo Australia site behind The Big Pineapple, Dimi now produces three rums, three vodkas, three gins and nine liqueurs alongside the alcoholic ginger beer.
"Before Covid, we only had the Eros vodka, which we distil out of sugarcane, and one of our (Sapere) lychee liqueurs," the respected businessman said.
"Everything else, we produced during Covid. I just got pretty bored.
"It's something that we always wanted to do. So, we created everything: the flavours, distilling, the labelling, the bottling.
"We've only got a small 600-litre still and we produce all these products."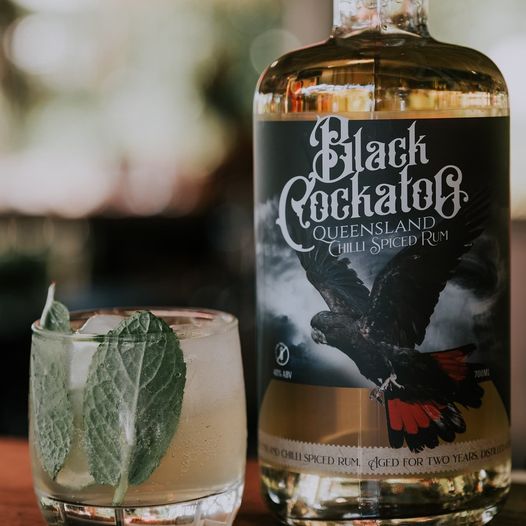 The latest addition to the range is the Azure Mediterranean Gin. It still uses juniper berries for the predominant gin flavour but adds Mediterranean botanicals, for a nod to Dimi's Cypriot heritage.
In the portfolio, one of the most popular is the Black Cockatoo Queensland Chilli Spiced Rum derived from a two-year-old dark rum, distilled in a mix of copper pot and column still, and finally filtered through charcoals. There's also a coconut flavour for a more tropical rum blend that's ideal for cocktails such as Mojitos.
Dimi encourages taste tests of what he calls his "Hubba Bubba" flavour: Melogion Grape Liqueur.
"It would be rude of me coming from the Mediterranean – because we don't make wines as well – not to have something grape-flavoured," he said.
Diablo Australia believes that when it comes to grape liqueurs, the Greeks do it best as the original distillers in 200AD.
Local journalists supporting local people. Help keep independent and fair Sunshine Coast news coming by subscribing to our free daily news feed. All it requires is your name and email. See SUBSCRIBE at the top of this article. 
"Melogion" was said to be a drink "more intoxicating than wine" and the local product's "sweet and robust expression of grapes" goes well in a Grape Sour cocktail.
The Diablo Australia products are available state-wide through BWS and Dan Murphys, as well as online sales at https://diabloco.com.au
But Sunshine Coast residents and visitors are welcome to head to The Big Pineapple every Friday, Saturday and  Sunday afternoon, where you'll find the Diablo Australia Oasis outdoor bar fronting a grassy section at the back of the attraction.
"We've usually got live music. We've got food trucks – anything from pizza to slow-cooked to vegetarian. A jumping castle for the kids. It's animal-friendly," Dimi said.
"The guys next door at the (Wildlife HQ) zoo, they always bring animals – snakes, crocodiles, koalas. It's beautiful. If you come here on Saturday or Sunday, literally the whole grass is taken. Everyone brings a blanket."
PLENTY OF ADDED FLAVOUR AND GOODNESS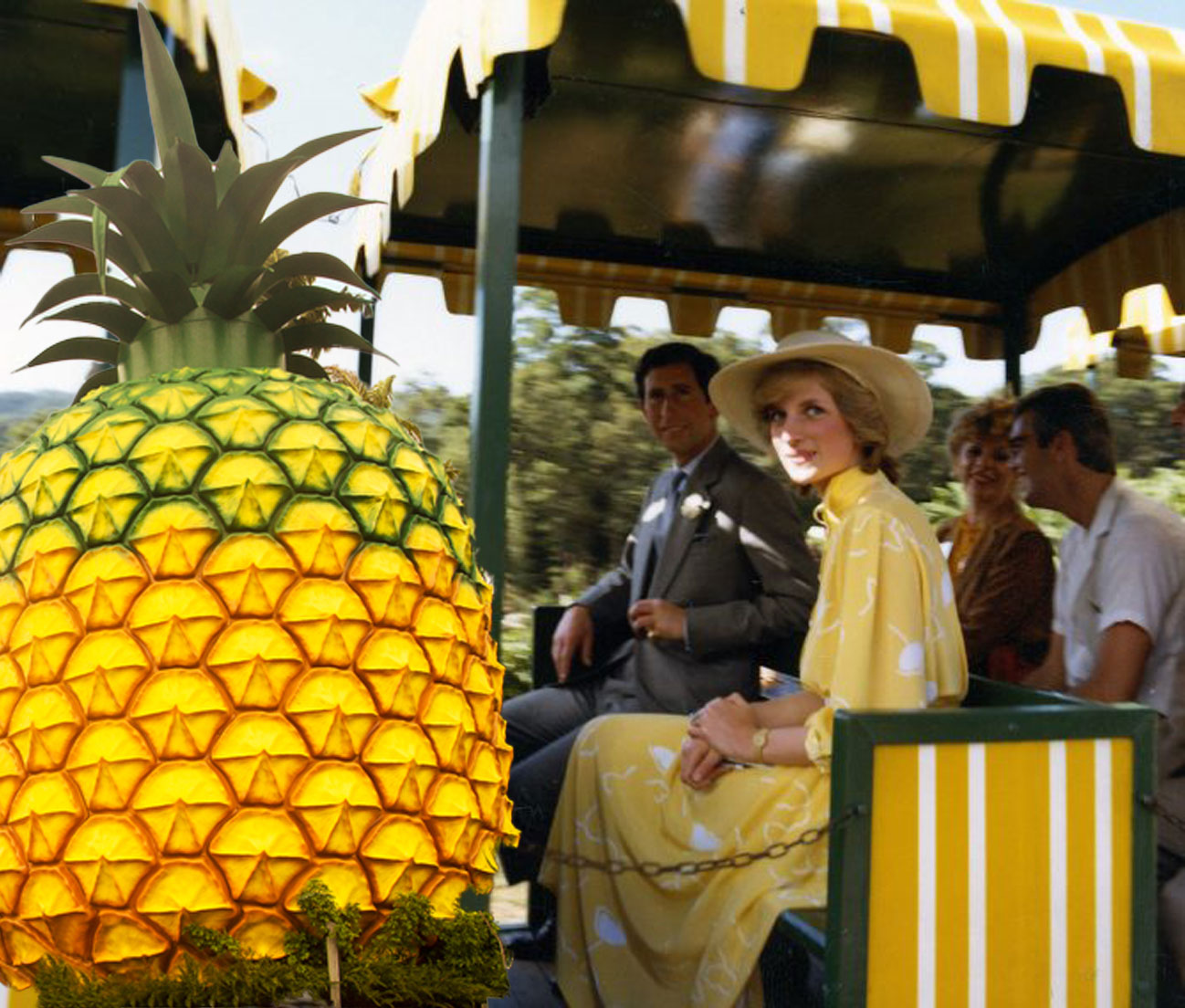 You can't accuse The Big Pineapple of lacking flavour over its five decades of operation.
In 1983, the Woombye attraction played host to a visit by then newlyweds Prince Charles and Princess Diana (the plantation train carriage she rode in has been restored and put on display, complete with plaque).
Opening in 1971, The Big Pineapple (also once known as Sunshine Plantation) in its heyday from the 1970s to the '90s was the most popular tourist attraction in Australia, drawing a million visits a year.
Love nostalgia? So do we. Help keep more great Coast memories alive by subscribing to our free daily news feed. Go to Subscribe at the top of this story and add your name and email. It's that simple.
It was the No.1 go-to attraction for thousands of families on road-trip holidays to the Sunshine Coast, when a fruit parfait or pineapple boat sundae were a must, along with the mandatory photo in front of the 16m fibreglass pineapple – one of Australia's first "big" icons.
The plantation train (now undergoing repairs) always made a stop at the on-site animal farm, which morphed into Wildlife HQ in 2014 after Julie Seabrook and her team of dedicated keepers undertook a Noah's Ark-style operation to move 200 native and exotic animals from the 40-year-old Alma Park Zoo at Kallangur (Queensland's first zoo), which was becoming a victim of urban sprawl, to their new home. More than 200 animal species now live there.
The Heritage-Listed attraction is also back with the "in" crowd, drawing fans to the hugely popular Big Pineapple Music Festival – an annual pilgrimage for music lovers that attracts big-name acts across various musical tastes and is usually a sell-out. The Big Pineapple has been honoured as the best music festival by the Queensland Music industry, and also recognised by Qantas as among the top 10 regional music events in Australia.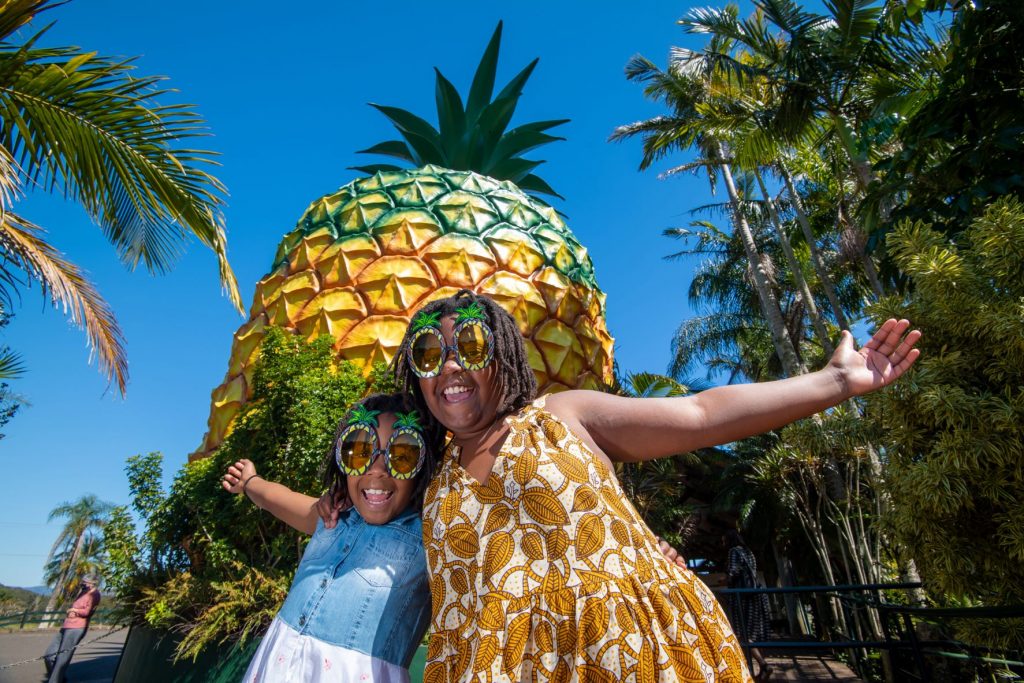 Feeling right at home at The Big Pineapple these days, too, is "Australia's highest and most thrilling adventure park" featuring the TreeTop Challenge high ropes course, suspended over 4ha of lush coastal rainforest. Adventurers can climb more than 30m on the highest courses for a bird's-eye view of the tree canopy and take part in 120 exciting high ropes games while gliding along 12 ziplines spanning from 20m to 140m in length. The six courses move from easy to Black Diamond extreme.
When announced in December 2019, the Sunshine Coast Council's approval of a multi-million-dollar renewal project to ensure a sustainable future for the 169-hectare site aimed to leverage The Big Pineapple's strong brand and history, and focus on a combination of eco-tourism and agribusiness, supporting local producers, as well as providing entertainment opportunities, outdoor educational facilities and accommodation.
The $115 million project is expected to be a welcome injection for our Sunshine Coast hinterland tourism industry.
COCKTAILS, ANYONE?
 As the spring and summer party season gets under way, the call for Mojito cocktails goes up. Here are just a few variations using Diablo Australia products.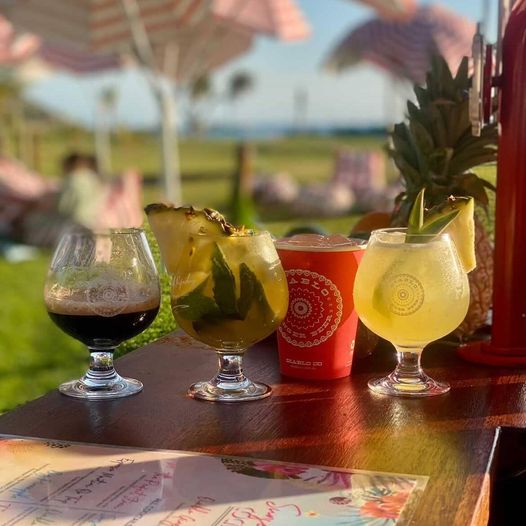 TROPICAL MOJITO
Ingredients:
30ml Black Cockatoo Coconut Rum
30ml Big Pineapple Liqueur
Diablo Ginger Beer
15ml Lime Juice
15ml Pineapple Juice
6 mint leaves
2 lime wedges
Half a passionfruit
Method:
Combine rum, liqueur, lime juice and pineapple juice into a shaker with ice.  Shake well.  Strain into a high ball glass with ice, add slapped mint leaves, lime wedges, pulp from passionfruit and top with Diablo.  Garnish with mint.
PASSIONFRUIT MOJITO
Ingredients:
30ml Black Cockatoo White Rum
30ml Amazonas Passionfruit Liqueur
Diablo Ginger Beer
15ml lime juice
15ml sugar syrup
6 mint leaves
2 lime wedges
half a passionfruit
Method:
Combine rum, liqueur, lime juice and sugar syrup into a shaker with ice.  Shake well.  Strain into a high ball glass with ice, add slapped mint leaves, lime wedges, pulp from passionfruit and top with Diablo.  Garnish with mint.
 CLASSIC MOJITO
Ingredients:
45ml Black Cockatoo White Rum
Diablo Ginger Beer
30ml sugar syrup
15ml lime juice
6 mint leaves
3 lime wedges
Method:
Combine rum, sugar syrup and lime juice into a shaker with ice.  Shake well.  Strain into a high ball glass with ice, add slapped mint leaves, lime wedges, and top with Diablo Ginger Beer.  Garnish with mint.
LYCHEE MOJITO
Ingredients:
30ml Black Cockatoo Coconut Rum
30ml Sapere Lychee Liqueur
Diablo Ginger Beer
30ml lychee or cloudy apple juice
15ml lime juice
6 mint leaves
2 lime wedges
Method:
Combine rum, liqueur, lychee/apple juice and lime juice into a shaker with ice.  Shake well.  Strain into a high ball glass with ice, add slapped mint leaves, lime wedges, and top with Diablo Ginger Beer.  Garnish with mint.