After a couple of stormy days, we are going to get an early dose of summer for the long weekend.
The wild weather is tipped to clear for Saturday, which will be sunny and see a top of 27C.
The temperature will rise to 29C on Sunday and a sizzling 33C on Monday, for the Queen's birthday public holiday.
The warm conditions should make for a perfect end to the Spring school holidays that have seen largely good conditions across our beaches with large crowds enjoying the sun and ocean.
There will be light winds early over the weekend and north-westerlies later in the day.
We should see relatively small surf in the 0.5m range, so swimming conditions should be good across all beaches.
Monday could see a slight increase in swell and there might be some fun waves for surfers around the 1m mark.
Despite the small swell, there will always be rips around, particularly as the tide runs out. Low tide will be at 10.42am Saturday, 11.30am Sunday and 12.14pm on Monday
Top honour for lifesaving's leading ladies
Two of our very best female surf lifesavers were recently presented with one of the movement's highest honours – Life Membership. Here's why.
LENORE GRICE:
Lenore joined Noosa Heads SLSC in 1972 and also joined Maroochydore SLSC in 1998. She is still an active member at both clubs holding Life Membership at Noosa Heads SLSC.
At Noosa Heads SLSC, Lenore held positions of fundraising officer, president of the ladies auxiliary, secretary, house to house coordinator, first aid trainer/assessor, first aid competition coach, judiciary committee, constitution committee, bursary committee, anniversary organising committee, grievance officer and supporters club committee.
In 1980, when women were admitted as full members of the association, Lenore displayed leadership, commitment and passion by encouraging young women to join the club to learn important lifesaving skills while building confidence and self-worth.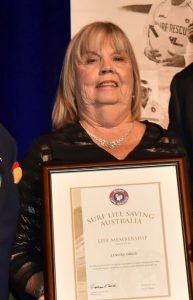 A number of her female friends and work colleagues joined the club, gained their Bronze Medallions and became efficient and effective patrolling members of the club.
Lenore led by example she was the club's first female office bearer, the first female coach and, in 1986, she coached the first aid team, which won the first ever Australian championship in the club's history.
With her positive impact she inspired women to take on key leadership roles within the club. In 2005, Lenore was awarded a Silver Certificate of Recognition for outstanding voluntary contribution and dedication to the advancement and promotion of women in surf lifesaving.
During her 48 years of continuous voluntary service, Lenore has fulfilled many roles at club, branch, state and national levels.
KIRSTEN PHILLIPS:
Kirsten has shown exceptional dedication to surf lifesaving for over three decades at Metropolitan Caloundra SLSC.
Her leadership roles and longevity of service within surf lifesaving covers all levels of the organisation – club, branch, state and national.
She has volunteered thousands of hours to active roles as a patrolling lifesaver, trainer and assessor and office bearer over this time across lifesaving, sport, administration, member development and education.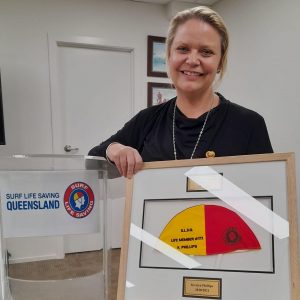 Her focus has always been on continuous improvement in lifesaving services and member development with members being the 'heart of the organisation'.
She has been a member for 36 years and patrolling member for 31 years since gaining her Surf Rescue Certificate. Kirsten has completed over 1,600 hours on patrol and given 15 years' service to Surf Life Saving Queensland on various panels or committees across many aspects of surf lifesaving.
Congratulations ladies, you are both outstanding ambassadors to our young lifesavers, in particular our young female members.
Enjoy the last weekend of the holidays and, as always, enjoy the beach and make sure you only swim between the red and yellow flags!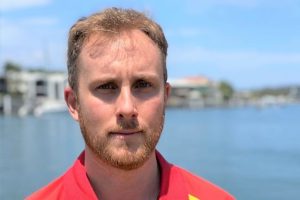 Aaron Purchase is Surf Life Saving Queensland's regional manager for the Sunshine Coast. His column in sunshinecoastnews.com.au keeps the community informed of what's happening on the beach and offers tips on how to stay safe.