Hearing new music today is easier than it has ever been.
A quick search for a song on your phone or computer can have you lost in a world of listening pleasure in mere seconds.
It's an instant thrill that would have been incomprehensible to a music-mad Ian Moss growing up in Alice Springs in the 1960s.
If you wanted a new album, you had to order it at the local record store and it would take four weeks to arrive.
Perhaps that explains why he couldn't care less about the vinyl versus digital debate.
 "It doesn't really bother me – they both sound good," he said.
"In the last few years, it has become trendy to get a turntable and start playing vinyl, but I've never bothered with that.
"To me, it's all about accessibility. I've been down those rabbit holes, and I'm not interested. Digital has come a long way and it's way easier to listen to music on your phone or computer. 
"It's such an extraordinary world of accessibility today and I wish YouTube had been around in the 60s. You can hear any style of music you want, you can get all the lessons and all the information you want.
"Back in my day, you'd hear about some music, wander down to the music store and see a catalogue of two books teaching you how to play guitar and read music."
The iconic Cold Chisel guitarist and solo singer-songwriter was always destined to become a rock star, even if Alice Springs was about as far as you could get from the burgeoning music scene of the 60s.
He started performing for family and friends from the age of four, switched piano for guitar at 11 and was playing in high school bands by the age of 14. 
"Jimi Hendrix was the first guitarist to blow my mind," he said.
"My first album was Jimi Hendrix Experience Smash Hits when I was about 13. It's when I really started to appreciate what it was like to play electric.
"That album had them all – Purple Haze, The Wind Cries Mary, Fire… I listened to it on the good old radiogram in my parents' lounge room. Those things sounded great, even though they had crappy six-inch speakers in them.
"At that time, the whole music world changed and suddenly the 60s went from Yellow Polka Dot Bikini to Bob Dylan, Hendrix and acid rock. I wanted to know about all the guitar players – the Hendrixes, the Eric Claptons, the Jimmy Pages. Apart from Hendrix, the people that really commanded the power and influence were the British guys."
After failing one of his high school years, Mr Moss moved to Adelaide to repeat the year and instead ended up answering an ad in a shop window for a guitarist.
The year was 1973 and it was a decision that would change the course of his life.
He joined organist and principal Cold Chisel songwriter Don Walker in forming a band, which would come to include drummer Steve Prestwich, bassist Phil Small and singer Jimmy Barnes.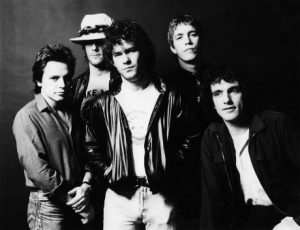 But while Cold Chisel would go on to become legends of Aussie pub rock, they were no overnight success.
"We had plenty of times of doubt," Mr Moss said.
"It was a long path. Cold Chisel were together for a good five or six years before we found success.
"There was lots of serendipity. I met Don Walker under extraordinary circumstances. You might look back and go, was that destiny or pure luck?
"He was a bit older than the rest of us, but he was just so solidly dedicated. Very quickly and without any help going to songwriting school and without YouTube, he figured out how to write songs on his own.
"We'd built up a good following in Adelaide playing covers and people didn't like it when we ditched our covers and started playing originals.
"We decided to present a bunch of new songs and maybe they weren't up to the mark, but they were a start. It caused a furore in Adelaide town. Some people said 'good on you', others said 'what's this guy done, he's wrecking you?'.
"We fine-tuned it as we went," he said.
"By 76 and 77 we had Khe Sanh and Home and Brokenhearted and were on our way, but we still had a lot of work to do going round and round the country as you had to in those days.
"Khe Sanh got banned because the lyrics had sex and drug references – only Australian songs got censored. That never happened with songs from overseas acts.
"At the time, we just soldiered on and kept playing. There was an incredibly healthy pub scene – you could play seven nights a week." 
While Mr Moss has gone on to create a successful career as a solo artist in the years since Cold Chisel broke up, he was happy to leave the limelight to Jimmy Barnes in the early days, having suffered from anxiety and shyness.
But he's since proven his mettle as a top-notch solo performer with enduring appeal.
His vocals appear on some of Cold Chisel's best-known songs and he's been quoted as saying the one song he'll never tire of singing is Bow River, which he wrote about a sheep station in the Northern Territory where his brother had once worked.
Widely acknowledged as his signature tune, he'll be playing it live when he appears at Caloundra Music Festival on Friday, October 1.
"I wouldn't get out alive if I didn't play Bow River," he said.
"It's a solo acoustic show and I'll be making it as entertaining and recognisable as possible.
"Don't be put off by the solo acoustic thing. I'll have a massive PA system and between my guitar, my trusty stomp box and my attitude, there's plenty of energy.
Follow us on Facebook: www.facebook.com/scnews2020/
"I'll be doing Tucker's Daughter, Telephone Booth, my versions of a couple of Cold Chisel classics, When the War is Over and I'll sprinkle in songs like If Another Day and Broadway from my studio album."
While Mr Moss lives in Sydney with his partner, jazz singer Margeaux Rolleston and son Julian, who is currently completing his HSC, he has been able to escape the long-running Sydney lockdown.
Having had a number of gigs booked in Queensland for late June and early July, he made a dash across the border before it closed.
He's been staying in Noosaville and said if you see him out and about, he doesn't mind if you say g'day.
Like stories about Sunshine Coast people doing great things? Help us deliver more by registering for our free daily news feed. All it requires is your name and email. See SUBSCRIBE at the top of this article. 
He may be one of Australia's music legends, but he's about as unpretentious as they come.
"I don't try and hide or make a big deal of anything" he said.
"I'm just another guy in the street. Most people are pretty cool, they'll say 'hey mate, what are you doing up here?'.
They're pretty sober and respectful. I prefer to walk amongst everyone else, like I'm a regular person. Which I am. I don't mind people coming up and having a chat – I'll talk all day."
Ian Moss will play at the Caloundra Music Festival on Friday, October 1, at 7pm. The festival runs from October 1 to October 3. For more information and tickets, visit https://caloundramusicfestival.com.