The Sunshine Coast's newest school, which will cost $75 million to build, has been officially named.
Premier Annastacia Palaszczuk said the facility, in the fast-growing Aura estate, would be known as Nirimba State Primary School.
She also named two others: Everleigh State School (Greenbank) and Coomera State Special School.
Ms Palaszczuk said all three schools were on track to open in January 2022.
"An official school name is an exciting step forward for these new school communities as they gear up for the first students to walk through the gates next year," she said.
"We're investing almost $200 million in building these schools which is supporting almost 600 local construction jobs."
Education Minister Grace Grace (pictured during a visit to the school construction site earlier this year) said the three 2022 foundation principals were now able to develop a logo and uniform and to accept enrolments.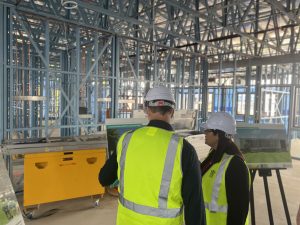 "Hundreds of students have expressed their interest in enrolling which is a really positive sign that local families are keen to send their children to these new schools," she said.
"The $50.6 million Coomera school will open to Prep-Year 12 students, and the $74.8 million Caloundra school and the $73 million Greenbank school will open to Prep – Year 6 students.
"Tradies are getting on with the job of building these schools which will feature world-class facilities.
"I know that the local members are just as excited as the students for their new school to open."
Nirimba State Primary School Foundation Principal Steven Moore was also delighted with the level of community interest in the new school.
"We've had fantastic support and interest from prospective parents and carers, the Parent Liaison Committee and our foundation/interim P&C, in choosing the school name, logo design and finalising school uniform designs and colours," Mr Moore said.
"Everything is progressing smoothly and we look forward to commencing enrolments in October."
Member for Caloundra Jason Hunt was thrilled with the announcement.
'It's so exciting to see yet another school getting ready to open it's doors in Caloundra," he said.
"We haven't seen this much education investment into the area in a long time and after all, schools represent opportunity for young people. I'm looking forward to visiting the newly named Nirimba State Primary again soon."