It's one thing to compete at the Olympic Games. It's another thing entirely to compete at your first Olympics having recently lost your father to cancer and dealt with the stress of a global pandemic, then stun the nation by walking away with three gold medals and a bronze at the age of just 20.
It really deserves a solid 'F*** yeah!'.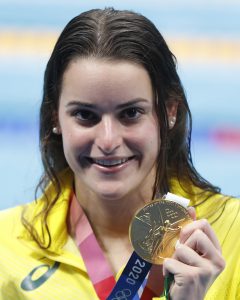 Kaylee McKeown will go down in history as the sweetest person to ever drop an F-bomb on national television. While she regrets her slip of the tongue as she spoke to a journalist poolside after winning her first gold medal, it only endeared her more to most Australians who could not have been happier for the young Sunshine Coast swimmer.
In the space of a week, Kaylee went from making her Olympic debut to becoming one of Australia's most successful Olympians. Her four-medal haul at the Tokyo Olympics puts her ahead of Stephanie Rice and just behind the legendary Shane Gould.
It also makes her arguably the most decorated homegrown Sunshine Coast Olympian.
In the lead-up to their Commonwealth Games appearances in 2018, Kaylee was completing Year 12 at Pacific Lutheran College while maintaining a training schedule with her sister Taylor, under University of the Sunshine Coast Spartans coach Chris Mooney.
She credited her older sister (who won silver at the 2016 Olympics and gold at the 2014 Commonwealth Games) for inspiring her to start swimming in Year 5, when she realised she was "much better at swimming than I was at anything else I had tried".
"I have been racing really competitively since my early teens through age group swimming," she says. "My older sister Taylor was an Olympic swimmer, so I have really been around the sport for quite a while now."
Get more Sunshine Coast News stories direct to your inbox by subscribing to our free daily news bulletin. All it requires is your name and email. See SUBSCRIBE at the top of this article
Video footage of the family watching Kaylee win in Tokyo shows Taylor jumping for joy in support of her younger sister's phenomenal achievements in the pool. It was all the more poignant after the loss of their father Sholto to brain cancer in August 2020.
Kaylee has her father's words, "I'll always be with you" tattooed on her foot and indeed, she believes he was.
"For sure he was with me," she says. "He is always with me and is such a source of strength and inspiration for me every day. The postponement of the Games for a year meant that he was not there in person, but no question he was with me."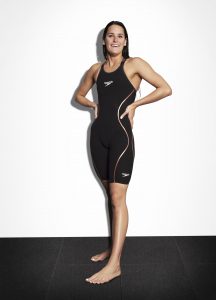 In a moving press conference following her first win in Tokyo, Kaylee told reporters how things had popped up on her phone that only he would have said to her. Coach Chris Mooney was quoted as saying, "Who's to say, who's to know – in that last 10 metres, her dad wasn't there helping her get over the line?"
She made her debut as part of the Australian Dolphins at age 15. She won her first major international medal at the 2019 World Championships claiming silver in the 200-metre backstroke. In 2021, she has been smashing records, setting three national records in the span of one weekend, in the 200-metre, 100-metre and 50-metre backstroke at the Sydney Open. She then went on to break the world record in the women's 100-metre backstroke at the Australian Swimming Trials with a time of 57.45. Securing a ticket to her first Olympic Games, her talent wowed the nation as she claimed gold in both the 100-metre and 200-metre backstroke.
Kaylee began to get an inkling a future as an Olympic star could be an achievable dream for her during the 2008 Olympics in Beijing.
"I used to watch the Australian swim team swim at Olympic Games really back to Beijing (2008) and into London (2012) and I feel like that is when I started to think, wow, that would be so cool and such an honour to do one day. I don't really spend too much time thinking about outcomes and results with my swimming and whether I can win a certain medal or break a certain record.
"My focus is just on each day working as hard as I can, improving and getting better and if I can do that, I give myself the best opportunity at success."
Coach Chris Mooney, who recently left the Spartans to take on a new role on the Gold Coast, did things differently with Kaylee. In a break from tradition, he decided to ease her in slowly, rather than push her too hard, too early.
She was placed on a long-term athlete development tracking plan and given time to complete her Year 12 studies, with only five full training a sessions a week rather than the usual 10.
Mooney believed her times would dramatically increase once she finished school and he increased her workload and by delaying that, they would avoid burnout. The plan paid off and Kaylee was able to stand on the podium having won gold at her first Olympics – something every Olympian dreams of.
"Standing on the podium with my first Olympic gold medal and hearing the Australian national anthem being played was just a very surreal moment," she says.
"It was a lot to take in. I felt happy, I felt relieved, and I really just thought about everything that had gone into that moment. All of the hard work we put in as a team with myself, my coach and support team, my family, everyone. I'm very thankful, very happy.
"Winning gold at the Olympics is  an incredible and surreal feeling. It's validation for all that you put into it and just such a happy feeling to share with my teammates, my family and my friends. They all feel like a part of it to me."
It's something most of us can only imagine and it takes some time to come down off the high, Kaylee says.
"The Tokyo schedule was unique in that the finals were in the morning and the heats in the evenings, which is normally the other way around. It did take some adjustment because after a final you have media and drug testing and those sorts of things that take time. It would then take time to get back to the village and maybe get some food and a rest and then often back to the pool for the evening session. Sometimes I could get a bit of a nap in, but there was certainly some excitement and adrenalin which made it a bit harder!"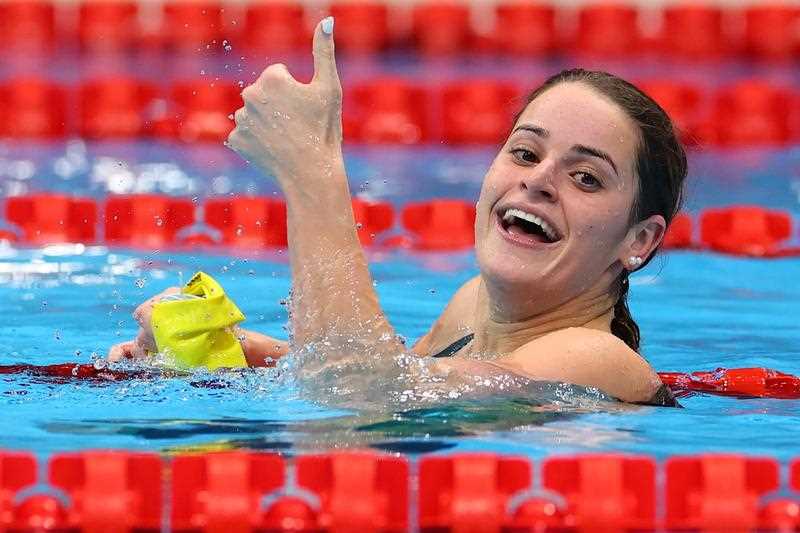 Something we all wonder as we watch athletes compete in the race of their lives is this: what is going through their minds?
"My processes," says Kaylee. "The things that I had trained day in and day out for years. I knew what I had to do and I just really focused on doing it. For sure there are nerves, but I know I have done the work and made the sacrifices so that is what I trust in at those moments.
"It all happens so quickly in the moment and you get a bit caught up in that and just try to soak it in and enjoy it, but you then also know that all of the hard work brought you to this moment."
Kaylee spent two weeks in quarantine in Darwin before her triumphant homecoming to the Sunshine Coast, where family and friends were waiting to celebrate with her. She posts regular updates on her Instagram account, with recent photos showing her looking happy and relaxed on what she describes as a "much-needed girls getaway".
Asked whether she feels she misses out on a social life due to her training schedule, her answer is "not really".
"I do train very hard and am certainly very committed to my swimming, but I also feel it is important to have balance in my life and enjoy other aspects of my life with my friends and family," she says.
"I feel very lucky and grateful to have the opportunities I have to pursue my dreams and something I really love doing.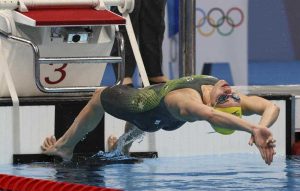 "It's nice to be back home and be able to spend some time with family and friends. I do like to keep things pretty low key where I can so that has been my focus. Enjoying the moment and what I have been able to achieve but in as normal a way as is possible."
Kaylee is taking a few well-deserved weeks out of the water, but will soon resume training for a big 2022, which includes the Commonwealth Games and the World Championships.
"I don't like to think too far ahead," she says. "Paris (Olympics) is only three years away, so that feels like it will come around quickly and will be a big goal for me.
"There are so many people who have helped and supported me along the way. Chris (Mooney) and the whole team at USC Spartans have been incredible. My family and friends, my sponsor Speedo and many more people. I am very appreciative, and onwards and upwards from here."
University pride
University of the Sunshine Coast athletes shone at the Olympic and Paralympic Games in Tokyo. With Australia celebrating its highest-ever Olympic medal haul of 42 medals
(17 gold, six silver and 19 bronze), USC-affiliated athletes can lay claim to one in every seven medals.
USC Spartans swimmer Kaylee McKeown was the clear standout, with USC graduates Leah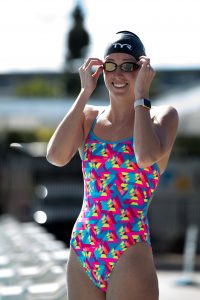 Neale and Kareena Lee both claiming bronze in their swimming events. Ms Lee (pictured), who swims with Noosa Swimming Club, finished just two seconds behind the winner, becoming the first Australian to win an Olympic medal in marathon swimming.
Ten USC-affiliated athletes were selected to represent Australia at the Tokyo Paralympics. They competed in 28 events and won 12 of Australia's 72 medals (one gold, three silver and eight bronze).
Most of these medals went to members of the USC Spartans swimming club. The10 USC-affiliated athletes who competed are: Ben Hance, Ruby Storm, Ellie Cole, Katja Dedekind, Keira Stephens, Blake Cochrane, Braedan Jason (swimming), Alistair Donohoe (cycling), Chris Bond (wheelchair rugby) and Hanna Dodd (wheelchair basketball).