Buddina State School students were smiling from ear-to-ear, after being covered in colour at a school fundraiser.
The youngsters were thrilled to take part in the Colour Explosion Fun Run, when they weaved through an obstacle course and were sprayed with a vibrant powder.
The fundraiser raised more than $52,000, with profits to be spent on a new playground.
Australian Fundraising General Manager, Robert Gaydon, said traditional events like fetes and carnivals could be hard to resource with busy parents unable to volunteer and challenges around safety and insurance.
While fetes could take up to six months to plan, low-fuss alternatives like the Colour Explosion Fun Run helped schools reach their fundraising goals in a matter of weeks.
"With so many demands on teachers and parents, organising school events can be a real headache," he said.
Follow us on Facebook: www.facebook.com/scnews2020/
"Booking rides and different vendors can be a logistical nightmare and often all that work doesn't pay off.
"Fundraisers like the Colour Explosion Fun Run make planning simple so that everyone can let their hair down and enjoy the day.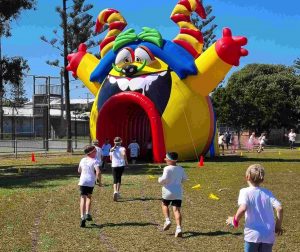 "Last year, so many events were cancelled due to COVID, which resulted in schools missing out on vital fundraising activities for the year.
"Parents, teachers and children also missed socialising with their friends, so through events like the Colour Explosion Fun Run, they can enjoy a day of messy, care-free fun, while raising funds for their school."
Help keep independent and fair news coming by subscribing to our free daily news feed. All it requires is your name and email. See SUBSCRIBE at the top of this article.
Buddina State School P&C President Becca Spence said she was blown away by how successful the fundraiser was.
"These events have become an invaluable part of the school calendar that students, teachers and P&Cs look forward to each year," she said.
"It's time away from the desk, to refresh, reset and make happy memories with friends.
"Thanks to our brilliant community and Australian Fundraising, we were able to raise record numbers for major improvements helping students make the most of their education."