Sunshine Coast rental prices have undergone the biggest surge in Australia, with one sleepy beachside community topping the national list.
Data from digital property marketing group REA Group shows the oceanside strip of Marcoola had the largest growth in median rents in the country, rising a whopping 78 per cent.
Home rentals in the airport suburb soared from $365 per week in the last three months to July last year, to $650 in the same period this year.
Coolum Beach also jumped dramatically, rising 46 per cent from $528 to $775 per week.
REA Group economist Anne Flaherty said Marcoola recorded the greatest growth in median house rental costs in Australia.
"One reason why the jump has been so high is a lot of short-term accommodation has been converted into long-term accommodation," said Ms Flaherty.
Ms Flaherty said regional Queensland had seen more population growth than any other area.
"A lot of that has been driven by interstate migration," she said. "The Sunshine Coast has been the standout region."
And she did not expect demand would slow down on the Sunshine Coast any time soon.
Help keep independent and fair Sunshine Coast news and opinion coming by subscribing to our free daily news feed. All it requires is your name and email. See SUBSCRIBE at the top of this article. 
Marcoola's Northshore Realty business partner Debbie Pashley said she had seen rents in the area increase by between 30 and 40 per cent, with one in four applications coming from people outside the area.
Mid-pandemic in July last year she noted the market was skewed and her agency was struggling to rent properties from their rent roll of 600.
"We went from having an availability of 36 properties to now where we have seven," she says.
Ms Pashley said Marcoola had been a quiet, undiscovered pocket, impacted by people's concern around the planes flying over the area.
The flight path has now changed. New people are moving into the area. Supply and demand is now much higher.
"People have now woken up and realised it's probably a bit undervalued coupled with the overall price increase which has happened across the board for all rental properties," said Ms Pashley.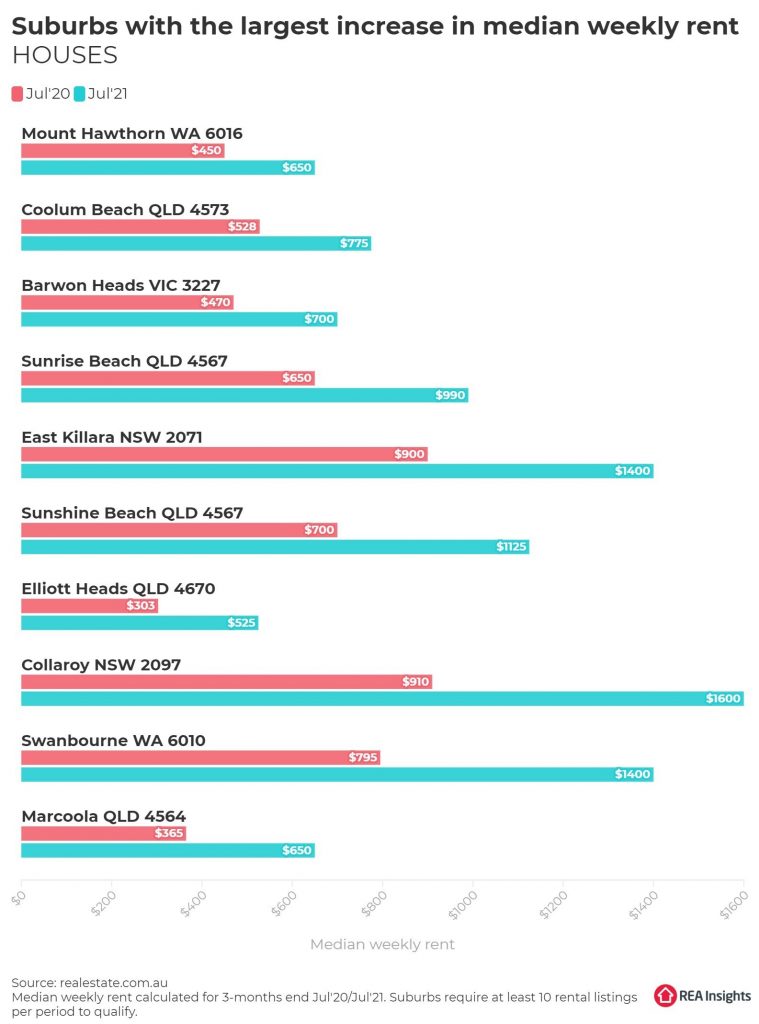 Adams & Jones managing director Scott Gooderham said "flat out" he'd seen a massive increase in the desirability of Coolum Beach either to buy or rent.
While Coolum has been a sleeper with stunning beaches and good proximity to the CBD it is now "maturing into its own because other areas nearby are in very high demand" including the adjacent Sunrise Beach, said Mr Gooderham.
"Any part of Coolum is close to the beach which makes it highly desirable."
Mr Gooderham added Coolum rental properties were often over-subscribed while the Coast continued to be in FOMO mode.
Sunshine Coast Rents (in the 12 months ending 30 June 2021)
• Median rent of $420 per week for a 2 bedroom flat/unit
• Median rent of $500 per week for a 3 bedroom house
Queensland Rents (in the 12 months ending 30 June 2021)
• Median rent of $400 per week for a 2 bedroom flat/unit
• Median rent of $390 per week for a 3 bedroom house
Source Queensland Treasury