Seven years after acquiring a severe brain injury in a fall, Neil Espley is still heading into the great unknown, but this time with a caravan in tow.
Neil and his wife Anita recently acknowledged Brain Injury Awareness Week on social media while on the road, exploring South Australia's  Eyre Peninsula and devouring as much of its fresh seafood as possible.
This is a six-month holiday the Espleys, of Kawana, never dreamed could happen, in the years following the accident.
The former Kawana Dolphins vice-president and fundraising stalwart was with friends on their annual Sydney NRL grand final trip when, on a night out for dinner, Neil fell down a restaurant's stone steps and hit his head. That split second incident led to an immediate life-and-death struggle.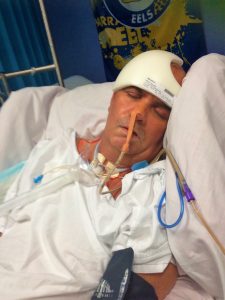 "The accident occurred on October 2, 2014 … the day before our 27th wedding anniversary," Anita said, adding with her characteristic humour: "I told him I would have been happier with a card."
Local journalists supporting local people. Help keep independent and fair Sunshine Coast news coming by subscribing to our free daily news feed. All it requires is your name and email. See SUBSCRIBE at the top of this article. 
Neil remained in hospital in Sydney until November 18, before being flown to Brisbane's Princess Alexandra Hospital where he stayed until his release on March 9 the following year.
The long and winding road to his recovery was dealt another horrendous blow four years later when he was diagnosed with bowel cancer.
"If having a traumatic brain injury at 48 wasn't bad enough, getting bowel cancer at 52 wasn't much better," Anita said from their latest South Australian campsite.
"Neil had surgery a month before we left which was unplanned. It was a complication from his bowel cancer operation.
"Thankfully, we have dealt with all of this. But life has changed for the both of us.
"We both grieve for the loss of things we once had.
"Neil misses work, his ability to do things, plans we had made for our future.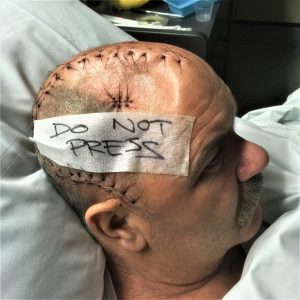 "I grieve for the loss of my husband that I knew. Where once Neil was outgoing, enthusiastic for life and willing to help others either at work or within the local community, that is no longer.
"The 'new' Neil suffers from social anxiety, irritability, anger outbursts, depression and mood swings.
"One of the major changes is his inability to reason. Sadly, this has caused many a conflict both with family and friends.
"While people see scars, they don't see what's happened inside the brain. They don't see the damage."
Neil had been a much-loved wardsman at Noosa Private Hospital for 15 years.
Now, Anita, who retired as a clinical nurse at Sunshine Coast University Hospital in March, is his unpaid carer and protector.
Like stories about Sunshine Coast people doing great things? Help us deliver more by registering for our free daily news feed. All it requires is your name and email. See SUBSCRIBE at the top of this article. 
"It's definitely a 24-hour job," she said of her new routine.
"I do all the planning of his carers, medical appointments, driving, organising his medications and prompting him on activities of daily living.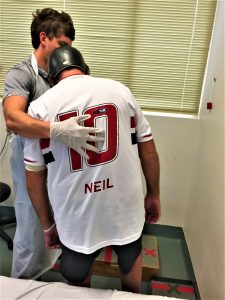 "Thankfully he was awarded a Level 4 Homecare package. His care provider Homecare Assistance at Caloundra has been so supportive of both of us with resources and carers."
Due to the extent of his brain injury, Neil is not expected to improve past his current level.
He is at high risk of further cognitive and physical difficulties.
While he has an unsteady gait, Anita worries more for his associated mental health issues – his depression, an inability to reason, and loss of fine motor skills that remain hidden from others.
Ask Neil what his major milestone has been in his recovery and he has a quick answer: learning to walk independently again.
He has used a wheelchair, wheelie walker and stick but nothing beats standing on your own two feet.
Anita has a different response: when he could finally go to the toilet and shower on his own because "then I could get a break".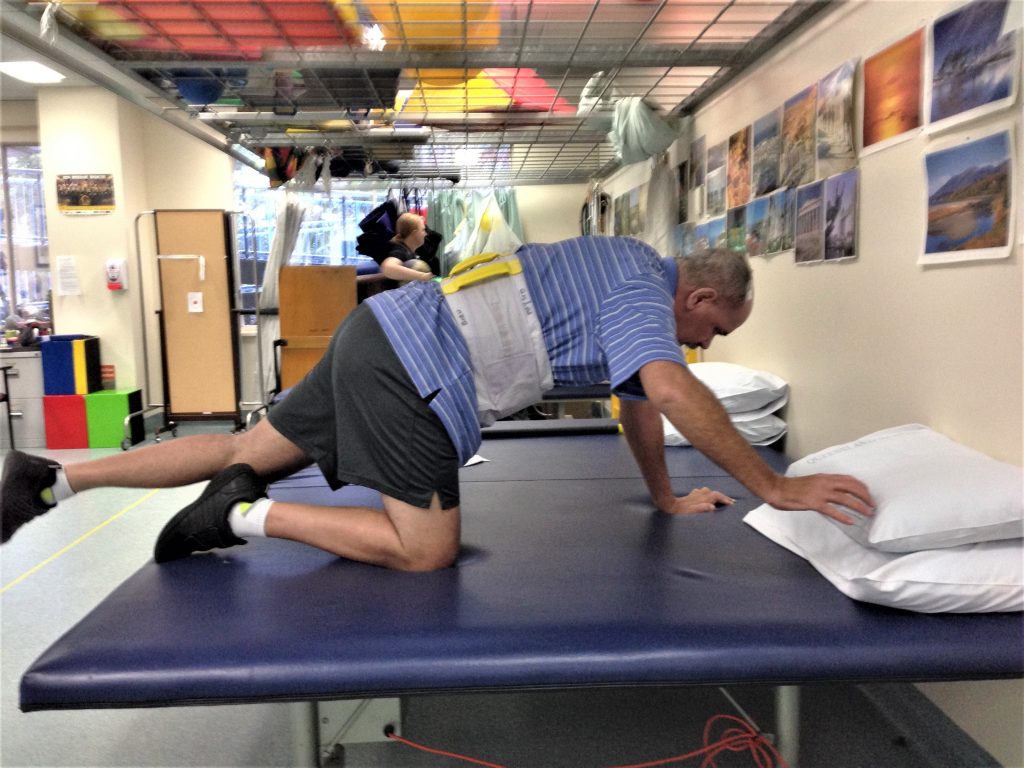 But Neil gained newfound independence in qualifying for his driver's licence and being able to travel short distances.
Anita is a firm believer in "everything happens for a reason".
Just as COVID-19 has turned our lives upside down and forced the glass-half full among us to search for positives, Anita remains grateful she still has her husband by her side.
The accident has brought their growing family closer together and reminded friends and relatives of one simple truth: how quickly life can change.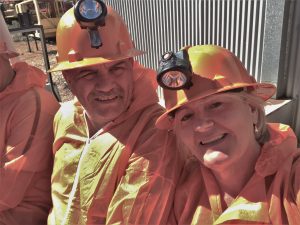 And their new lives have had countless joys in the form of their grandchildren.
Neil loves being a grandfather and is "Poppa" to Arlo, who is three-and-a-half,  and 15-month-old identical twin boys Parker and Edison.
"Neil is like a big kid at times," Anita said.
"He took Arlo to Bounce (The Big Boing trampoline park at Birtinya) and I'm not sure who had the better time."
The Espleys are living life to the fullest, taking each day as it comes – all that can be expected during the pandemic anyway.
They have already been on the road about five weeks and don't plan on returning to the Sunshine Coast until the end of January next year.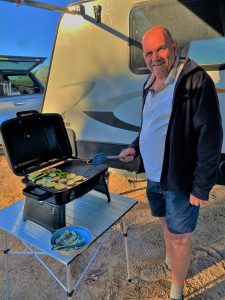 Anita takes the lion's share of the driving as Neil tires after about 30km at the wheel.
Follow us on Facebook: www.facebook.com/scnews2020/
Instead, he has taken over responsibility for the campsite set-up (with the help of a few YouTube videos if he needs to remember what goes where).
"We had planned six months in Europe but COVID sorted that," Anita said of their retirement.
"So, the next plan was to buy our little Jayco Journey (pop-top caravan) and hit the road.
"Our trip is going great. We are loving exploring this big, beautiful country with no real agenda.
"We are thankful that COVID hasn't dampened our plans.
"Our favourite spot so far would have to be Uluru. We loved the vastness of the countryside out there.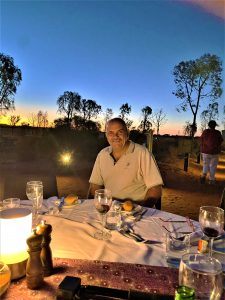 "We did a Sounds of Silence dinner under the stars which was beautiful."
And there's plenty more for Neil to tick off on the around-Australia bucket list now and in the future – the Sydney Harbour Bridge climb, hot-air ballooning over South Australia's Barossa Valley and a flight over Freycinet Peninsula.
"It has been the darkest, hardest time of both our lives. I'm thankful for both of us not giving up," Anita said matter-of-factly.
"Head injury recovery is a different story for every person.
"This was just our story.
"The hardest part is not knowing what you will have at the end of recovery.
"Sadly, we don't have the old Neil back. But we have a new version of him.
"Sometimes it's a better version but other days, well, let's just say life does throw a few challenges.
"I'm thankful he now makes me a coffee every morning. It's the little things we have to be grateful for."