One of the Sunshine Coast's most acclaimed restaurants has been left devastated after an alleged overnight break-in.
The Spirit House at Yandina, a contemporary Asian restaurant, could be closed until mid-October after a man allegedly broke in and went on a 'rampage'.
Co-owner Acland Brierty said he and his brother arrived at their business about 5.30am and found the man "still banging away" in the restaurant.
The damage allegedly included smashed bottles of wine, computers, air conditioning units, electricals, windows and the entire place blanketed in fire extinguisher foam.
Mr Brierty told sunshinecoastnews.com.au the damage bill together with lost income from a six-week shutdown of the restaurant would equate to at least $850,000 to $900,000.
He hoped the Cooking School, which runs nine classes a week, could resume on Sunday.
Mr Brierty said the destruction was "devastating", especially after the forced shutdowns during the pandemic but thankfully they had business insurance which would cover the repairs and wages, except casuals.
Spirit House employs 52 people however he said his next fight would be to insist the insurance company also cover the wages of their 10 casual employees.
Mr Brierty said the damage to the popular restaurant, which is an institution on the Sunshine Coast, was a shock.
"You don't expect anything like this is going to happen to you," he said.
"Just as we got our momentum back after the lockdown we go into this.
"You never know when something like this will come out of the blue and hit you. Here we were thinking everything was going well after coming out of COVID and then this hits.
"But we've been here for 26 years so we'll keep going."
Mr Brierty said they were contacting everyone with a booking to inform them about the incident and would let people know when repairs had been carried out and trade resumed.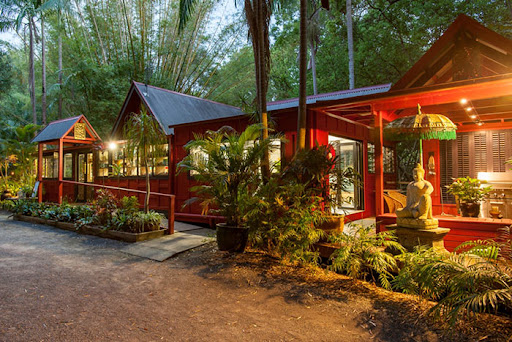 He said the closure would be upsetting for customers, many of whom chose Spirit House to celebrate special events such as birthdays and Fathers Day.
Spirit House was opened in 1995 by Helen and Peter Brierty and became a culinary destination that helped put Yandina on the map.
Police confirmed they were called to the property at 20 Ninderry Road after reports of a break-in.
They stopped a man in a Suzuki SUV a short distance from the restaurant and arrested him.
The 43-year-old, from Monkland, faced Maroochydore Magistrates Court Tuesday and was granted bail on several conditions. He is due to appear again on September 3.
The Spirit House is considered one of the finest food experiences in Queensland and has been a Yandina tourist attraction for many years.
If you have information for police, contact Policelink by providing information using the online suspicious activity form 24hrs per day at www.police.qld.gov.au/reporting.
Report crime information anonymously via Crime Stoppers. Call 1800 333 000 or report online at www.crimestoppersqld.com.au.