A Sunshine Coast teenager with an eye for detail is gaining recognition for her work as she captures the often-unseen world of bugs and insects with her photography.
Isabella Balisky has always had a love for miniature wildlife and when she discovered photography two years ago, she quickly caught what she calls the "photography bug".
"I always loved bugs, and that translated into loving the minuscule world," she says.
"Growing up, Mum used to be into photography and did a lot of photojournalism and there was (Australia Zoo's Crikey magazine) photography competition in 2019 and I thought, let's give it a go.
"I picked up a camera and we drove up to Mapleton to see the beautiful yellow flowers and all the bees. That photo ended up being a finalist, so I was exhibited in the Queensland Museum with two of my images.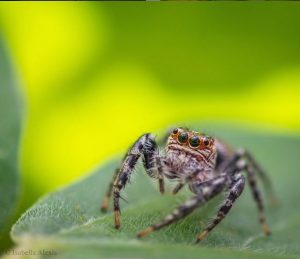 "That was an insane experience and ever since then I've caught the photography bug."
Isabella specialises in macro wildlife photography, giving a new meaning to a world often unseen in everyday life, and the creatures within.
She lives on a property in Buderim and captures much of her work in her own backyard.
"I love showing the universe people don't usually focus their eyes on.
"I can step out in my backyard and see the most incredible jumping spiders, weevils, ladybugs, bees – it's an incredible abundance of diversity.
"To me it's incredibly important you're not stressing out the bugs. So when I am taking the photo I love to encapsulate what their behaviour is and what they're doing in that moment and not have them disturbed by my presence."
Local journalists supporting local people. Help keep independent and fair Sunshine Coast news coming by subscribing to our free daily news feed. All it requires is your name and email. See SUBSCRIBE at the top of this article 
Isabella has recently been named as a finalist for the Australian Geographic Nature Photographer of the Year for her image Eye to Eye.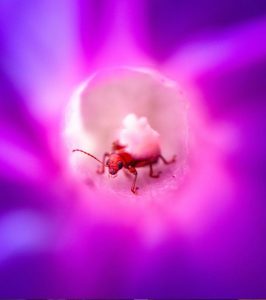 "It was a very early morning and I walked outside and we have beautiful morning glories sprinkled on a wire fence.
"It was right before the flower began to close, I spotted this red bug and I thought that's beautiful, so I shot the image.
"It was such a beautiful moment to be able to capture the little bug in the early morning."
Since 2004, the South Australian Museum in partnership with Australian Geographic has welcomed photographers of all ages, skill levels and nationalities to submit images of fauna, flora or landscapes in Australia, New Zealand, Antarctica and the New Guinea regions.
In this year's competition there were 2206 entries from 17 countries narrowed down to 108 finalists.
All the finalists' images will be showcased at the South Australian Museum and in the Australian Geographic magazine.
"It's incredible to be amidst some of Australia's top photographers," says Isabella.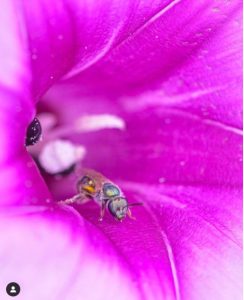 In June, Isabella was also named one of five Ted's Young Guns after an Australia-wide talent search. Backed by tech store Ted's Cameras, the five young photographers who remain in the program until they reach the age of 24 receive mentoring and become ambassadors to help inspire other young photographers.
Currently home-schooled and looking to the future, Isabella hopes to combine her love of photography and science through further studies.
"I really hope to study entomology in the future and bring the arts and science together and break down the barriers of communication to show people there is so much more in our garden."
Isabella's work can be seen on Instagram @isabellaalexisphotography.