Humans are still the nuts and bolts of business for this Maroochydore store that refuses to computerise its point of sale in favour of the personal touch.
Owners Ron Stoyle and Steve Gealy began Coastal Fasteners in an empty shed 32 years ago in Kayleigh Drive and believe their market niche lies in remaining "old school".
The invoices are still handwritten at the counter.
Weekly job order slips are clipped to day folders on a wall.
Their website is "under construction" and has been for quite a while.
The business doesn't have a Google page, isn't on LinkedIn, doesn't post products to an Instagram or Facebook profile, and can't be found on any high-profile business website.
And the only nod to modern technology in Ron's office is a printer and telephone.
Sure, accounts and invoices are transferred by hand to computer software, the payroll is computerised and email orders are taken. However, none of this is in view of customers who have their full attention.
When you call Coastal Fasteners on its landline number – the only one available –  you speak directly with a staff member.
Do you have an opinion to share? Submit a Letter to the Editor with your name and suburb at Sunshine Coast News via: news@sunshinecoastnews.com.au
Within moments of a customer walking in, the "ding dong" of the door sensor sends someone rushing to their aid.
The long, wide front counter is uncluttered by unnecessary items and unencumbered by technology – just like the rest of the business.
And yet, as Ron said: "We're flat strap. We've been busy for 32 years".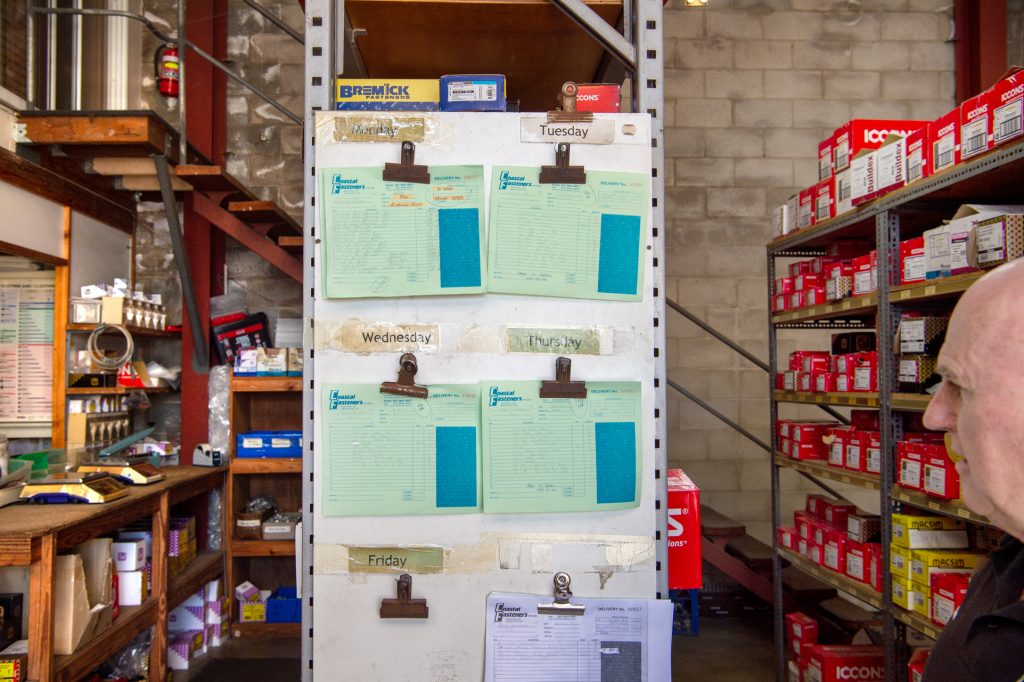 "Even through the darkest GFC period, we had customers who were building in Mackay and they were still supporting us," he said.
"They had to go to Mackay because there was no work here but we were freighting gear up to them and they were still using us as much as they could because they were loyal.
"And that's a two-way street. We're very loyal to our suppliers."
For Ron, customer loyalty is the key to staying in business for so long and outsmarting "the big-boy" competition.
And the small family-owned business with a long-serving staff of 14 has built and nurtured that loyalty by providing expert knowledge about the huge range of stock on-site and personal service.
Like stories about Sunshine Coast people doing great things? Help us deliver more by registering for our free daily news feed. All it requires is your name and email. See SUBSCRIBE at the top of this article 
"We're an old-school hardware store and that's all our customers want," Ron said.
"Our big forte is our range of stock that we carry.
"How we operate is, a person comes through that door, the doorbell rings, they're greeted within, at the outside,  20 seconds.
"The opening line at the counter is: 'How can we help?'
"They say 'oh, I need this long batten screw'. So, we walk them up to the shelf, go through the options with them. 'Yes, you can have 30 of those'.
"If I had a dollar for the amount of times over the years someone has come in and asked for (say) a stainless steel nail to go in a framing gun.
"'I've been to six places to find this. You've got it'. Well, guess what? They come here first next time."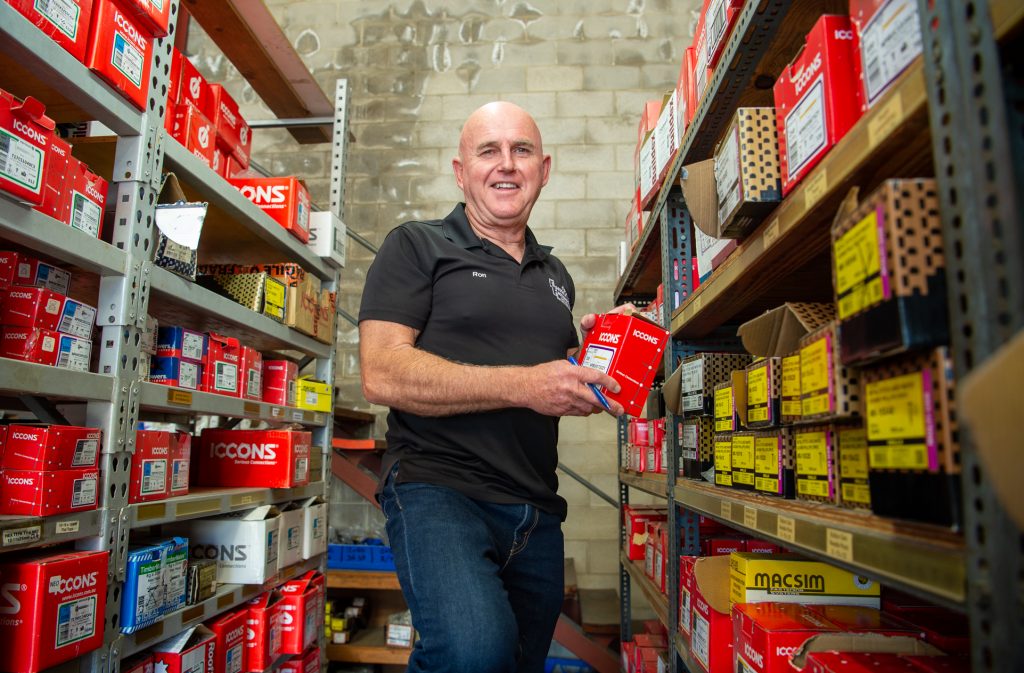 The advantage of "small" business for Ron is that the customer can see the stock on the shelves of the 600sqm shed, they can learn about the best choice for their needs from staff if necessary and they don't have to wait around for the product to be processed or waste time on a delivery to come in from around Australia or overseas.
And yes, they can buy one screw … instead of a pre-packed box of 100 at exorbitant prices.
Ron is adamant customers don't care about modern technology at the counter. They just want to get in and out of the shop and be on their way.
"Col comes in for a box of nails. He's got blokes waiting on site. He can drive in and grab the box of nails," Ron said.
"He asks: 'You've got a box of nails? All right, mate. What's the job number. Panorama Crescent. Cheers, mate'.
"And he drives off. Then I write his invoice and he's driving out Kayleigh Drive. That's been one of the big things (for doing things the way they've always been done). The customer's time-poor.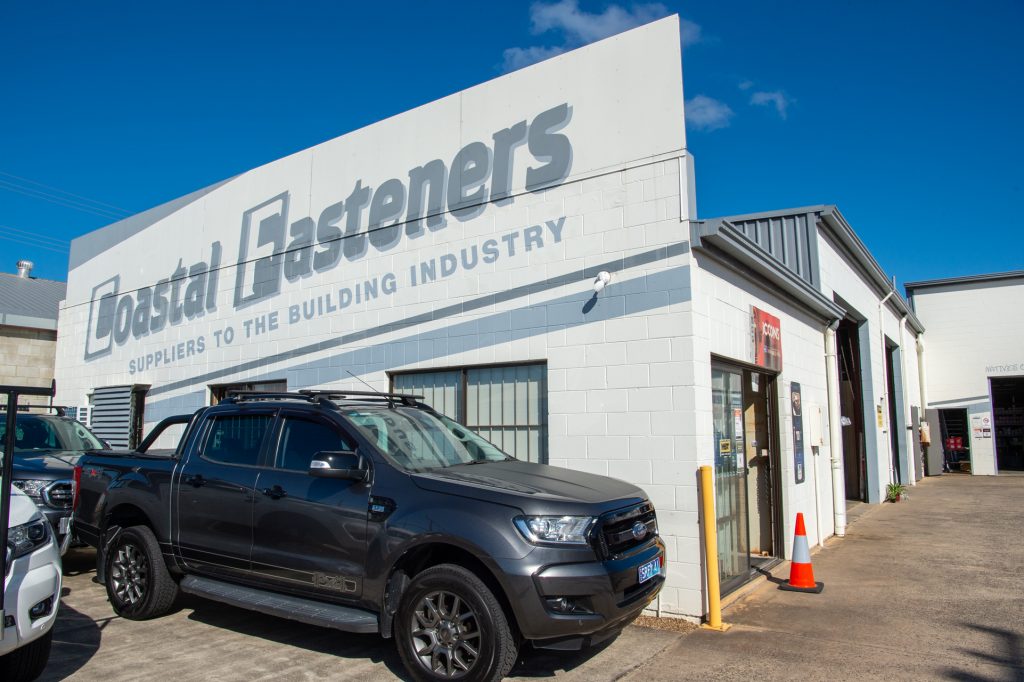 "They're just happy that we've got what they want. They've been served in a prompt and efficient manner. And they're out the door."
About 90% of Coastal Fasteners' business is in construction, which hasn't stopped throughout the region during the pandemic.
Rather, the business has only benefitted from the current real estate boom as people do up homes to sell, renovate to stay, build new ones and upscale purchases to suit new owners' style.
"Basically, you buy your concrete and bricks there and your timber over there and we supply everything else to put that house together," Ron said.
Like stories about Sunshine Coast people doing great things? Help us deliver more by registering for our free daily news feed. All it requires is your name and email. See SUBSCRIBE at the top of this article. 
"From the black plastic visqueen under the slab right through to roof screws, cyclone rods, nuts and bolts, screws, nails, adhesives, silicones – we have hundreds of products."
Ron takes a sense of pride in the fact that the business's best and only form of advertising is "word of mouth".
"Smother your customer with good service and they just can't tell enough people," he said.
"Look after your customer and they'll go back to the (construction) site and one of the other guys will ask: 'Where did you get this?' 'Go and see the boys at Coastal'.
"Obviously, we've got two reps out there running around to the construction sites, waving the flag.
"But predominantly, it's been word of mouth."
That word of mouth also is helped by the amount of sponsorship the business gives the Coast community.
The Board Meeting surf charity has been on the receiving end of support since its inception in 2005 in its mission to help Sunshine Coast children with disabilities through a variety of surf-related events.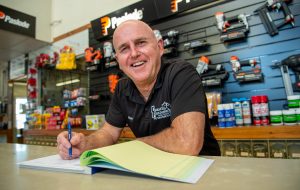 Coastal Fasteners has sponsored Maroochydore Surf Life Saving Club for 30 years and also helped groups including Nambour Rugby Union, Maroochydore Rugby League, Maroochydore Rugby Union and currently Sunshine Coast Motorsport Club.
It's no wonder some customers have been on the books for the full 32 years and the third-generation of family members are now on board.
Not bad for being what some would consider "technology dinosaurs".
But as Ron said: "There is a few of us left.
"Steve's been the driver behind that (for us).
"His theory has been: 'If it ain't broke, why should we fix it?'."