Caloundra residents are galvanising against a new four-lane road they say will physically split the town, bring major traffic into an urban village and impact a precious bush reserve.
Organisations and individuals are banding together against the $37.8 million Caloundra Transport Corridor Upgrade (CTCU), which will provide a new connection from Nicklin Way, north of the Caloundra Road roundabout, to the city centre.
It involves widening Oval Avenue and Third Avenue from two to four traffic lanes and connecting Oval Avenue with Omrah Avenue.
The project, funded by three levels of government, will require the resumption of 20 properties, including 14 homes, five businesses and impact community organisations like the Caloundra RSL.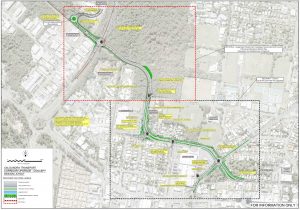 Locals have accused the council of not properly informing the community about the project which was formalised when funding was secured in May this year. Council refutes this, saying "community engagement has occurred over the past eight years".
Residents say they have been told the connection road is a done deal that cannot be prevented, but only tweaked through some community input.
The group Value Caloundra, which includes organisations like Caloundra Residents Association, Caloundra RSL, Friends of Ben Bennett and Wildlife Queensland, have launched a #2Lanesnot4 campaign in a last-ditch effort to minimise the impact.
Help keep independent and fair Sunshine Coast news coming by subscribing to our free daily news feed. All it requires is your name and email. See SUBSCRIBE at the top of this article 
Value Caloundra group facilitator Emma Rees said the community was urging the Sunshine Coast Council to reduce the wide corridor from four lanes to two.
She said this would "better accommodate everyone's needs and have less impact on the environment rather than solely meeting the needs of car users and drivers".
Ms Rees said four lanes through the area — which was currently a quiet pocket of homes, community sporting fields, aged care, the Caloundra RSL and Ben Bennett Bushland Park — would "undermine the ambitions for an urban village as recommended in the Caloundra Master Plan".
She said contrary to the council's suggestion that the new road would encourage pedestrians and cyclists with bike paths and footpaths, people would not be enticed by four lanes of fast-moving cars.
Ms Rees said the Value Caloundra survey indicated that people would be less likely to walk or cycle near the road.
"They are saying it will promote active transport but four-lane roads repel pedestrians. Just look at Caloundra Road, it's a pedestrian hostile environment and you don't see pedestrians or cyclists using that road."
Ms Rees said the project was also "demanding the sacrifice of so many community assets and businesses".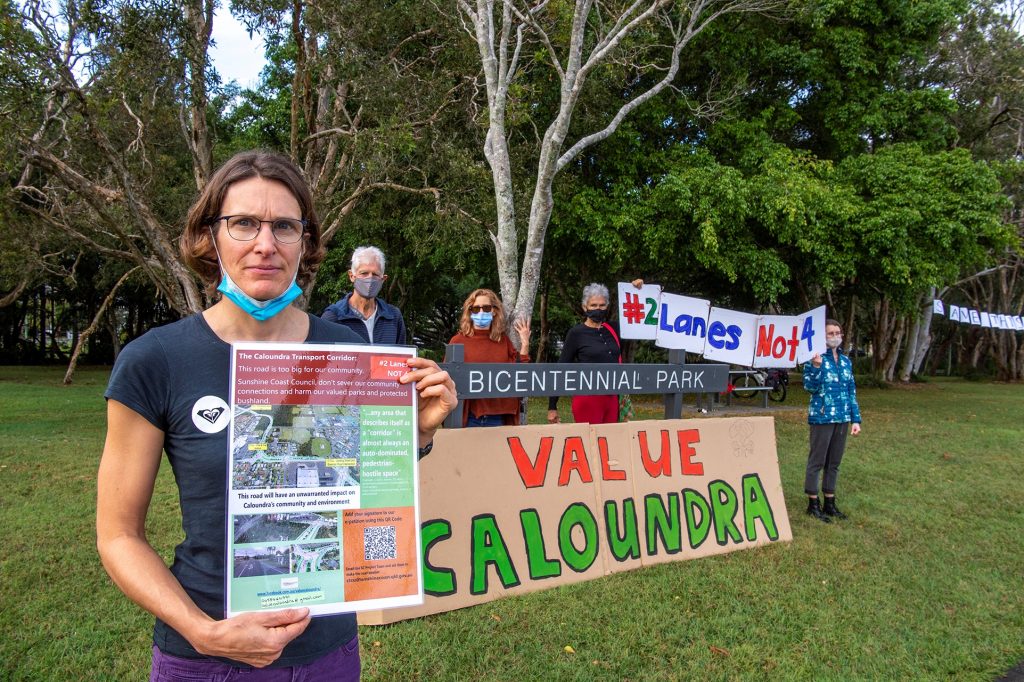 Compulsory resumptions
A total of 20 homes and businesses will need to be resumed which has created angst and uncertainty among those whose properties lie in the way.
The council said eight properties had already been purchased and 12 others had been told the resumption process would begin.
Councillors at Thursday's council meeting will be asked to vote on proceeding with compulsory acquisition in parallel with the negotiations to save time.
Jill Brearley, who founded The Hub Shared Space that includes nine businesses, including Malarkey Artisan Coffee and a salon, said she had received two emails from council over the entire period since she first heard about the project on the news in 2018.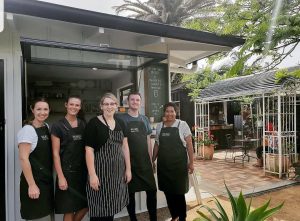 "It's not like we've had a lot of information from them. We want detailed plans and they won't give you that, there's no timeframe," said Ms Brearley.
"We have nine businesses here that are all considerably worried. The tenants are all stressing that they'll have to leave.
"It's quite upsetting to say the least. I've lived here all my life and we've created this amazing community space and there are lots of oldies in the area that walk around.
"Why can't it be a smaller road because it will divide the community and not make it accessible."
The Caloundra RSL is also fighting hard to get compensation from the council because it is destined to lose part of its treasured Memorial Garden.
Sub-branch president Heather Christie said two lanes would have a lesser impact on the garden, although the heavy road traffic would still ruin the ambience of what was meant to be a place of reflection.
"If the road has to go through we don't want four lanes but ultimately we don't want the road at all," she said.
A council spokesperson said the council had been liaising with directly impacted property and business owners during the planning and development phase and would continue to do so throughout the project.
"Council obtains advice from experienced consultants and attempts to reach negotiated settlements with all affected interest holders."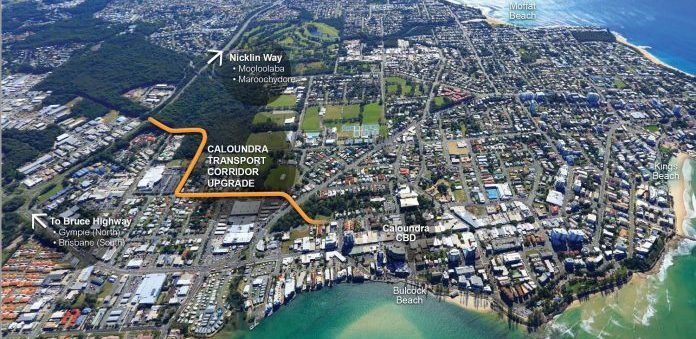 'Oasis' of plants and animals
There is also concern that Caloundra's last remaining diverse plant and animal reserve, which has been protected since 1969, will be sliced.
The new road appears to cut through Ben Bennett Bushland Park which environmentalist Jude Crighton said contained five major ecosystems and was refuge to an array of native birds like variegated wrens and scarlet honeyeaters, goannas and echidna.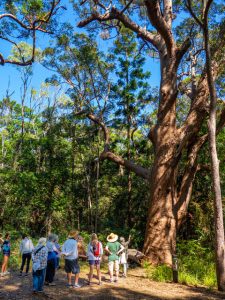 Kathleen McArthur, a co-founder of the Wildlife Preservation Society of Qld, was instrumental in pushing for the native corridor to be protected, a cause taken up by Ben Bennett who was a councillor at the time.
Ms McArthur, a pioneer environmental activist who led the Caloundra branch, also launched one of Australia's first conservation battles to protect Cooloola, from Noosa to Rainbow Beach.
Ms Crighton, current Sunshine Coast branch secretary of the wildlife group, said Ben Bennett was part of a green corridor in Caloundra that included bushland on Sugar Bag Road.
"It's such a diverse area and at the moment you can walk or cycle there or it's a very short drive and there are quite often mums and kids in there," she said.
"You just have to stop and stand still and you will hear all the birds.
"Botanists say it's a diverse patch with lowland rainforest, wet heath, dry heath, eucalypt forest with scribbly gums, big old blackbutt trees and an old tallowwood estimated at 400 years old.
"It's a refuge for birds that don't survive in open plains and urban areas. It's a magic place."
People in the dark
Value Caloundra's Emma Rees said overall, nearly everyone she spoke to had no idea that such a road was planned and were "dismayed" when the details were explained to them.
Ms Rees said most people had busy lives but the council's process of disseminating information appeared to place the onus on individuals to to seek out information about the project on the council website.
"We're all surprised at the lack of public knowledge and inadequate consultation and lack of interest in obtaining a range of perspectives," said Ms Rees.
"When I have tried to talk about our concerns about the design, our objections have been dismissed or minimised and we have been advised that we can comment in detailed design.
"However, this process appears to involve CTCU planners explaining their design with no apparent recourse to make significant adjustments.
"The needs of families and children and the disabled and the elderly do not appear to be reflected in the design."
Council's response
Sunshine Coast Council says this project has been the subject of "numerous transport studies and careful planning over the past eight years and is ready to progress to detailed design".
"Community engagement has occurred over the past eight years.
"The alignment of the corridor has been determined following a lengthy and detailed assessment of planning, environmental, social and engineering considerations as well as numerous transport studies and community engagement processes over the past eight years.
"The alignment of the corridor is final."
The community has the opportunity to view the CTCU design, speak with the project team, and provide any additional information that may be useful prior to and during upcoming phases of the project including construction.
The spokesperson said the Caloundra Transport Corridor Upgrade was fundamental to:
Reducing congestion at the Caloundra Road/Nicklin Way roundabout and the eastern end of Caloundra Road
Improving access to and from Caloundra
Improving safety for public transport users, cyclists, pedestrians and motorists
For more information about the scope of the project and map, visit council's Caloundra Transport Corridor Upgrade website.