Sunshine Coast Marathon organisers expect the 2032 Olympic and Paralympic marathon events to be a bonanza for the region.
It was announced last week that Alexandra Headland will host the marquee races.
Atlas Events founder and managing director Jason Crowther said it was an "incredible" coup for the area.
"As an athlete, local business owner and father of two young daughters, to have such a monumental and historic event in our backyard is something I'd never have imagined," he said.
He said the decision to hold the event, which was traditionally scheduled on the last day of competition ahead of the closing ceremony, on the Sunshine Coast would pay dividends for the region.
"The Olympics is a once-in-a-lifetime opportunity for us to showcase everything we know and love about our region to a global audience."
As the event director of the Sunshine Coast Marathon, Mr Crowther has witnessed the popularity of that event grow significantly since it began in 2012.
Thousands of runners across all distances (2km, 5km, 10km, 21.1km and 42.2km) have already registered to take part in this year's event, to be held on August 15.
The Sunshine Coast Marathon starts and finishes on the beachfront at Alexandra Headland and it takes runners on a multi-lap course along several beachfronts where they enjoy flat and fast conditions against an ocean backdrop.
"More than 50 per cent of our competitors return each year because it's such an enjoyable event held at an iconic destination," he said.
"Runners bring their families, friends and running mates. Spectators line the course creating an electric atmosphere. Plus, it's a course that's renowned for producing fast times."
Gold Coast Commonwealth Games medallist Lisa Weightman, who is representing Australia in the women's marathon at her fourth Olympics in Tokyo this month, races at the Sunshine Coast event each year.
She set a new Australian All-comers record half marathon time of 68min48sec on the course in 2019. She said dreams will be realised in 2032 as the next generation of sporting star experienced a life changing moment.
Follow us on Facebook: www.facebook.com/scnews2020/
"Winning a silver medal for Australia on the Gold Coast at the Commonwealth Games with my family and friends supporting me was the greatest moment in my sporting career," she said.
"Sunshine Coast offers the full package. A fast course, a comfortable climate, and picturesque views in a beautiful part of the world. It's a place that is dear to my heart and I couldn't think of a better place to run an Olympic marathon."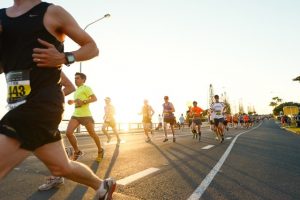 The Sunshine Coast has been identified as the location for several events at the 2032 Olympics and Paralympics, including marathon events, cycling (road, time trials and mountain biking), kite foil racing, basketball and football.
The Sunshine Coast will also be home to four key Olympic venues and play an integral role in Brisbane 2032.
Help keep independent and fair Sunshine Coast news coming by subscribing to our free daily news feed. All it requires is your name and email. See SUBSCRIBE at the top of this article.
Sunshine Coast Division 8 councillor Jason OPray, who ran the Sunshine Coast Marathon in 2017, said the course was spectacular with plenty of pre-event opportunities for athletes of all abilities to experience the region.
"The greatest thing about hosting the Olympic and Paralympic marathon events will be the pre-event legacy," he said.
"In the 10 to 11-year block before we race, there will be meets where internationals will come and run to practice on the course. There will then be the athletes who come and get acclimatised in the lead up to the event.
"It is exciting that in the lead up to 2032, south east Queensland will be hosting and array of sporting events including international meets."