It was a remarkable achievement when a hardy group of young people, including three women, conquered two of the Glass House Mountains in 1912
Imagine cycling from Brisbane to the Sunshine Coast hinterland, climbing Mt Tibrogargan one day, Mt Coonowrin the next and then cycling back to Brisbane in the afternoon.
On Empire Day, May 24, 1912, some intrepid young people did just that.
In the group were three young women, the daughters of Alex and Mary Clark who were undoubtedly ahead of their time.
They allowed their daughters to belong to a Brisbane gymnasium, take part in marathon cycling events and go mountain climbing.
This was a time when fashions for women were cumbersome and hardly given to free movement.
The young women were Lesley, 26, Ettie, 21, and 19-year-old Sara. In charge of the group was photographer George Rowley, who was married to their sister Mary.
Others were William Fraser from Cooloolabin who was a relative of the Grigors of Bankfoot House where they had arranged to stay, and local man John Sairs.
Love nostalgia? So do we. Help keep more great Coast memories alive by subscribing to our free daily news feed. Go to Subscribe at the top of this story and add your name and email. It's that simple.
The group left Brisbane at 10am. The roads were rough to the Pine River where they stopped for lunch and even rougher after that.
They reached Bankfoot House at Glass House Mountains at 5.15 pm, "having taken the excellent time of seven and a quarter hours".
After a good night's sleep, they were up early the next day to climb Mt Tibrogargan, taking a Union Jack and nine metres of rope just in case it was needed. They were well aware of the dangers ahead.
Mt Tibrogargan at 364m is as high as a 76-storey building.
The approach to the climb was hard enough as they scrambled over loose stones concealed under bladed grass. All were fit and strong. As the climb began, they scrambled up the rock face using niches and crannies.
Now and again a small shrub gave the chance of a rest.
In the history of mountain climbing, this is one of the first documented instances of rope being used as a safety device.
Excitedly, they flew the flag at the top and, while eating lunch, admired the wondrous 360-degree view of Moreton and Stradbroke islands, Mt Cooroy and the far-off Macpherson Range.
With all care on their descent, they arrived at Bankfoot House at 2.30pm in time for a drive into the surrounding countryside to admire and photograph Mt Beerwah and views of the D'Aguilar Range.
The following morning, they were ready to start at 7am. Coonowrin had been climbed previously by local men, H. Mikalsen, twice, and T. Roberts.
Coonowrin is 377m and a more difficult and dangerous climb than Tibrogargan.
Safely and surely the climb was accomplished "though not without many thrills and tremors" as they encountered loose shingle, sheer rock and hazardous edges.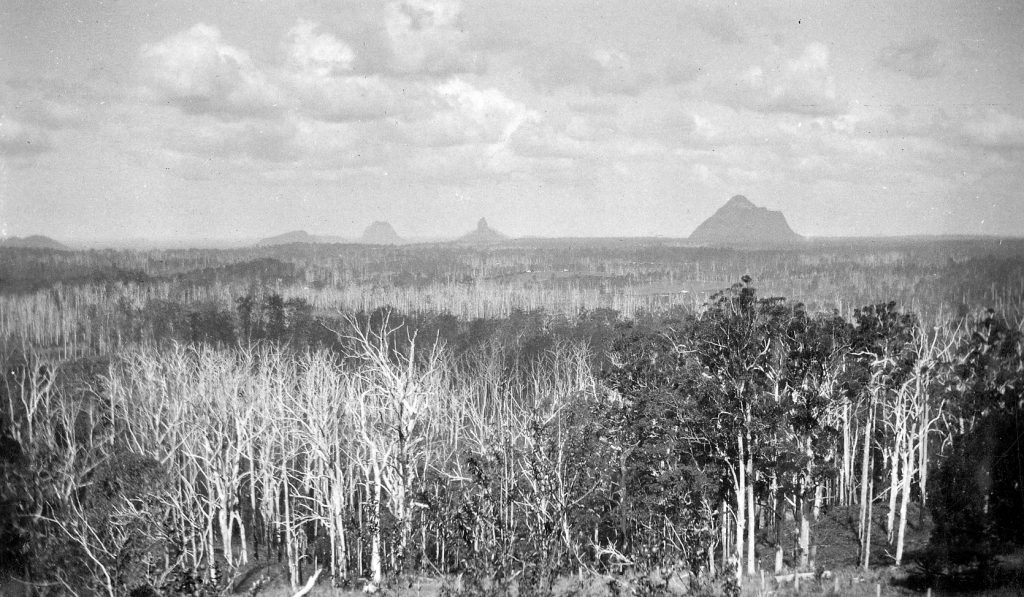 The route they took is known as Clark's Gully.
Mikalsen's calico flag, although ragged, was flown again and they left calling cards in a receptacle at the summit.
They had marked their ascent with pieces of calico but the climb down was still precarious. They were well aware that a misstep would mean death.
Lesley, Ettie and Sara Clark were believed to be the first white women to climb Mt Coonowrin.
They were delighted with their achievement and very proudly told the family waiting at Bankfoot of their success.
After fond goodbyes and a thank-you for the generous hospitality, they departed at 1.15pm to cycle the 71km back to Brisbane where they arrived at 10.15pm.
One can only wonder what they did on other weekends.
Aboriginal legend says that Coonowrin, or Crookneck, is the son of Tibrogargan and Beerwah.  Tibrogargan commanded Coonowrin to take his pregnant mother to safety when danger threatened but Coonowrin ran away. He was struck by his enraged father, resulting forever in his crooked neck.
In 2021, climbers are discouraged in the sacred mountains. Coonowrin is especially dangerous and has restricted access. Always check visits with Parks and Wildlife.