Mary-Lou Stephens says writing a novel about the heartbreaking demise of the Tasmanian apple industry really tapped into her core — no pun intended.
Her debut novel, The Last of the Apple Blossom, is set in the Huon Valley and tells a story so close to her heart, she finds it difficult to discuss without crying.
Born and bred in Tasmania, the Sunshine Coast author and former ABC presenter says the idea for the book came out of nowhere back in 2017 and haunted her until she overcame her initial resistance, feeling it was too big a story for her to handle, and sat down to write.
"It was just really weird, one of these bolt from the blue things that suddenly hit me," she says.
"I thought, are you kidding me? Where has this come from? It was really quite strange. To be honest, the idea of it terrified me because I thought, it will be a really big book with a lot of sadness and trauma. I just went, I don't want to write this book. It came straight out of the blue and knocked  me around. I thought, it's too big, it's too sad, I know nothing about growing apples, even though I grew up in Tasmania."
Ms Stephens says the idea came to her the day she interviewed author Monica McInerney for a literary event. During the course of the interview, they'd discussed grief and how it informed Ms McInerney's writing. That afternoon, the premise of The Last of the Apple Blossom revealed itself and Ms McInerney insisted Ms Stephens write the book.
"In a wonderful turn of events, after I had overcome my fear and written many drafts, Monica became my mentor through the Australian Society of Authors mentorship program, and guided me through the final drafts before I submitted to publishers," says Ms Stephens.
"Monica was brilliant, but tough. She really put me through my paces, but she was also warm, kind and incredibly generous. She wouldn't read the manuscript until I'd done at least six drafts and she wouldn't allow me to submit to publishers until I'd done at least 10. When I sent off that tenth draft to Monica, she said I had written the book she had longed to read."
Help keep independent and fair Sunshine Coast news coming by subscribing to our free daily news feed. All it requires is your name and email. See SUBSCRIBE at the top of this article
Many Sunshine Coast locals will know Ms Stephens as a local media identity and author of the memoir, Sex, Drugs and Meditation. This is the fourth novel she has written, but the first to be published. It has taken her over a decade to find her perfect genre in historical fiction.
"The thing with historical fiction is you do a stack of research," she says. "It's one of the reasons I love this genre so much. They say, 'write what you know'. With historical fiction, you write what you want to know and throw stuff you know in.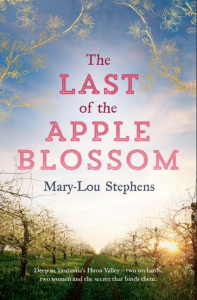 "Oh my god, I did so much research. I did a lot of online and book research, reading of academic documents, PhD theses, all that kind of stuff. But nothing can really beat being on the ground, seeing the lay of the land. Going to Tasmania in November 2018 and talking to the old orchardists was just astounding. People who had lived through all of that."
Apples were an important crop in Tasmania from early colonial settlement, when Britain joined the European Common Market in the early 1970s, the industry collapsed, almost overnight. So many growers were struggling, the government was forced to implement the Tree Pull Scheme.
Between 1972 and 1975, many Huon Valley farmers took advantage of this scheme and over a decade, 700 orchardists left the industry.
"Many were tending orchards that had been in their families for generations," Ms Stephens says.
"For all that love and hard work to be bulldozed into the ground when the industry collapsed would have been almost impossible to bear. A line I heard in one of the orchardist's oral histories haunted me through the writing of the book. 'I worked my entire life for nothing'.
"I don't believe it was for nothing. Their stories and their lives are important. The orchardists created beauty and purpose. Tasmania was The Apple Isle because of them – an enormous achievement. It might not have lasted, but everything is ephemeral in the end. To work and to create, to live a useful life, that is not nothing."
While the book is set during the period from 1967 to 1977, it's also a contemporary story that reflects the hardships faced by farmers today.
"Writing this book certainly gave me a whole new level of respect for our primary producers," Ms Stephens says.
"It highlighted just how tough it can be to make a living from the land. Often we buy our fruit and vegetables without ever thinking about the time and toil it's taken for them to get to us. Every piece of fruit has a story as does every vegetable. Resilience is the word that comes to mind when I think about our farmers and about the characters in my novel. They face so many battles and the good years are few and far between. The fact that they keep going is astounding.
"The Last of the Apple Blossom is about love on so many levels  —  romantic love, love of family and children, love of music and friends — and all the way through there is the love of the land, the trees, the way of life, the Huon Valley and of nature, no matter what it throws at them. The novel is a reminder of the huge changes Australia went through in the 1960s and 70s and how we navigated those changes.
"Everything always changes but some things always hold true — love, respect, friendship, integrity. We've all been through so much change in the past year and a half. Many of us have had to be resilient in the face of these changes.
"The Last of the Apple Blossom is a testament to our ability to navigate our way through hard times and problems, and come through them with the ingenuity and the support of those who love us. I would love my readers to gain a sense of hope from reading The Last of the Apple Blossom. No matter how hard things are there is always a way through, even though it can be hard to find at first."
The Last of the Apple Blossom by Mary-Lou Stephens is out on July 28 and is published by HQ Fiction.
Join Mary-Lou Stephens for her book launch at Annie's Books on Peregian, Thursday, August 5, at 6pm. Free event.
Ms Stephens will appear as the introducing author at Outspoken Maleny along with Scott Ludlam on Wednesday, August 11, at 6pm.