Mermaids with mullets and leather jackets take down the patriarchy by luring men to a watery end in a provocative pilot TV script written by Jessie Hughes.
And, thanks to a string of unforeseen events, her work is now being made into an animated comedy series.
A creative technologist who grew up in Shelly Beach, Ms Hughes says a childhood immersed in the ocean no doubt planted subconscious seeds for the show.
Titled Head Above Water, it has gained immediate industry interest and Ms Hughes, a screenwriter, has closed a partnership deal with Brisbane motion studio Breeder to bring her story to life on the small screen.
After studying creative industries at Queensland University of Technology, the 27-year-old was named a John Monash Scholar for 2020 and was about to embark on a Master in Design Engineering at Harvard University when the pandemic hit.
"COVID-19 threw my international plans out the window but ended up serendipitously redirecting me on an entirely new path, one far more comical, creative, and closer to home," Ms Hughes says.
"It was beautiful to reconnect with my roots and it was when I moved back to the Coast, the idea for this show came about. My whole life had crumbled and I got a job at The Pocket Espresso Bar at Moffat Beach.
"I was serving a customer and she'd just come out of the water. She had long wet hair and was in a bikini and looked like a mermaid. That day they were raising money for Mullets for Mental Health.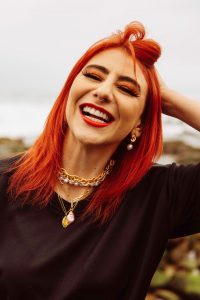 "I looked at this girl and got an idea of a mermaid with a mullet. I'm an artist so I thought it would just be a picture, but every single day this picture came back. When an idea sticks, it just sticks. Her personality grew, her story grew and there were a lot of massive changes happening in my life that came through her character."
Ms Hughes received a Regional Arts Development Fund (RADF) grant of $5000 to develop the concept and has recently applied for another RADF grant of $10,000 to further develop it.
The RADF is a partnership between the Queensland Government and Sunshine Coast Council to support local arts and culture in regional Queensland.
"A lot of work goes into all the beautiful elements that make animation as magical as it is," she says.
Help keep independent and fair Sunshine Coast news coming by subscribing to our free daily news feed. All it requires is your name and email. See SUBSCRIBE at the top of this article 
"We have so much talent in Australia and I think that is what COVID has highlighted for the screen industry, as many of them have had to come home [from working overseas], so I'm excited to collaborate with all these talented people going forward."
Ms Hughes is driven by a desire to apply creativity to technology and works in design strategy for an agency in Brisbane. Her work involves consulting with emerging technology developers.
"I'm a creative technologist," she says. "It's basically about how can we use these incredibly emerging technologies for creative experiences to increase engagement and enjoyment. I have a background in visual art and I see the world through pictures."
Ms Hughes describes Head Above Water as a darkly comic, unfiltered adult animated series that follows feminist mermaids and angry sirens as they lure men to their deaths to 'devour the patriarchy'.
"Head Above Water is set in the modern day against an underwater metropolis centred around the Department of Justice. Sirens, much like police officers, go about their days devouring society's bad apples: misogynists, mansplainers, etc," she says.
"The show is a subversive, indecorous and contemporary episodic adult animated series, using dark comedy to explore feminist commentary under the guise of chaotically entertaining humour."
Ms Hughes says Head Above Water is influenced by other animated productions including South Park, BoJack Horseman and Archer, along with the contemporary feminism of television shows like Broad City and Fleabag.
"A 2019 study by the University of Southern California found that only 17 per cent of "created by" or "developed by" credits were attributed to women in animated television so I am hoping backing Head Above Water could be a market opportunity for producers and funding bodies eager to bridge the gender divide in animated television," she says.
"The show is written and created by a woman and has a female lead protagonist. In 100 animated TV series analysed within the USC study, only 25 per cent of the writers were women, while only 39 per cent of the top 100 animated series included lead or co-lead characters who were female."
Ms Hughes' passion for her project is evident as she discusses how what first appeared to be a major setback in her career has become a blessing.
"I think 2020 was quite a dark time for the entire world," she says. "It was very depressing; there was a lot of unrest. Being able to turn off and escape into this mermaid world has been a nice emotional reset and now I have this energy and passion I can pour into it."
For more information on Head Above Water, visit headabovewater.online