The Nambour Blue Demons could be the most dominant team on the Sunshine Coast in the past decade, and they're not done yet!
They have featured in every grand final in the local hockey competition from 2011, winning eight of 10.
"We have had a really good group of girls as our core for the past few years, so we've always got a great foundation with our team," captain Kerryl Brown said.
"We've grown up (playing together) and we know each others' strengths and weaknesses.
"We've also got some great new players, who have strengthened our team and our bond.
"The new players come to the club, and they see the club's (proud) history."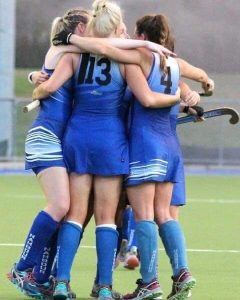 But rival teams have been knocking on the finals' door in recent seasons, and it was busted open last year.
The Blue Demons copped a painstaking defeat to a young and enthusiastic Buderim Rebels in the grand-final, via a shoot-out.
"They have young blood coming through and they have got enthusiasm," Brown said.
"You can't beat their enthusiasm. They're fresh and ready to go."
Brown admitted the six-team Division 1 had become significantly more competitive in recent years.
"A lot of the other teams are stepping up," she said.
"We used to win comfortably whereas now we have to work harder to get wins.
"This year there have had lost a few games because other teams are building."
Help us find the Sunshine Coast's most dominant sporting team ever. Email your suggestions to sport@sunshinecoastnews.com.au
She said the Blue Demons had forced other clubs to improve, and that was good for local hockey.
"It's great to have the competition as strong as it is. It's more exciting."
"There is the unknown every weekend, when you step on to the field.
"If we have made other teams push harder and work harder to get to that benchmark (the Blue Demons set), then that's fantastic."
Follow us on Facebook: www.facebook.com/scnews2020/
The loss to Buderim in last year's decider has only served to provoke Nambour, and they're intent on recapturing that winning feeling.
"We're pretty hungry," captain Kerryl Brown said.
"As many trophies as we've won, you give up six months of the year to train and play, so you want to finish it off in the right way. "
They're on top of this season's ladder after 14 of 20 rounds and are destined for the four-team finals.
But the Rebels and company are hot on their heels.
Flinders are leading the charge in the men's competition.
Sunshine Coast Division 1 fixtures are contested at Ballinger Park, Buderim, on Sunday afternoons.
Help keep independent and fair Sunshine Coast news and sport coming by subscribing to our free daily news feed. All it requires is your name and email. See SUBSCRIBE at the top of this article.