It's not every day a sporting great visits the Sunshine Coast, and when it's someone as congenial and inspirational as rugby union royalty, John Eales AM, there's much cause for excitement.
Eales will visit the Coast on July 16 for the next In Conversation event at Venue 114 to talk leadership, productive teamwork and creating a positive culture.
Widely considered to be one of the greatest rugby players ever, his international Test debut in 1991 came only a year after his first appearance for Queensland.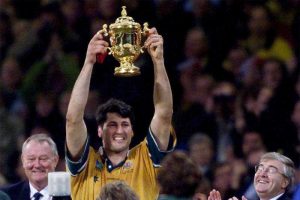 He was part of the 1991 World Cup-winning Wallabies and became captain in 1996. He served as Australia's captain for more matches than any other player, retaining the position until his retirement in 2001.
Eales led the Wallabies to numerous victories and was made a Member of the Order of Australia (AM) in 1999, as well as being inducted into the Sport Australia Hall of Fame, the World Rugby Hall of Fame and the Australian Institute of Sport's Best of the Best.
He's also a successful businessman and is seen as an inspirational leader and motivational public speaker. Having grown up in Brisbane, he spent a lot of time on the Sunshine Coast and has fond memories of the Wallabies using Caloundra as a base for two years when preparing for the World Cup in 1999.
"When Rod Macqueen was coach, he tried to look at things differently and one of the things he looked at was the way we prepared for games," Eales says.
"The Wallabies didn't have a home base – we played all around Australia – and we'd be recreating training environments everywhere we went. He wanted to try and get as much regularity in the program, so we set up a place in Caloundra where we could have the same training facilities.
"It had good weather and was a bit less rushed than some of the cities. A lot of us had young families and they could come and live with us. From there, we'd go to play the game wherever that was and go back to Caloundra."
Eales is renowned for his calm temperament (he credits this to the influence of his father and Mr Macqueen).
"I've developed the ability to be clear-headed and composed in any situation, whether it be in sport, business or life in general," he says.
"The world will throw curve balls at you. Very little is linear. There will be more crooked lines in your progress than straight lines. There will be ups and downs. Being able to look at those situations and approach them in a clear, calm and composed manner is something the best leaders are able to do.
"My father was a very composed person," he says. "He didn't panic. He would always assess each decision on its merits."
Having led one of the most successful Australian sporting teams in history, Eales knows a thing or two about productive teamwork and creating a positive culture, which he says translates well to the business world.
"I don't differentiate much between sport and business," he says.
"You need a structure aligned with your purpose, aligned with the people and the strategy. That is exactly the same no matter what you're trying to achieve, whether in community, a sporting organisation or a business organisation.
"To create a positive culture, it's about being conscious about the culture firstly. You don't just let a culture happen. The organisation will have a culture whether you work at it or not. Having a deliberate culture by design is better than having a culture by default. "
While Eales is a role model to many, he's also had his own role models. Apart from his father and Macqueen he cites Daniel Petrie, founder of AirTree, who has also worked for some of Microsoft's top teams in the US.
"He has always understood and respected the balance between the importance of your work, but also the importance of other aspects of your life," Eales says. "Your family, what you're involved with outside of work life. Make sure you look at yourself as a complete person, rather than someone who gets all of their identity from work."
In Conversation – Learning from Legends is on Friday, July 16 at Venue 114. Renowned poet Rupert McCall will MC the event and share some of his best poetry work. For more information and tickets, visit venue114.com.au/events/conversation-learning-from-legends.