A Sunshine Coast born and bred family, trapped in the middle of the escalating rental crisis, is urgently seeking a place to call home after being told they have 60 days to leave their property.
Shelly Lamont, her partner and two young boys have lived in Palmwoods for almost three years and are now in search of alternative accommodation after the owners of their rental property decided to renovate.
The 32-year-old, who has rented most of her life, has already applied for more than 20 properties and fears she will not be able to secure a place in time to enroll her son in Prep for 2022.
This follows a sunshinecoastnews.com.au report in February that revealed those with no pets, no kids and cash to burn were winning "rental lotto".
Some tenants were paying tens of thousands of dollars up front, offering to upgrade houses at their own expense and ditching much-loved pets in a bid to secure homes.
The report said those offering $100 a week more than the advertised rate and six to 12 months' rent up front were cutting out other applicants.
Do you have a rental experience to share? Contact us via news@sunshinecoastnews.com.au
"We are looking everywhere. We are happy to live anywhere on the Coast," Ms Lamont said.
"My eldest needs to be enrolled in Prep next month, so wherever we go, we will need to choose that place for him to go to school."
Both earning an income, and with Ms Lamont's partner working as a chef in Maroochydore, the family now has less than five weeks to move out.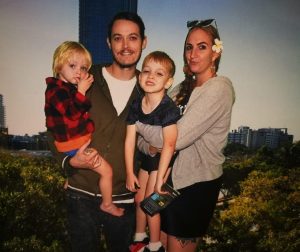 "I have heard you can go to the RTA (Residential Tenancies Authority) and request a three-week extension on your time," Ms Lamont said.
Follow Sunshine Coast News on Facebook.
She said that when applying for a rental, she had sometimes been up against up to 100 applicants for one property.
"I heard that 72 people were applying for one house, by my real estate agent.
"I've also had people offering me break leases on their houses, but the rent is being put up by 50 per cent.
"I find it really shocking the stats of what is happening.
"I've rented all my life, and I've never put in more than two or three applications and been knocked back."
Help keep independent and fair Sunshine Coast news coming by subscribing to our free daily news feed. All it requires is your name and email. See SUBSCRIBE at the top of this article 
Ms Lamont said many locals like herself could not compete with the money interstate arrivals could offer on houses.
"Our (income) is not going up but our cost of living is going up so, so much.
"I think it is really scary for people who are locals who don't own their own house and are working as hard as they can and have kids.
"You just feel like you are pedalling on a rat wheel, you're not going to get anywhere."
Ms Lamont has until the end of July to find a new home.
Anyone who can help the family can contact them via www.facebook.com/shelly.lamont.5
The wider impacts of the housing shortage are emerging as authorities and welfare agencies look for short and long-term solutions for those left on the outer.
There is predicted population growth of 182,000 extra residents on the Sunshine Coast by 2041 as people moved to the Coast to take up the increasing number of jobs and to fulfil their lifestyle dreams.