UPDATE: The husband of a Melbourne woman who tested positive to the coronavirus on the Sunshine Coast has also returned a positive result after earlier coming back negative.
Of their 17 identified close contacts, two other members of the household they were staying with in Caloundra (described as one of the couple's parents) have tested negative.
One other close contact has also tested negative.
It's understood the initial 44-year-old woman began feeling symptomatic on June 3, two days before entering Queensland.
The couple did not have an exemption pass to travel from Victoria to Queensland but the husband "was here with a new job" said Health minister Yvette D'ath.
Chief health officer Dr Jeannette Young said the Melbourne husband and wife were towards the end of their infections which was "good news" because it lowered the risk of transmission.
However anyone who attended the many exposure sites, which include a string of cafes and shops across Caloundra (listed below), is urged to self-isolate and get tested.
So far 400 people who had visited the venues at the stated times have come forward.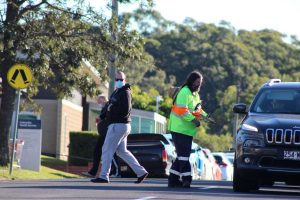 Health minister Yvette D'ath said the reduced infection risk was positive for Queensland.
"The good news is it appears both the two individuals are at the end of their infectious period which means the risk is lower than we were expecting yesterday but we are saying to people please look at the exposure sites," said Ms D'ath.
Ms D'ath said people who had been to the exposure venues should register online with a contact tracing form and get tested and await instruction about how to quarantine.
Anyone with symptoms on the Sunshine Coast is urged to get tested at sites which include Caloundra Hospital which is open from 8am to 8pm and over the weekend and is a drive-thru site.
There will be separate queues for those who pre-register and walk-ups.
Testing is also available at Nambour General Hospital and private pathologists such as Sullivan Nicolaides.
Sunshine Coast people have also been urged to get vaccinated at one of the vaccine hubs or a GP.
People aged 40 to 49 can get the Pfizer jab at Sunshine Coast University Hospital and Nambour General Hospital but must book online (Nambour hospital has more bookings available).
Those aged over 50 may attend one of 77 GPs in the region inoculating with AstraZeneca, also with a booking, said Dr Young.
Victoria was a declared hotspot at the time the couple left the lockdown state on June 1 and went on a road trip through NSW and Queensland, crossing the border on June 5.
It's illegal for people to enter Queensland from a hotspot without an exemption for "essential purposes".
Any non-resident who does arrive from infected regions is required to undertake mandatory two weeks' hotel quarantine.
Penalties include on-the-spot fine of $4,003, a court-imposed penalty of up to $13,345 or six months' jail.
EARLIER: The Sunshine Coast has reacted rapidly to the call for testing after a Victorian lockdown escapee returned positive to COVID-19 after visiting a swathe of venues.
Queensland's Chief Health Officer, Dr Jeanette Young, said Wednesday that Coast residents were always very good and wanted to do the right thing in these circumstances – and she was right.
Hundreds of people, particularly from the Caloundra area where the woman was most active, have turned out to be tested, creating traffic issues.
A long line of cars was seen at Caloundra Hospital Wednesday afternoon and Thursday morning, where the Minor Illnesses and Injuries Clinic is being utilised as a drive-through testing site.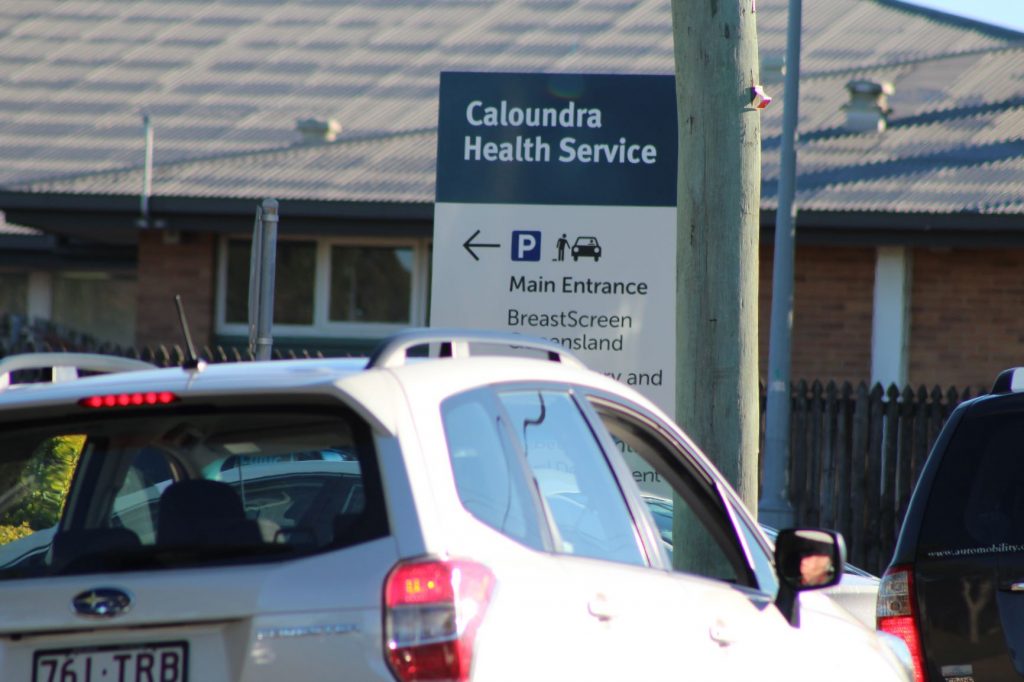 Traffic control officers and police were in attendance and traffic was banked up along its access road, West Terrace, and surrounding streets, as well as Caloundra Road inbound.
Some aged care facilities have imposed their own precautionary lockdowns, sports clubs have advised anyone that has been near the exposure sites to stay away from facilities and some schools have banned spectators at events, advising parents and grandparents not to attend.
A vital development will be the results of the woman's five close Sunshine Coast contacts, currently quarantining at home.
These findings were expected overnight and could spark broader contact tracing if any test positive.
EARLIER
A woman who left lockdown in Victoria and travelled through NSW to Queensland has tested positive while staying on the Sunshine Coast.
The woman left Melbourne on June 1 and travelled with her husband through NSW and crossed the border into Queensland on June 5 — visiting three states.
The couple stopped at a number of sites along their journey, including the McDonald's at Goondiwindi and Caltex in Toowoomba, where they got petrol, both on Saturday June 5.
Once arriving on the Sunshine Coast they traipsed across the Caloundra region to many shops and cafes in Moffat Beach, Kings Beach and Caloundra which have now all been declared exposure sites.
The woman had been staying with family and her husband in Caloundra and was tested on Tuesday which returned a positive COVID result on Wednesday.
Authorities said it was not yet known why or how the woman had left Victoria, understood to be a suburb on the edge of Greater Melbourne, during the lockdown but those questions would be investigated.
But for now Dr Jeannette Young said the focus was on contact tracing. Six close contacts had been identified and the partner had been tested which came back negative.
He has been admitted into hospital in case he was a carrier having spent so long in the car with his wife.
"I don't know why they left (Victoria), what their reason was. At the moment I'm absolutely focused on just getting this information out there," said Dr Young.
"Of course we'll be looking at how all this happened, of course, but not at this stage."
Get local stories direct to your inbox once daily by registering to receive our free news bulletin: Go to SUBSCRIBE at top of this article
Deputy Police Commissioner Steve Gollschewski said the story behind the woman's travels would be investigated.
"Of course we are going to investigate the circumstances of what's happened here," he said.
"We've got a couple who've come from Victoria when Victoria's in a lockdown into Queensland.
"All the aspects of how that's occurred we'll do in a co-operative manner with our colleagues in Victoria and NSW and we'll examine all those issues around passes, whether they were appropriate and what has happened."
Dr Young said the latest infection in Queensland was "frustrating".
"Any case of COVID is frustrating. The community has had to put up with so much now for 18 months and to do this again, it doesn't matter the cause, any community case of COVID is going to be frustrating for a lot of people," she said.
The Sunshine Coast locations visited this week include:
Sunday 6 June
Sunny's @ Moffat
10 Seaview Terrace Moffat Beach 2.35pm – 3pm
Coffee Cat on Kings Beach
4/8 Levuka Ave Kings Beach 3.30pm – 4.30pm
Monday 7 June 2021
Stockland Caloundra Shopping Centre, 47 Bowman Rd Caloundra, 10.45am – 11.30am
The Coffee Club – Stockland Caloundra Shopping Centre, 10.50am – 11.05am
Kmart – Women's section – Stockland Caloundra Shopping Centre, 11am – 11.15am
Bunnings Caloundra 12.10pm – 12.45pm
Female toilet near JB Hi-Fi – Kawana Shoppingworld 1pm – 1.10pm
JB Hi-Fi – Kawana Shoppingworld 1.10pm – 1.30pm
Foodcourt – Kawana Shoppingworld 1.30pm – 2pm
Tuesday 8 June
IGA Baringa White's Supa IGA 3.50pm – 4.10pm
Female toilets near IGA Baringa White's Supa IGA 4.05pm – 4.15pm
Health Minister Yvette D'arth said testing clinics would open with extended hours and a number of private facilities would also undertake testing.
"What I say to Queenslanders is we have been here before we know what to do. If you have been to any of the exposure sites and you have symptoms or not, we would like you to come forward and get tested," she said.
"And we will make sure our testing clinics on the Sunshine coast will have extended hours and there will be a number of private pathologists that will also be doing testing."
"For everyone else if you have any symptoms in Queensland, please get a test."
Melbourne lockdown to end
Meanwhile, Melbourne's two-week coronavirus lockdown will end shortly, although residents still won't be able to venture far from their homes or into regional Victoria.
Acting Premier James Merlino confirmed the extended "circuit breaker" lockdown will cease at 11.59pm on Thursday, meaning people will be free to leave home for any reason.
But Melburnians will need to remain within 25km of their homes, unless working or studying, care giving or getting a COVID-19 vaccine.
Mr Merlino said the measure was in place to keep Melbourne residents out of regional areas over the Queen's Birthday long weekend.
"Travel into regional Victoria still remains a no-go for now," he told reporters on Wednesday.
Under the new restrictions for Melbourne, students can return to schools, retail can reopen and hospitality venues can resume seated service.
A ban on home gatherings remains in effect, but up to 10 people can meet outdoors.
Masks will remain compulsory indoors and outdoors when social distancing is not possible.
Melbourne offices can reopen at 25 per cent capacity, although authorities want people to continue to work from home if possible.
The state government is also moving to make QR check-ins compulsory at all workplaces, with few exemptions.
"This is a good day," Mr Merlino said.
"But we know this isn't over yet, and until we have widespread vaccination across Victoria and across our country, the virus will still be with us."
Meanwhile, regional Victorians will be able to welcome two adult guests a day, plus dependents, into their homes from Friday, as part of their suite of more relaxed restrictions.
It is expected Melbourne will move to similar settings as regional Victoria from June 17, with all Victorians able to travel the state freely.
Opposition Leader Michael O'Brien said there were "far too few freedoms" given back to Melburnians after two weeks of sacrifice.
"Victorians deserve to be let out of lockdown jail today, all they got was a slightly longer leash and we deserve so much more," he told reporters.
-with AAP