This is the tale of the lucky chicken farmer who made anything but chicken feed from a Sunshine Coast property he won in a raffle.
As street and suburb records continued to fall with auctions bringing out the best in the Coast property market on the weekend, one backstory certainly stood out.
Jared Young of Nicholl & Young had marketed 13 Sanctuary Grove Drive, Buderim, as 'Chicken Farmer Sells Unwanted Prize Home'.
It certainly attracted plenty of interest and delving a little deeper, we learned it was being let go by a Victorian farmer, who had been lucky enough to win it in a lottery.
After supporting and buying tickets in yourtown lotteries for many years, Bendigo's Gary Robertson (pictured below) was one happy rooster when he took out a recent prize draw.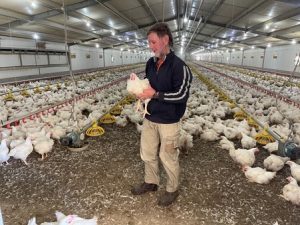 The agent described him as a "great country bloke" and said the property was no good for Gary as it wasn't big enough to house chickens.
He had wanted to come up for the auction but, excuse another pun, was cooped up in Melbourne due to the lockdown.
The bright and luxurious hideaway was described as the perfect sanctuary for family and friends with 5 bedrooms, 4.5 bathrooms, multiple living areas and 3 car spaces.
It certainly sent the feathers flying as interested parties flocked to vie for the Hamptons-style home.
Like this story? Get more just like it direct to your inbox by subscribing to our free daily news feed: Go to SUBSCRIBE at top of this article to register . All it requires is your name and email. See SUBSCRIBE at the top of this article 
Jared handed out 10 bidder cards to willing participants as the auction kicked into gear at $1.4 million, and away we went.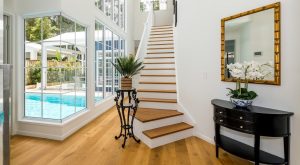 Through laughter, tears and cheers the final bid was made and the property plucked, setting a new benchmark for the street at $2,000,000.
The seller, Gary, now intends to retire a little earlier than expected and sunshinecoastnews.com.au understands he plans to settle in Hervey Bay and spend his days fishing.
Friday evening saw 18 Saratoga Drive, Mountain Creek, take centre stage.
The lakefront, north-facing address (pictured below) enjoyed a stunning sunset as the bidding was declared open.
Seven registered bidders jousted, pushing the price into record-breaking territory when the bidding drew to a close at $1,475,000.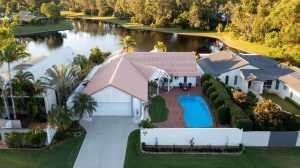 With neighbours grinning from ear to ear, they welcomed new owners to the street.
Jordan Lund and the team at Elite Lifestyle Properties were very pleased with the result.
Saturday 6.30pm worked beautifully for Brad Milton and the team at That Place Property.
Their offering at 5 Moondarra Crescent, Mooloolaba, drew an evening crowd greeted by bubbles and flame-lit entrance.
When the bidding paused at $2,375,000 there was much deliberation until buyer and seller agreed at 2,400,000 where the property was sold for yet another street record. Then the real bubbly came out.
More than 80 inspections resulted in four bidders fighting it out for 412/102 Alexandra Parade, Alexandra Headland.
The property in Seaforth Apartments, was marketed by Grant Whisker from Define Property Agents.
An opportunistic local started the bidding at a cheeky $500,000 and then it went quickly to $800,000 with the four bidders competing all the way to $1,062,000, where it sold under the hammer. It was a local buyer securing their dream property to retire to down the track.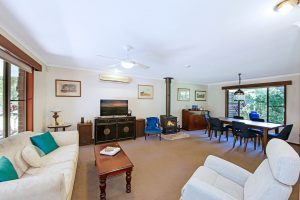 Hinterland lifestyle properties remain in strong demand and evidence of this was the Sunday 10am auction of 36 Smith Drive, Mooloolah Valley (pictured).
The 1.1 hectare property was received splendidly with seven registered bidders all throwing their hats in the ring, diplomatically fighting it out well past the reserve. The auction concluded at $975,000.
Debbie Parsell from Prime Property is really leading the charge with auctions in her key market.
Gordon Macdonald, founder of The Auction Group, has been calling auctions on the Coast for more than a decade after an earlier career in real estate sales. His  auction wrap-up for sunshinecoastnews.com.au is compulsory reading for anyone interested in the hottest sales and latest tales from the property frontline.
AUCTION ACTION
21 Tacoma Rd, Palmwoods
Sold under the hammer: $705,000
Ray White Buderim, Chevonne Rees
5/20 Burnett Street, Mooloolaba
Sold under the hammer: $667,000
Define Property Agents, Grant Whisker
74 Cheviot Road, Palmwoods
Passed in. Now listed at $2.3m
Amber Werchon Property, Steve Turner and Lucy Werchon
66 Mill Road, Buderim
Sold under the hammer: $730,000
Ray White Buderim, Lew Pottinger and Judy Wild
2/36 Buderim Avenue Mooloolaba
Sold under the hammer: $606,000
Ray White Maroochydore, Pam Thomas