After decades helping to shape the region's surfing industry, where else would you find the now retired 'Mayor of Moffats' but on the water.
After 35 years owning iconic local business, Beach Beat, which has stores at Caloundra and Alexandra Headland, Al Hing will spend more of his time riding waves and fishing.
He is selling the operation to another surf enthusiast, Martin Peknice.
It's been a great journey for the 64-year-old, who has helped transform surfing from a pastime to a thriving industry in the region.
Mr Hing was too humble to talk about his exploits, content to retire without fanfare.
But friends and colleagues were quick to praise him.
Store manager and renowned boardrider Bowie Pollard said Mr Hing had made a major impact on the Coast surfing scene.
"He's done a huge amount," he said.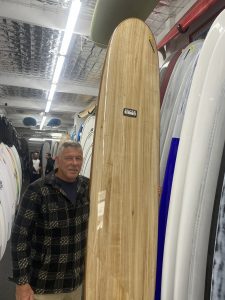 "He's really created that family environment in the longboard community especially.
"He's a great wealth of knowledge, of surfing different places and waves.
"He's also competed in numerous longboard comps."
That included winning the national longboard title in 1987 and Australian masters longboard title in 2007.
"He has also put a lot back into the community, with time, money and effort, sponsoring many local contests," Mr Pollard said.
"Al has always helped the growth of the sport. There's a lot of positive things that Al and Beach Beat have done for Sunshine Coast, if not Australian, surfing."
Mr Hing and the business helped the next generation of local surfers, including the likes of Julian Wilson, Joel Parkinson and Josh Constable.
"They all had ties in the day to Beach Beat," Mr Pollard said.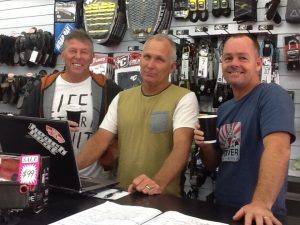 "It's been a stepping stone for a lot of pro surfers. A lot of grommets started with Beach Beat and then went on from there."
He has also provided plenty of opportunities for board shapers.
Mr Pollard said Mr Hing was a straight shooter.
"He doesn't beat around the bush. What you see is what you get."
"He's easy to talk to and gets on well with everyone.
"He's big part of the Caloundra community. Everyone knows him and they're happy to share a wave with him at Moffats. He's pretty much the Mayor of Moffats.
"He's also very humble and enjoys going for a fish and having a nice, cold beer after the day."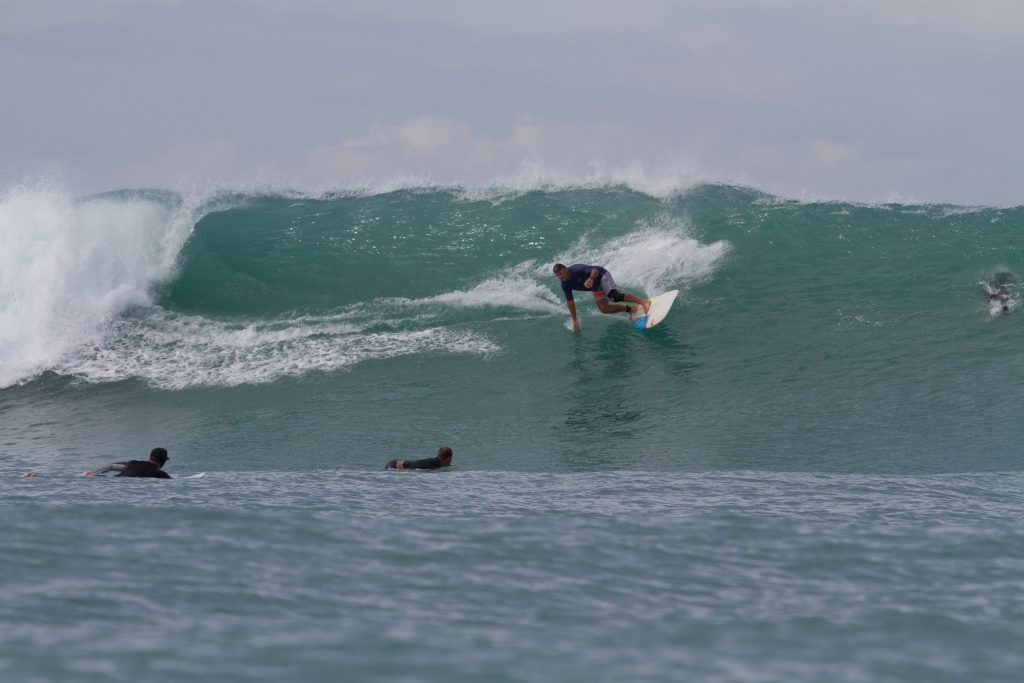 Follow Sunshine Coast News on Facebook.
Beach Beat general manager Mark Loh, who started working at Mr Hing's first shop in Caloundra in 1988, said Al would enjoy retirement
"He's now at that age. He has had a really good run and now wants to go surfing and fishing, with a game of golf here and there," Mr Loh said.
He said Mr Hing had bolstered the region's surfing culture.
"Al has put a lot into the community and sponsored a lot of people over the years. He's given a lot and now it's time to reap the spoils."
"He grew up at Noosa and was always passionate about surfing, so decided to open a surf shop. It was a lifestyle that led to a pretty good journey of making a living and meeting people."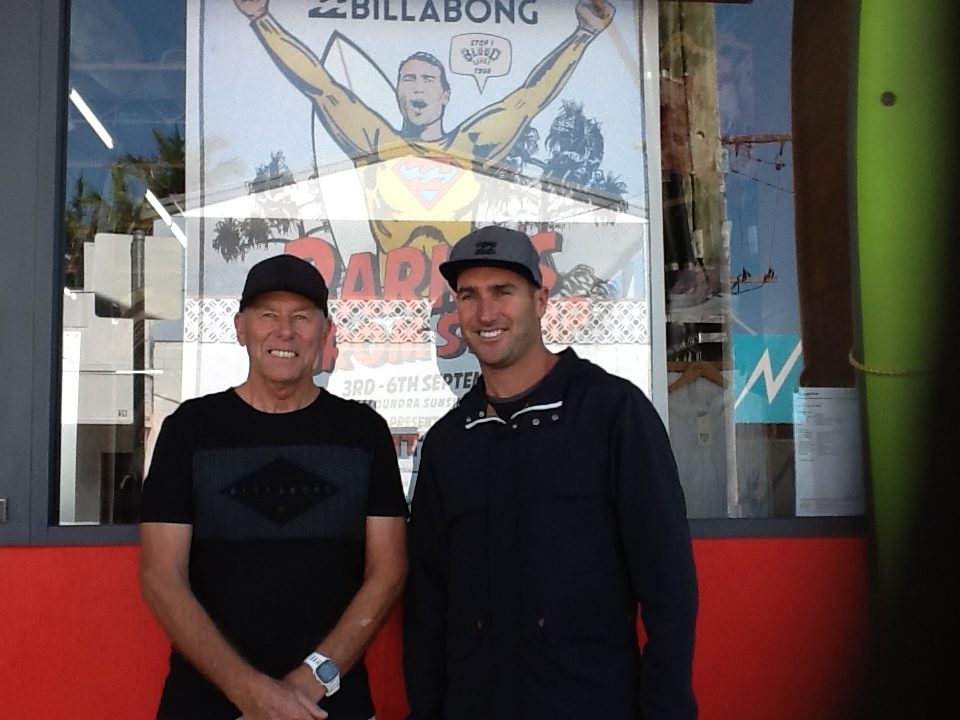 Beach Beat was founded in 1986 by Mr Hing and Kingsley Kernovske.
They started with the shop at Caloundra, added another shop at Alex in 1992 and manufactured boards at Maroochydore from 1987 until 2018.
Mr Loh said the business had come a long way.
"The '80s was just so fun and then it was a boom time in the late '80s and '90s when the surfing industry really started to take off."
In the early years they would place a sign on the shop door and go surfing instead, but the industry is much busier now. They have 20 staff to help keep up with it.
"It's definitely changed and there is so many more products and opportunities," Mr Loh said.
Like independent news and sport? Help us deliver more by registering for our free daily news feed. All it requires is your name and email. See SUBSCRIBE at the top of this article.
He said Mr Hing was an identity in his hometown.
"They call him the Mayor of Moffat Beach. He knows everyone at Moffs and that's where you will find him sipping on a coffee and having a surf."
He said it had been great working with him.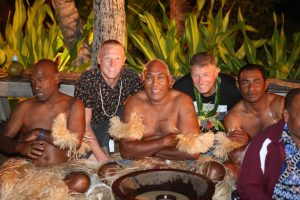 "We all love surfing. It's a lifestyle job and I love coming to work every day," he said.
Beach Beat is poised to expand on the Sunshine Coast soon, under the ownership of Mr Peknice, who has moved from Sydney to Coolum.
He has years of experience in the surfing industry and is set to take over in coming weeks.
"Martin has got a lot of enthusiasm and energy and other networking opportunities to grow the business and expand," Mr Loh said.
Beach Beats' first full-time employee and sponsored surfer was Noel Woods in 1987.
He became a business partner of Mr Hing's about 15 years ago.
Mr Woods lauded Mr Hing's and Beach Beat's efforts to support local surfing.
"Especially with the sponsorships. A lot of good surfers over the last 30 years have come through the Beach Beat stable and gone on to bright things."
"Beach Beat has been a good stepping stone to give people some grounding to move on to other things, not just surfers, but retailers.
"We've employed hundreds of kids."
Mr Woods said Mr Hing helped drive the surfing industry.
"I've been a partner of Al's for the past 15 years but I started (with the business) in the early days and it was three of us (Al, Noel, Mark) doing the shop, but it has expanded, without getting too big."
He said Mr Hing allowed them to manage the shops "to suit the ambience of the local lifestyle".
Mr Woods is now selling his share of the business as well but will likely remain part-time with Beach Beat and be a brand ambassador.
"Al's retiring but I'll stay a bit in the game."
He said they were delighted to sell to someone who had similar view on surfing.
"Al was adamant the business had to go to somebody who would maintain the legacy. We were never going to sell to a corporate entity or chop it up or change its business model."
"It was always going to sell to a like-minded person and that's what's happened. Marty has been in the surf industry for a long time."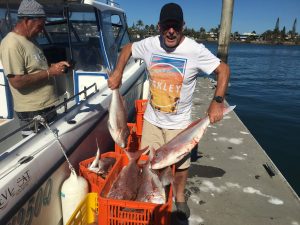 Beach Beat has a 'once in a lifetime sale' to coincide with stocktake.
Their stores are at Caloundra (119 Bulcock St, 54914711) and Alexandra Headland (164 Alexandra Parade, 54914711), https://www.beachbeat.com.au/