If only Saya McDermott could tell her 17-year-old self that the eczema and dermatitis traumatising her teenage life would soon be the catalyst for a global skincare empire.
The 38-year-old Noosa mother is absolutely glowing in the third trimester of pregnancy, as she greets visitors at the shopfront of her Saya Skincare warehouse in Noosaville's Gateway Drive.
It's been a long journey over more than 20 years of ups and downs, self-doubt and heartache but Saya stands as testament to her determination, products and the business nous she's gained.
The teenager with the sparkling eyes and wide, ready smile not only overcame the one thing she disliked about herself but in the process also has opened a world of opportunity to help others with their skincare problems and needs.
"I started making skincare when I was about 17 because I had really bad skin and I struggled to find something that was suitable to help," she said over a morning coffee break at nearby Belmondo's Fresh Food Market.
"I spent a lot of money going to many beauty therapists and buying lots of products. I never had results whatsoever. I just went round and round in circles."
Saya said her skin at that point was very sensitive and she had regular "breakouts" on her face.
"I'd originally found a skincare brand that was making their own skincare products in Eumundi Markets and their products really worked quite well with my skin but one day they just never came back to the markets," she said.
"I did a little course with a homeopath who taught me how to make the basics of skincare products – mixing oil and water and all that sort of stuff to create a cream – and just talking about various ingredients and what they do.
"I started playing with natural ingredients.
"I created this gel cream and it completely changed my life. My skin cleared up. It was quite amazing."
Local journalists supporting local people. Help keep independent and fair Sunshine Coast news coming by subscribing to our free daily news feed. All it requires is your name and email. See SUBSCRIBE at the top of this article.
Fast forward a few years and Saya was working as a full-time graphic designer for a Sunshine Coast newspaper company, spending her weekends experimenting with skincare formulas in the kitchen of her parents' Cooroy home "with bain-maries set up everywhere".
It took many months of trial and error – using her research and intuition of what would work and what wouldn't – before sister Samantha and mum Linda became the first recipients of her efforts, followed by work colleagues and friends.
From those initial face moisturisers, Saya added cleansers – expanding on her creativity by formulating for different skin types.
"Mum's (skin) was more mature, so I was able to create richer creams for her and eye creams – things that I, as a teenager, didn't consider to use on my skin," she said.
"I did that for a number of years – passing it around to friends and family and getting a really good response from it.
"I decided 'Well, I might start making a bigger batch' and I packaged them up. I remember spending so much time trying to find suppliers of raw ingredients and packaging and labels.
"I actually still use some of those same suppliers today (including) a Noosa-based raw ingredients supplier."
It was time to be brave and take the product to the customer.
Follow Sunshine Coast News on Facebook
Saya and her mum's kitchen production line grew to service a stall at the Original Eumundi Markets on Saturdays. Over six or seven years, Saya added the Wednesday market at Eumundi, as well as the Noosa Farmers' Market on Sundays.
"I built up a good customer base," Saya remembers fondly.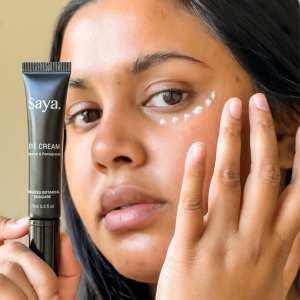 "Eumundi Markets back then were the place to go and you would see so many visitors who would be shop buyers and shop owners from various areas interstate.
"That's how I got into brick-and-mortar stores.
"That's how I really got a foot in the door with these people."
From her hometown of Cooroy and a few stores in Noosa, stockists were slowly added in NSW and Victoria.
But for the daughter of McDermott Aviation founder John McDermott, the skincare business still hadn't taken the leap from the status of hobby or side project. She even toyed with becoming a commercial pilot for a "real job".
"I just never thought this would be a full-time business. It took me a long, long time to decide that, too," Saya said.
"It's different now with entrepreneurs. There's a lot going on and people creating things.
"Back then, people would ask me what I did (for a living) and I would tell them 'I make skincare products'. Then people would say, 'But what do you do for a job?'.
"I always had that stuck in my mind and I was a bit hesitant to communicate that to people. I didn't think what I was doing was legitimate."
The turning point came when Saya was encouraged by the natural growth of the business feedback from customers about the products. She realised the investment of time, money and hard work was finally paying off.
Her first manufacturing hub was established about 10 years ago in Gateway Drive when all production was still by hand.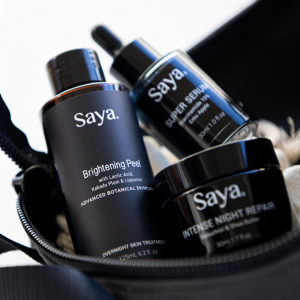 Saya Skincare moved across the road to bigger warehouse distribution premises three years ago. And while the products are still manufactured locally, it is now on a larger scale off-site.
Relinquishing control of the manufacturing side of the business allowed Saya to expand the brand further by focusing on creating new and better formulations, which is what she relishes.
The diverse, multi-correctional collection is designed to nourish, protect and help various skin types in an uncomplicated approach to skincare and using the power of Australian native botanicals.
"We've got a natural approach to advanced skincare," she said of the current range which has about 30 different skews or skin types in the face and body ranges.
"Some are certified organic but in the last 12 months, we've been repositioning the brand.
"We're elevating the brand with far more advanced formulations with active ingredients – blending natural with cosmeceutical, in some ways.
"It's such a saturated market in terms of skincare and organic, so we're really trying to differentiate ourselves.
"I didn't want the brand to be looked at as 'basic organic skincare'. There's so many out there.
"You can't just stick at one thing and never evolve. You've got to grow and that's where I saw the direction of the brand."
Saya Skincare – in its classically simple, yet striking, black and white packaging still boasts the core cleansers, moisturisers, serums, eye creams and face masks ("We're launching five new products this year. It's been quite a busy year") as well as bathroom essentials such as shampoo and conditioner, body washes, hand washes, and hand and body lotions that have proven popular in hotels and short-stay accommodation.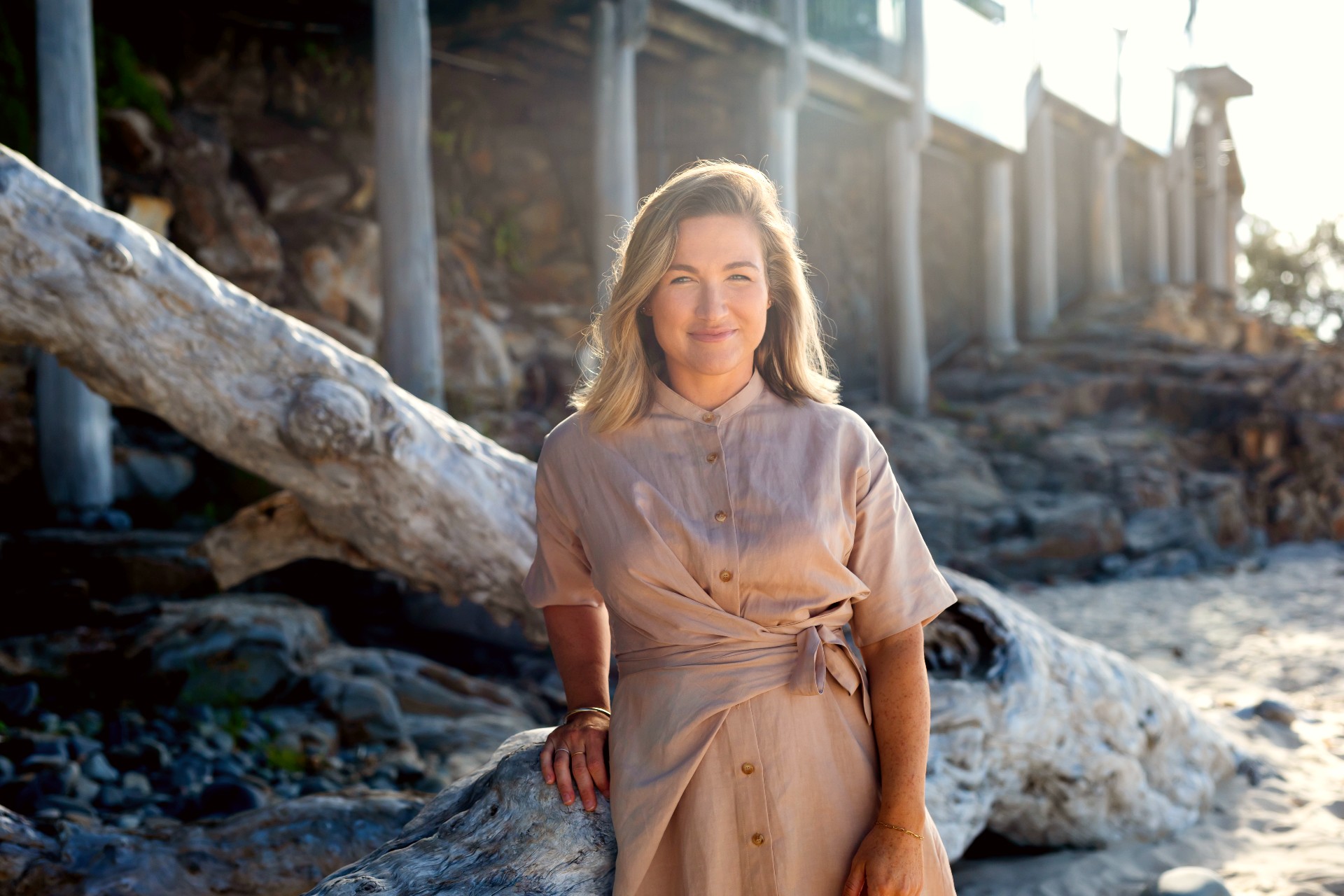 While the hand wash has been a huge success during the COVID-19 pandemic, the best sellers also include body wash, hand and body lotion, gel cleanser for all skin types and serums with their unique formulations.
Saya recently launched a Super Serum that she said offered "ground-breaking ingredients and peptides" including 10% Niacinamide (Vitamin B3) and Vitamin B complex to optimise skin hydration for up to 72 hours.
The range is becoming more sustainable, using carbon-neutral packaging which is 100% sugar cane or recycled PET and minimising smaller containers and bottles.
The brand can be found in 200 outlets around Australia, as well as online, and distributed into the highly competitive US market and Asia.
Saya is particularly proud of the inroads made into the Asian market: "That's been a massive thing for us in terms of volume and distribution. It's a very tough market to get into."
Negotiations are continuing for distribution in the United Arab Emirates and Europe.
Not bad for someone who has had to learn every aspect of the business – accounting, marketing and sales and an understanding of the science of beauty – from the ground up.
Still, many would consider Saya brave (and maybe a little crazy) to take on the "big guys" in longer established international brands that have become household names in skincare.
But she said confidence in her unisex products being clinically tested and scientifically evidenced made her 100% committed.
"The demand for Australian beauty is huge," she said.
"(Products) are known for being high quality.
"There's so many botanical species out there that have been now properly extracted and used. You can't find them anywhere else in the world.
"Think of some of the botanicals that are able to survive and thrive in our Outback with its drought, desert, heat and UV.
"We're actually able to properly extract compounds from these plants and put them into products that help protect our skin like these compounds do for the plants.
"We've always had Australian botanicals in our formulations. We're just constantly evolving and using more."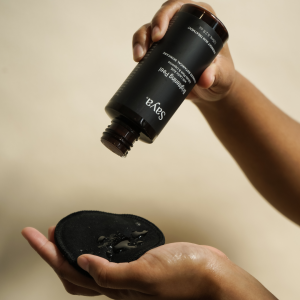 With 19-month-old Samuel at home, a baby girl on the way, and planning a Fiji wedding (postponed from last year) with partner Mark, Saya certainly has her hands full.
But this strong, determined and intelligent woman is a far cry from the insecure teenager.
"You do take time to reflect on where we're at now to how it all started," Saya said.
"I feel like I'm more motivated today in the growth and where the business can go than I ever was, purely because I'm focusing on creating the skincare products and I've got a great team behind me that support me.  And I'm not the one with 100 hats anymore.
"(Wearing 100 hats) is exhausting. But you need to do that sometimes in order to start a business.
"When you can, restructuring and finding and choosing the right people to help you expand is definitely a good thing."