Renting or buying is a nightmare
On the subject of housing and rental prices, my family and I have been overwhelmed by what we have seen and heard over the past six months as we searched for our very first home.
We are first home buyers but cannot even get close to securing our own home.
Any land that becomes available is gone within a matter of minutes, builders are not getting any chance to buy land to build on and sell to people, and the worst part is locals of the Sunshine Coast are not being made a priority!
Houses and land are being sold to outsiders/interstate people who can offer so much more money than us. How are we supposed to compete with that?
My husband and I are about to start our own family with our first child arriving in two months.
The stress of trying to find a rental until we can find our own home also has been very overwhelming.
We cannot afford to offer considerably more than the advertised rent amount, but that is what is happening because there are so few properties available and people are so desperate to find a roof over their heads.
We need to start prioritising the locals who are struggling and start acting like a true community instead of a community that's just after money!
MELANIE (surname supplied)
How has it come to this?
With regard to the introduction of a sleep bus on the Sunshine Coast, homelessness in the community has been an issue of concern that continues to escalate, unabated.
The failure of politicians, at every tier of government, to ensure that there is enough funding for social housing is glaringly obvious.
When people cannot sleep safely at night, the whole fabric of society starts to break down.
The health and safety of every member of the community should be the first priority of any sound government.
If those responsible are so derelict in their duty that they cannot get this first priority right, then they should not be holding their substantially-funded positions of power.
Let's see IMMEDIATE action from politicians, who are paid to do their jobs: stop shirking your responsibilities and get on with it!
CHRISTINE BENNETT, Nambour
I was sitting recently at a hospital on the Sunshine Coast waiting for a lift when a young girl came up to me asking for a cigarette.
She didn't look well I asked are you okay, where do you live?
She told me she slept in a car park at night. I was horrified!
So glad to see these buses and hope the community gets behind them.
ANNE DENNINGS, Kawana Island
Density rethink, but not like the Gold Coast
I agree completely with Mr Cayley and Mr Salt with their recently published assessments of the need for higher density housing to meet future demand.
We have skirted this issue for too long, with minority anti-development groups dictating our future, with their strident demands for limited/no development being strengthened by weak local representatives and the 'click-bait' journalism by some in the media.
Yet it is those same doom-merchants who are now pushing against the upgrading of our public transport systems.
The transport systems are at breaking point because the roads are clogged by people trying to get from their remote low-density estates to their work, entertainment and shopping destinations.
Do you have an opinion to share? Submit a Letter to the Editor at Sunshine Coast News via: news@sunshinecoastnews.com.au
Many of these people would be quite happy to live in higher-density apartments close to these facilities.
As stated by others and myself previously, no developer wants to make the Sunny Coast look like the Gold Coast. That would defeat the whole reason behind living here.
But, with our tallest apartment buildings not even reaching mid-rise levels (I believe the highest to date are 17 levels) we are a long, long way from the 70+ levels permitted (and usually fully occupied) on the Gold Coast.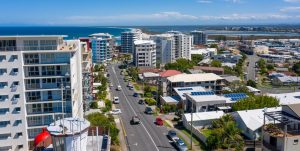 Higher density also allows for concentration of lifestyle activities along the lines of Mooloolaba Esplanade.  Restaurants, shopping, entertainment, etc, all require customer volume to succeed.
JOHN GOULTER, Sunshine Coast builder
With all the talk about 200,000 more people living on the Sunshine Coast, where is the commitment from the Queensland government to build the necessary transport and social infrastructure in the region?
When we we see the upgrades to the rail lines? When we we see the construction of heavy rail into Maroochydore? When we we see work start on the Mooloolaba interchange? How about fast tracking the upgrades to the Bruce highway, upgrades to the Steve Irwin Way goat track?
When will the Palaszczuk government get this done?
If they don't, we will all just have to put up with the congestion and delays and a degraded lifestyle.
ROY BAXTER, Parrearra
Water colours need to blend in
With regard to the proposed new look for the Point Cartwright water tower, whatever design is selected, consideration needs to be given to the colours used.
The current colours cause the water tower to stand out like a sore thumb when viewed from afar, such as from walkways along Mooloolaba Beach.
It is not a pretty sight, even though the art work itself is quite good. However, the artwork cannot be seen from afar, all the person viewing can see is the general hue of the colours used.
In my opinion, it would be far better for the tower to be painted in colours that make it visually disappear when seen from afar.
If it was painted in colours that match the background hues, the effect of virtual disappearing could be achieved by painting the upper part to match the sky, the lower part to match surrounding vegetation. I have seen this effect achieved before on public buildings in various locations and feel thought should be given in this case.
SELWYN UNGER, Buderim
Get vaccinated, before it's too late
I admit to much dismay at the general attitude in Australia to COVID vaccinations. The overwhelming view seems to be 'wait and see' and I would 'prefer another vaccine to the Astra Zeneca'.
I can appreciate that the Federal and State governments have done an excellent job in restricting spread of the disease by closing international borders and state borders with monotonous regularity.
They have also introduced hotel-based quarantine, which is both financially punitive and unlikely to limit the spread of the disease within the hotels themselves.
Surely, quarantine facilities should be away from cities and confined hotels.
My major gripe now is that Australian's are so cosseted by border closures and quarantine that the perception is that COVID is not here, right now and the risk is low. This is blatantly untrue and could prove to be catastrophic.
There have been 157 million cases of COVID and 3.4 million deaths worldwide, yet middle aged Australians are worrying about which vaccine they should have and may wait for the right vaccine, sometime later this year.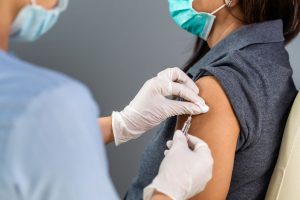 I don't ever remember a time when we were given such options for other vaccinations. Do we query what flu shot we have?
My major concern with this prevarication is that COVID is very much with us and is not going away. It is mutating into different strains, yet many are wondering whether they should wait for a vaccine that is 'less risky'.
They are missing the point. If the pandemic gains a foothold in Australia and it will, the only safe way to avoid infection is to be vaccinated and now, particularly as we are required to have two shots before any level of immunity or protection is effective.
The USA and UK made an absolute disaster of their initial COVID response, but they realised the only way to safety was mass vaccination and have acted accordingly.
Australia should be doing the same, but many are 'uming and ahing'.
Australians, stop 'sitting on your hands' and have your vaccinations, now, before it is too late.
For the record, I  am retired and have had my first, Astra Zeneca, COVID vaccination, with no ill effects.
TERRY BRISTOW, Peregian
Help keep independent and fair Sunshine Coast news coming by subscribing to our free daily news feed. All it requires is your name and email. See SUBSCRIBE at the top of this article