Some long-time Sunshine Coast residents are calling it the new-era "golden triangle" of real estate.
A major weekend media report anointed it as a candidate for "the next Noosa".
No matter how you describe it, the Birtinya/Bokarina/Wurtulla area is hot right now and demand for properties in those areas isn't expected to cool down any time soon.
The coveted Alexandra Headland "golden triangle" – covering a range of streets including Buderim Avenue, Alexandra Parade and Pacific Terrace – has been in demand for decades.
In recent times, some agents have expanded the triangle to surrounding suburbs.
It lures retirees, families and upwardly mobile professionals who want to live, work and play in a suburb offering an enviable beach lifestyle with a stroll to eateries, the surf and other amenities.
The new southern trio of neighbouring suburbs offers all that and more – at a cheaper price.
Birtinya's multimillion-dollar healthcare precinct includes the Sunshine Coast University Hospital that saw its first patients in March 2017, and the new Vitality Village health and wellbeing hub that has now attracted ENTAG's expertise in technology and digital health.
The area has hassle-free access to the Bruce Highway via the Kawana Way Link Road, not to mention the Sunshine Coast Airport via the Sunshine Motorway.
Bokarina Beach – one of the last parcels of land available on the eastern seaboard – is now home to luxurious homes, bespoke townhouses and three eight-storey, contemporary-style high-rise developments that are being constructed with the golden sands of the open surf beach at their doorstep.
Like local property stories? Get them direct to your inbox by subscribing to our free daily news feed. All it requires is your name and email. See SUBSCRIBE at the top of this article 
As has occurred in Noosa and other sought-after coastal suburbs, Wurtulla Beach has seen many of the homes built in the 1980-90s bulldozed to make way for designer mansions that are welcoming new families and professionals relocating from southern states.
Major renovations and extensions to existing homes are changing the face of the area in this tightly held property market.
A four-bedroom canal-front home in Wurtulla sold for $1.22m in March.
Shopping, lifestyle and entertainment businesses have mushroomed in Birtinya, including the NightQuarter live music and eat street-style venue, which brings patrons from as far as Noosa, the hinterland and Brisbane.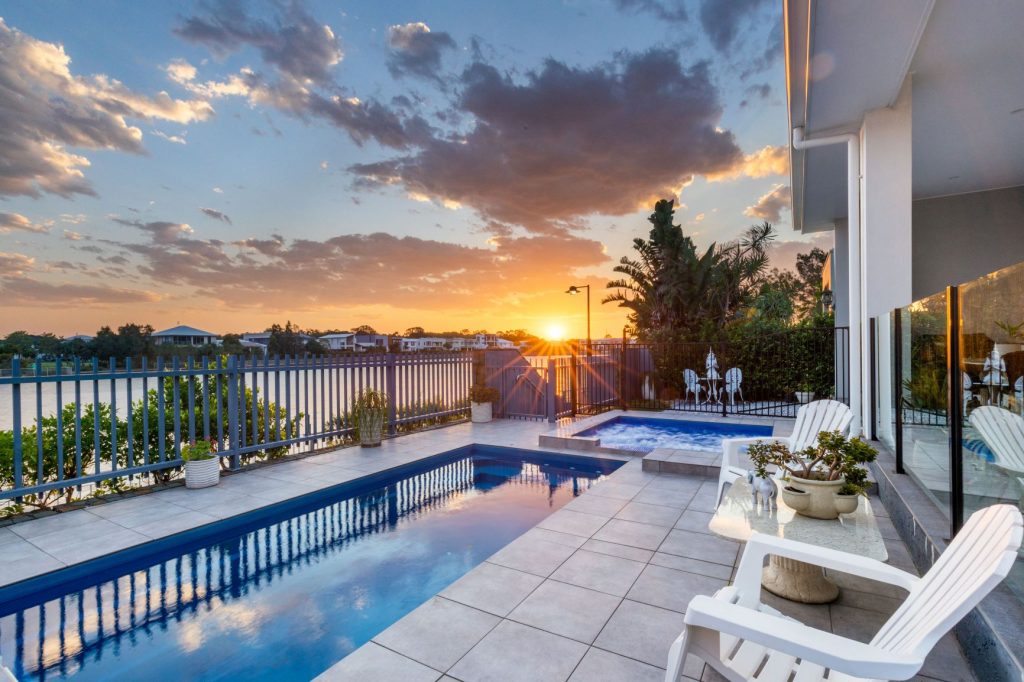 A stylish four-bedroom waterfront home in a private pocket on Birtinya Island (pictured above) set a suburb record in March at $1.47m and that was recently surpassed with a four-bedroom canal-front home selling in April for $1.665m.
Ray White Kawana consultant Dan McNamara says Birtinya/Bokarina/Wurtulla may be the new "golden triangle".
In the real estate industry for three years after an earlier career in finance and sales, Mr McNamara and his wife Sheree moved to the Sunshine Coast from Victoria 10 months ago and couldn't go past Birtinya as an emerging property star.
"I love it," he said. "We looked in Minyama, Mooloolaba, Alex Headland and they (properties) were like the prices you pay in Melbourne.
"But you get more for your money at Birtinya, Bokarina and Wurtulla."
He said Birtinya offered affordability, location and overall lifestyle appeal, being so close to  Bokarina and Wurtulla beaches, without the dense population and traffic of other more popular beachside suburbs further north.
The "direct shot right into Brisbane" using Kawana Way, Caloundra Road and the Bruce Highway was a bonus.
"You can still pick up something relatively well-priced, well-built, and you can still buy something on the water," he said.
"I had never been to this region before I moved here. We picked a place and said, 'that'll do'.
"We got everything we needed for a price we could afford."
Mr McNamara believes Birtinya has great potential – an ideal spot to base himself professionally.
But while retirees, downsizers, families just starting out, and people like himself who were relocating had recognised its growing appeal, he hadn't yet seen many established local residents across the region buying into Birtinya.
Some had ruled out the suburb as "just a big hospital", he said, not realising the calibre of homes – especially those fronting Lake Kawana – which he believed rivalled Noosa and Minyama.
Mr McNamara believes neighbouring Bokarina Beach to be undervalued, especially since shops and cafes, plus the proposed lifesaving facility, will soon join the existing playground, picnic and barbecue amenities to draw visitors from across the Coast.
"It will be a community in itself when it takes off," he said.
"Soon, you're not going to have a reason to travel to Maroochydore or Mooloolaba for those lifestyle things. It will be all at arm's length in the foreseeable future."
The Walter Iezzi Property Group launched Azzure Bokarina Beach in January, just around the corner from beachfront Oceanus – his first major development in the area.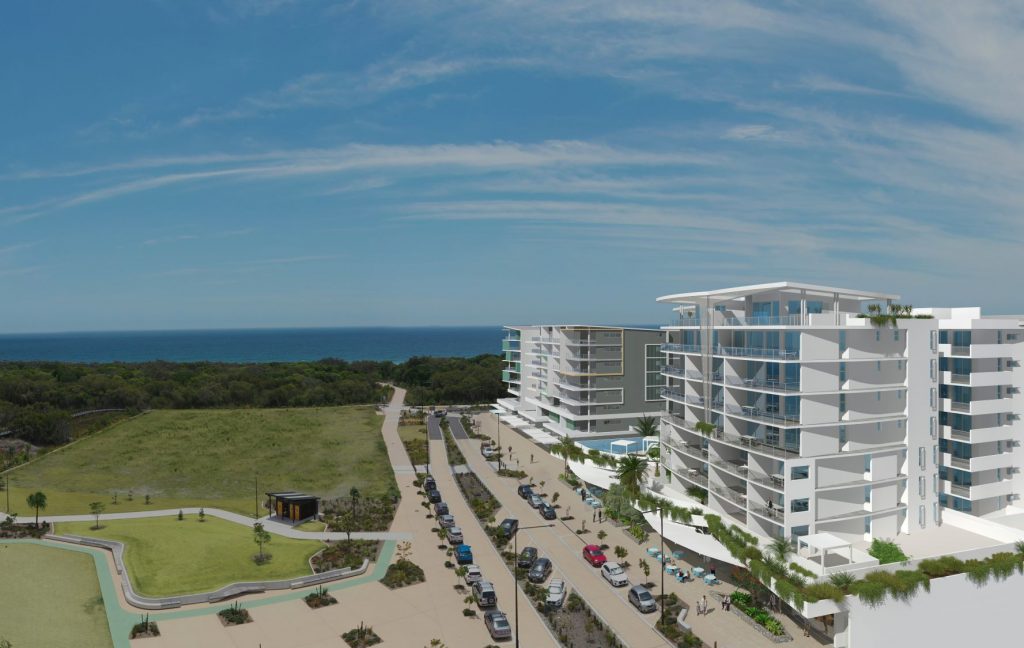 Executive property and office manager Wendy Faithfull said Azzure had achieved just over $30m in sales so far. The property offers two, three and four-bedroom apartments over eight levels.
"The majority of our inquiries are from local buyers, but we continue to have strong interest from buyers in Brisbane, Sydney and Melbourne," she said.
"At this stage, approximately 70% of buyers are owner-occupiers with 30% looking to purchase for investment.
"Buyers inquiring cover all demographics – all the way from downsizers, families looking to relocate to the Coast and even first-home buyers."
Mr Iezzi secured the second Bokarina Beach site on Bokarina Boulevard just before Christmas and, from more than 200 inquiries about Azzure, several units sold in the first week. The first was a three-bedroom unit on Level 7 for $1,850,000.
Ms Faithfull said Oceanus, on Longboard Parade, had sold out at the end of last year.
"Construction is going well and we are currently working on Levels 2 and 3," she said.
"In total, there are 101 apartments in Oceanus over the eight levels.
"The whole Bokarina Beach precinct is just so exciting."
Construction also is under way on The Clark Group's neighbouring 63 two- and three-bedroom Seanna Residences, also over eight storeys, on the corner of Bokarina Boulevard and Longboard Parade in Stockland's award-winning, master-planned community.
Stockland regional development manager Queensland, Adrian Allen, said Birtinya and Bokarina Beach were some of the state's "most prosperous and highly liveable destinations".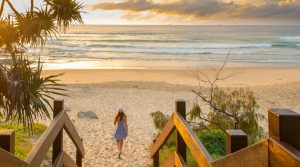 "We are constantly fast-tracking the release of land and townhomes to provide more opportunities for people to purchase their own home," he said.
"Planning is well progressed for the upcoming releases at Bokarina Beach, including a range of brand new beach homes, townhouses and apartments.
"Designed by award-winning local architects, we expect these beautiful new homes to be in high demand."
Mr Allen said the two new communities also brought a wealth of infrastructure and new job opportunities to the Sunshine Coast, with both shaping up to be major employment hubs for the region.
"They are anticipated to generate 8300 full-time construction jobs over a 10 to 15-year period and almost 16,000 additional, ongoing jobs upon completion," he said.