An online story about a house painter who became a doctor inspired agribusiness manager Kasey Webb to enrol at USC and study medicine.
Kin Kin's Kasey, who was awarded a University Medal when she received her Bachelor of Biomedical Science (Honours) at a recent USC graduation ceremony, is currently completing a Doctor of Medicine at the Sunshine Coast Health Institute through Griffith University.
"When I googled USC as my closest university, the first hit was a story about a house painter who completed Biomedical Science at USC and secured a graduate medicine place," Kasey said.
"I took it as a sign," she said. "I had always wanted to be a doctor but didn't have the opportunity straight out of high school. While I enjoyed my bank job, I had a desire to contribute to society in a way that was more meaningful to me."
The mother-of-three, who worked her way from bank teller to agribusiness manager during 22 years in the banking industry, said USC's Biomedical Science program provided her with a strong foundation in the medical sciences and the confidence to follow her aspirations.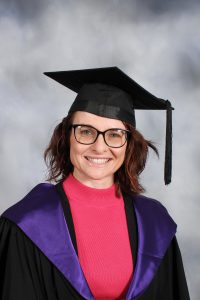 "My experience at USC was the best and most challenging four years of my life so far," said Kasey, whose perfect grade point average of 7 earned her USC's highest academic award.
"It gave me options – something which I didn't feel I had without a tertiary education – and a greater appreciation of my own capabilities," she said.
"I constantly pushed myself outside of my comfort zone and stretched my capacity. I found growth happens in that stretch."
Follow Sunshine Coast News on Facebook.
At the end of her Honours year, Kasey was offered a PhD research scholarship as well as being accepted into a Doctor of Medicine after passing the Graduate Australian Medical School Admissions Test (GAMSAT).
She also gained a part-time role as a sleep and respiratory scientist at Sunshine Coast University Hospital.
Kasey said discovering a passion for research was an unexpected bonus from her USC studies. She is expecting her first authored research paper to be published soon.
"I fell into research by sheer luck when I chose respiratory science for a 10-week placement," she said. "As an asthmatic myself, this area has always held an interest for me."
Help keep independent and fair Sunshine Coast news coming by subscribing to our free daily news feed. All it requires is your name and email. See SUBSCRIBE at the top of this article.
Her interest in this field was cemented after completing a special research project using genomic analysis to investigate the anaerobic bacterial genus Prevotella, which is found in the airways of patients with Cystic Fibrosis and chronic obstructive pulmonary disease.
"This was the highlight of my degree and led to my Honours project that I completed under the supervision of Associate Professor Erin Price and Dr Derek Sarovich at USC's Pathogen-omics Lab," she said.
"I hope my findings can form the basis of further research that has the potential to improve treatment options and outcomes for people with these disorders.
"The infectious diseases field is my passion and I hope I will be able to combine both clinical medicine and research in this area when I finish my medical degree."
Applications are open to study at USC in Semester 2. For details go to www.usc.edu.au/study