A proposed city-of-the-future at Beerwah East that could be as big as Aura is not being considered for fast-tracking by the State Government despite land supply problems in the south-east.
A vast tract of mostly pine plantation, the 3,662 hectare Beerwah East site is earmarked as a future growth area that could eventually have 20,000 homes.
However, it is not being considered by the State's Growth Areas Program as a priority for acceleration because of the high cost of getting blocks there ready for market.
Instead, the State Government has selected the future suburb of Caboolture West as the first pilot site under the program and no others are being considered.
As Sunshine Coast News reported on Friday, there is so much demand at the Coast's two existing major estates Aura and Harmony that both developments are expected to run out of land years ahead of schedule.
Developers Stockland and AVID have both called on the council and state government to start planning for new greenfield sites.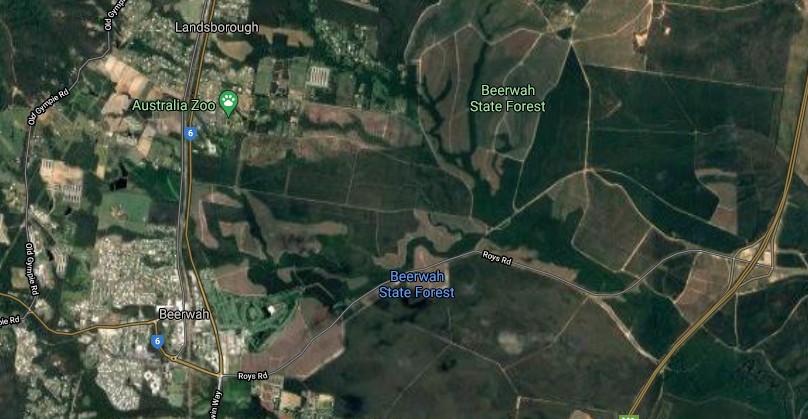 A spokesperson for the Department of State Development said Beerwah East was not a candidate for early release because of problems bringing the land to market.
"Beerwah East has, however, been identified in the South East Queensland Regional Plan, Shaping SEQ, as a major expansion area but will require significant up-front investment to allow development to be realised," the spokesperson said.
"The Queensland Government and Sunshine Coast Council have been working jointly to resolve planning and infrastructure issues to ensure its availability for urban development within the next decade."
City of the future
Sunshine Coast Council urban growth program director James Coutts told Sunshine Coast News if Beerwah East was given the green light, the first houses could be built by 2027.
"Assuming all this happens, by 2041 we would be looking at 7,000 dwellings there but it has the capacity for 20,000, almost the size of Caloundra South," he said.
The council has submitted a Structure Planning Document to the State covering details like road networks, site constraints, terrain, where to locate a town centre, fields and parks and environmental impacts.
Local journalists supporting local people. Help keep independent and fair Sunshine Coast news coming by subscribing to our free daily news feed. All it requires is your name and email. See SUBSCRIBE at the top of this article 
"Beerwah East would be a similar size to Caloundra South with its own town centre, industry and access to railway, its own employment and facilities and services you would expect like schools and what you would expect of a town that size," said Mr Coutts.
"It would be all self-contained within the area so that people would have the chance to live and work there."
Local councillor Rick Baberowski said Beerwah East would make "a serious contribution to our housing supply" while being master planned in keeping with the region's values.
"I believe the Glasshouse Country and Hinterland communities (generally west of the Bruce) see Beerwah East as critical to providing supportive growth to their community centres and viability to an absolutely essential transport corridor to take them to the Coast," he said.
"It is already supported by the region's major road and rail transport networks (ie. the Bruce to the east, the Steve Irwin Way and regional rail to the west plus major arterials to the north and south) as well as the CAMCOS corridor right through the heart of it.
Do you have an opinion to share? Submit a Letter to the Editor with your name and suburb at Sunshine Coast News via: news@sunshinecoastnews.com.au
"It would be hard to see any other greenfield site as being in a better location to take full advantage of existing and upgraded transport networks."
Issues for early consideration would include which level of government would lead the project and how to get the land to market which is currently under lease to forestry plantations.
Pros and cons of site
Beerwah East is situated on the western side of the Bruce Highway, almost directly opposite Caloundra South, and north of Roys Road.
It sits east of the townships of Beerwah and Landsborough and stretches towards the Bruce Highway.
The council wants Beerwah East, which is mostly owned by the State Government, to be prioritised over Halls Creek which abutts Caloundra South and is owned by Stockland.
Mr Coutts said Beerwah East had many advantages as a growth area from its location close to railway lines, distance from the environmentally sensitive Pumicestone Passage and the majority single landownership.
A council report comparing Beerwah East (3,662 hectares) with Halls Creek (2,426 hectares) found Beerwah was preferred because "it retains the Inter-urban Break, supports existing and planned transport infrastructure and is located higher in the Pumicestone Passage catchment and therefore is able to better absorb and manage the effects of urban development".
"Halls Creek is not recommended for inclusion as an IGA (Identified Growth Area) in the SEQ Regional Plan as it is located in the inter-urban break, does not support the State Government's investment in public transport and there would be a greater risk associated with development in this area in terms of potential water quality impacts on the Pumicestone Passage," the report stated.
Beerwah East has flat to gently undulating terrain with a number of small hills in the north-west and east and is under license for plantation forestry.
Council's report found Beerwah East would "logically 'fill a gap' for transports and directly link centres and urban development with existing and planned transport connections
such as the North Coast Rail Line and the proposed CAMCOS corridor.
"In contrast, Halls Creek IGA is located at the end of the Caloundra South development and would not promote an efficient public transport system as it does not provide a through network to other places," the report said.
"The Halls Creek IGA is also located away from the North Coast Rail Line and is less likely to support increased rail patronage."