Stockland's outgoing CEO says the Sunshine Coast is chasing housing-density targets higher than Melbourne and Perth as the council looks of ways of catering to the growing population.
Mark Steinert, who headed Stockland for eight years, said population growth was a phenomenon that could not be ignored otherwise it would "amplify its challenges and leads to community frustration".
However he warned that while higher density housing such as more apartments and townhouses was one solution that could enhance inner-city living, it could also impact culture and lifestyle.
"High levels of density in areas like South Bank, Surfers Paradise and Maroochydore in combination with middle-ring townhomes and low-rise apartment product around village centres will be an essential part of ensuring we can cater for growth," said Mr Steinert.
"But it should give pause to decision makers in local government areas like the Sunshine Coast, who are currently pursuing an infill densification target of 65%, higher than Melbourne and Perth.
"If two-thirds of new housing supply is a variation of unit living, then there are very real scenarios in the decades to come where houses make up just a small minority of new homes available.
"What does this mean for the retention of culture and lifestyle?
"The pursuit and delivery of this level of urbanised growth will radically change existing
communities and the ways in which our children and their children enjoy the outdoor and seaside lifestyle.
"The questions for the Sunshine Coast are 'what level of density allows us to keep our way of life, and grow sustainably'? and more importantly, 'do we think we currently have the right balance'?"
The Sunshine Coast is expected to hit a population of 518,000 by 2041 (the current population is about 336,482) but that target could be reached well in advance.
The state government has set a target 53,700 new dwellings on the Coast built as 'infill' by 2041, some of which could be along a future mass transit system corridor, and 33,700 on urban expansion.
Mr Steinert said infill development, which is higher-density construction within the existing urban footprint, should be part of the mix but he said there needed to also be the option of traditional housing with more space.
Mr Steinert, who has more than three decades of property and investment experience, shared his perspective with more than 140 guests at a Sunshine Coast Business Council event on Friday.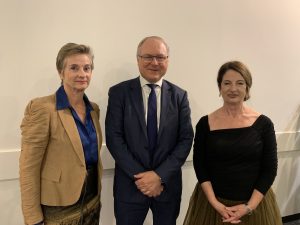 He warned that current house prices in Queensland were growing at near-record levels, squeezing affordability and driving rental vacancy towards "crisis".
"This has played-out on the Sunshine Coast, where demand for regional living has surged," he said.
"Rental vacancy has plummeted from well above 2% this time last year to below 0.5% – the lowest levels since 2005. While house prices are up around 17%.
"As a result, questions around the impact of growth have returned – infrastructure jams and housing affordability and what they mean for our way of life."
Aura ten years ahead of schedule
Mr Steinert said the Sunshine Coast's biggest greenfield development, Aura, was already ten years ahead of schedule as a surge of people migrate to the region.
The Aura master-planned community was launched in 2015 and will be a city of 50,000 people upon completion, accounting for about 25 per cent of the Coast's population growth as 2,000 people a year move in.
Mr Steinert said Stockland had experienced the region's significant growth first-hand with Aura being the fastest-selling community nationally for the past four to five years.
Stay on top of local news by receiving our FREE daily news feed. Just click SUBSCRIBE at the top of this article 
SCBC chair Sandy Zubrinich said one of the greatest problems the region would have to address would be fitting in all the new residents in a sustainable way.
Ms Zubrinich called for more investment in affordable housing and other areas that would experience major problems such as transport, communications infrastructure and social services.
"Home buyers and investors obviously recognise the potential of the Sunshine Coast, providing a great lifestyle and economic opportunities," said Ms Zubrinich.
"However the challenge we're facing now is to how to accommodate an expanding population in a sustainable way which demands attracting more investment in affordable housing, regional transport and communications infrastructure, social, health and education infrastructure and a skilled workforce."