Lovers of all things denim, country wear and vintage will soon be able to shop to their heart's content at Cooroy's annual Denim and Country Sale.
The event, organised by Lifeline Cooroy's Deb Daybell, will begin on Friday, May 7, and is the store's biggest fundraiser to support its crisis and suicide prevention hotline.
"I started it about 14 years ago in the shop, collecting denim, leather boots, leather bags," she said.
"Coming from Mount Isa, I grew up in the country, and I thought it would be good for country people to get a bargain, as country clothing can be quite expensive."
Do you have a story to share about Sunshine Coast people making a difference? Email us: news@sunshinecoastnews.com.au
Ms Daybell said she had been collecting all year for the 2021 sale, which was a great way for people to find quality brands and contribute to the recycled clothing revolution all while supporting Lifeline.
"I have a lot of vintage this year – Wranglers, Levi's, a lot of western shirts.
"I try and collect anything that is made in Australia."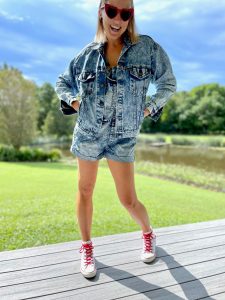 In the 14 years, the event eventually grew so big Ms Daybell held the sale in a larger hall in Cooroy in 2019, but due to the pandemic last year has been forced to revert to a three-month or "until sold out" format in the Lifeline store.
"It usually goes for about two or three months; I've got so much stock I've got to dribble it out."
In previous years, the sale had raised anywhere up to $150,000 to support Lifeline's invaluable service.
"Donations that we get in are all helping us to raise money for the counselling centre," she said.
"Every dollar you spend helps save Australian families.
"It helps the phones to be answered and supports the crisis line.
"Mental health is so difficult it often goes unheard.
Follow Sunshine Coast News on Facebook
"Through the crisis support line there is someone to talk to and give them some sort of support."
Ms Daybell said Lifeline also offered face-to-face counselling from its Maroochydore centre.
Each year more than a million Australians reach out to Lifeline for support and the 24-hour crisis support line receives a call every 30 seconds.
Help keep independent and fair Sunshine Coast news coming by subscribing to our free daily news feed. All it requires is your name and email. See SUBSCRIBE at the top of this article.
Lifeline has a network of 40 centres, 10,000 volunteers and 1000 employees, as well as 4500 crisis supporters.
Sadly, Lifeline statistics revealed nine Australians die by suicide every day, with suicide the leading cause of death for Australians aged between 15 and 44.
Ms Daybell hoped locals would show their support for Lifeline during the annual denim sale, buying pre-loved and vintage denim.
The sale begins on May 7 at the Lifeline Cooroy store at 22 Maple Street.
If you or someone you know needs help, contact Lifeline on 13 11 14.