The Sunshine Coast bowling fraternity is proud of the efforts put forward by their women's and men's teams in the Queensland Districts Sides Championships.
The women made the finals in Division 1, which was made up of the top four teams after three gruelling days of bowls.
The districts in the top four were Gold Coast/Tweed, Cunningham, Sunshine Coast and  surprise packet Tropical Far North Queensland.
The Sunshine Coast ultimately finished third, behind the strong Gold Coast/Tweed and Cunningham districts.
Their performance was a credit to their ability and this result now stamps the Sunshine Coast women as some of the best performers in the state.
The men have some good and not so good tales to tell.
During the nine games they played prior to the finals, they lost three games by one shot, two shots and four shots.
However, they caused a significant upset against Gold Coast/Tweed, who were the competition's hot favourites.
Help keep independent and fair Sunshine Coast news coming by subscribing to our free daily news feed. All it requires is your name and email. See SUBSCRIBE at the top of this article
The Sunshine Coast defeated them on all four rinks, by a total of 23 shots, and put a scare through the Gold Coast/Tweed camp.
But then the Sunshine Coast went down to the 11th-placed District of Fraser Coast.
As the saying goes, 'that's bowls'.
Division 1 was eventually won by champion Gold Coast/Tweed, who lost only once, to the Sunshine Coast.
Follow Sunshine Coast News on Facebook
The Sunshine Coast was relegated to the Division 2 finals with Moreton Bay, The Downs and Bundaberg districts.
The Sunshine Coast defeated all of them in the play-off for the Division 2 flag with an overall margin of 69 shots.
Credit's given to four leaders Brett Wilkie, Ryan Burnett, Kurt Brown and Wade Mutzelberg, and their deputies, who lifted the performance of all players.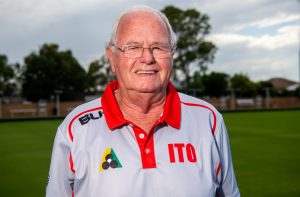 Barry Ashby (pictured) is district secretary of the Sunshine Coast Bowls Association and a leading Australian bowls official. Don't miss his weekly column in sunshinecoastnews.com.au featuring bowls news and results