The Sunshine Coast Hospital and Health Service's Hospital in the Home program has welcomed its 4000th patient.
The service has come a long way since the first patient was referred and cared for in April, 2014.
SCHHS Hospital in the Home Medical Director Dr Fiona Jackson said the initiative allowed people to receive health care with relative ease.
"HITH is a program that provides short home-based acute care as a substitute for patients who would otherwise need to be in hospital," she said.
"The level of care is equivalent to being in hospital, however it is provided in the comfort of the person's home or residential aged care facility."
"The program utilises modern health services and technology, HITH supports clients to recover from injuries or illnesses such as skin inflammations, blood clot/s in the legs or lungs, pneumonia and severe chest infections, and urinary tract infections."
To deliver HITH, the health service works in partnership with not-for-profit organisation Silver Chain Group, the country's largest in-home community health and aged care provider that helps Australians to remain independent at home.
Since 2019, HITH has also been supporting pregnant women experiencing Hyperemesis Gravidarum, or severe morning sickness.
Peregian Springs soon-to-be mother-of-four Lianne Fauvrelle (pictured) was referred to the HITH service by a doctor at the Sunshine Coast University Hospital after presenting with Hyperemesis Gravidarum.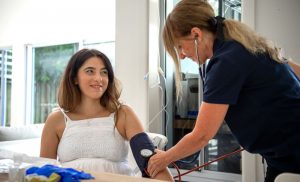 "Hospital in the Home was overall a fantastic experience, especially as I have three young children and was so sick that I could not get off the couch some days," she said.
"It would have been very difficult to have been admitted to hospital and meet my children's needs as well," she said.
"The nurses visited me twice a day at home, giving me fluids and checking I was OK, in consultation with the doctors at the Hospital. This allowed me to run my online business at the same time too. I wouldn't have been able to do it without the service."
Silver Chain Director of Clinical Operations, Sue Meteyard, said ensuring patients felt safe was also paramount, especially in this new COVID-19 world.
"Many clients have shared how safe they have felt seeing how meticulous the nurses were in providing their care," she said.
Follow Sunshine Coast News on Facebook
"We've received many comments on the professionalism, competence and compassion shared by all members of the HITH team."
"Reaching our 4000th patient is a huge achievement and we look forward to being able to give more choice to patients living on the Sunshine Coast, enabling them to receive more care in their homes".
The HITH team services patients in the Sunshine Coast, Noosa and Gympie regional council areas, providing a home visiting service seven days a week, and phone support 24-hours a day, seven days a week.
Help keep independent and fair Sunshine Coast news coming by subscribing to our free daily news feed. All it requires is your name and email. See SUBSCRIBE at the top of this article