It all started with a win.
Back in 2017, sailor Sarah Johnson was the first female at Queensland Youth Week. It was the first time she had competed in a laser radial, the class of sailboat used in the Olympics.
The rush of adrenaline that comes with using the power of the wind to propel a boat forwards and the unpredictable nature of the sport, which forces its participants to keep improving, is what sparks the Buderim sportswoman's passion for sailing.
The now-21-year-old now aspires to sail in the World Match Racing Tour.
Johnson said the move into racing laser radials four years ago was a turning point for her.
"That was a really scary thing to move into the radial, because I felt like I wasn't really ready for that yet," she said.
"I was just getting smashed in all the training … but the day before I think things kind of clicked. Then I ended up coming first female in that one, which was awesome because that was a national."
Without a lot of training and minimal coaching she was thrown into the deep end, but the win gave her the incentive to train harder and to continue to improve.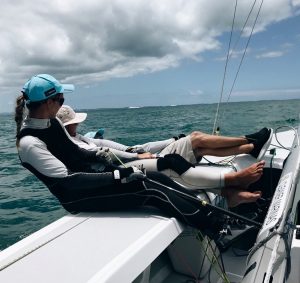 Johnson began sailing for fun when she was 12 but was introduced to the competitive side of sailing when she was 15 and she did her first regatta, Sail Mooloolaba.
Johnson soon became addicted to the feeling of being out on the water, learning to analyse weather patterns and discerning the tactics of racing.
She was invited to compete in Queensland Youth Week a few months after Sail Mooloolaba and it was only two years later that her hard work paid off and she had her first big victory at that same event.
Since the world pandemic hit, Johnson has been unable to travel and compete as much as she would have liked to.
Like stories about Sunshine Coast people doing great things? Help us deliver more by subscribing to our free daily news feed: Go to SUBSCRIBE at top of this article to register
"A lot of things have been cancelled, or it will get cancelled a couple of weeks before so yeah: it's been pretty tricky with coronavirus," she said.
Johnson will begin to train for Match Racing Nationals once competitions start up again and says she hopes to qualify for the World Match Racing Tour.
"My favourite thing about competing, particularly in sailing, would be that it's kind of anyone's game because the conditions and things can change so much during the race and it's a little bit unpredictable sometimes," she said.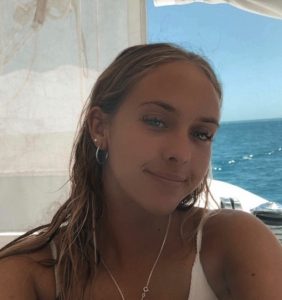 After sailing the radial for a couple of years she went off the Olympic path and began to focus on match racing.
Follow Sunshine Coast News on Facebook
"(I) really enjoy the technical aspects of it like trimming sails and trying to get the most out of the boat – just trying to find tiny little improvements that you can make to be a little bit faster than someone else," she said.
Match racing is a competition between a pair of boats as opposed to fleet racing, which is a group of more than three boats competing. Johnson is part of a team of three that sails a VX One, a smaller and faster high-performance sports boat. Johnson and her VX One team were supposed to do Kiel Week in Germany last year but the competition was cancelled due to Covid-19.
Johnson trains for match racing at the Mooloolaba Yacht Club and sails the VX One at the Royal Yacht Squadron in Brisbane. She puts up to five sessions in each week in the lead up to important competitions.
Johnson applies her ability to strategise and problem solve in other parts of her life, studying civil engineering with support from USC's High Performance Student Athlete program.
Competitive sailing is traditionally a very male dominated sport, and Johnson says that tradition continues.
"Especially I think when you kind of grow older and get into the professional yachting world most of the professionals are males," she said.
"But the female participation is increasing a lot."
This profile is part of a series on sportsmen and women in the USC High Performance Student Athlete program. The writer is a USC journalism student.