Simple and understated is the theme that beautifully ties together the contemporary design of this award-winning Mary Valley house.
A practical and family friendly home encompassing rolling green pastures as far as the eye can see, this immaculate property has been designed with liveability in mind.
Originally from Brisbane and looking for somewhere to open a dental business and raise a family, owners Adam and Sam Bradshaw purchased two side-by-side blocks in The Palms, 10 minutes from the centre of Gympie, in 2015.
"We came back from our honeymoon in 2013 and decided that Gympie was for us," Sam says.
"We wanted a block of land within 10 minutes from town, knowing that we wanted a family and that you're commuting back and forth for extracurricular as well as school activities.
"The fact that this was 10 minutes, bitumen all the way, a lovely little outlook, it was a winner."
The inspiration for their forever home was a photo Adam found of a property in the United States the couple fell in love with.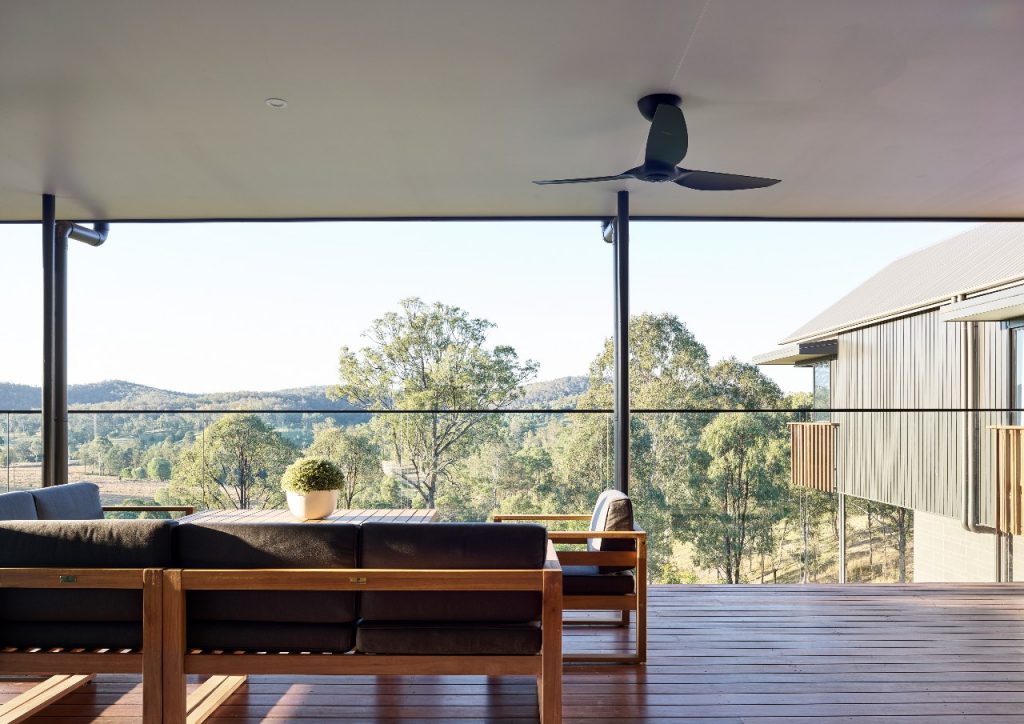 With no background in design or architecture, Adam and Sam engaged local architect Erin Wheatley to turn their vision into reality.
"We knew we wanted to do something different," Sam says. "We wanted it to be functional.
"My husband Adam had very particular views of how he perceived it to look, so when we met with the architect, he showed her the photos.
Do you have a grand design story to share? Email news@sunshinecoastnews.com.au
"There's one house in the US and I just always think of that house when I look at our house because that was the one Adam showed Erin. It was all on one level, a pitched roof, beautiful windows but really quite simple and understated.
"She came back with the concept design and it definitely took aspects of things that he liked but it was very different to what we had thought it would look like.
"You then see it all come together and it was just perfect for the space."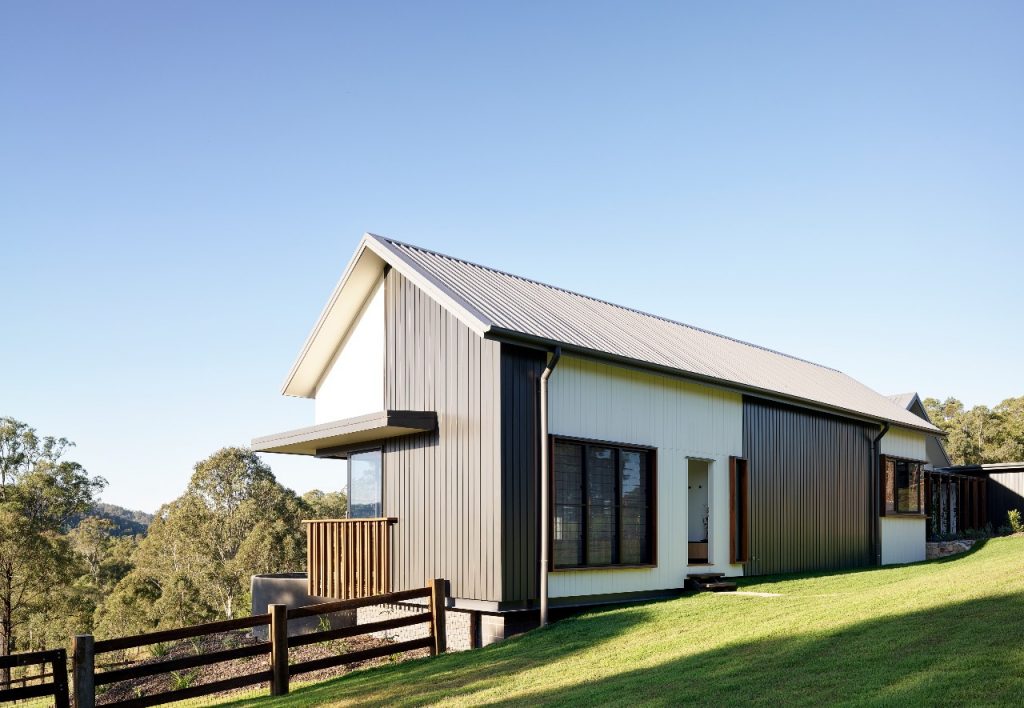 Drawing on the feel of a modern homestead, this property brings together the best of rural Australian living, especially through one of its best features: a high-pitched ceiling and exposed timber rafters.
"We love the pitch of the roof, I think it just adds that beautiful height and dimension to the house," Sam says. "We do like the timber features; I feel like it adds that bit of softness to the space."
They engaged James Anthony Construction to build their dream home.
Using locally sourced timber, some of those features include custom spotted gum collar ties, window reveals, balustrades, trellises, handmade spotted gum door hardware and grey ironbark flooring.
When designing the floorplan, the Bradshaws wanted a living space separate from the bedrooms.
"I think a lot of houses do have it nowadays, but we really wanted to have a space where when we're entertaining people [we] are just in that one area.
"We also really wanted a separation with the lounge space. I didn't want to have the TV on as white noise. I didn't want it to be a feature of the house, so to have it separated is lovely."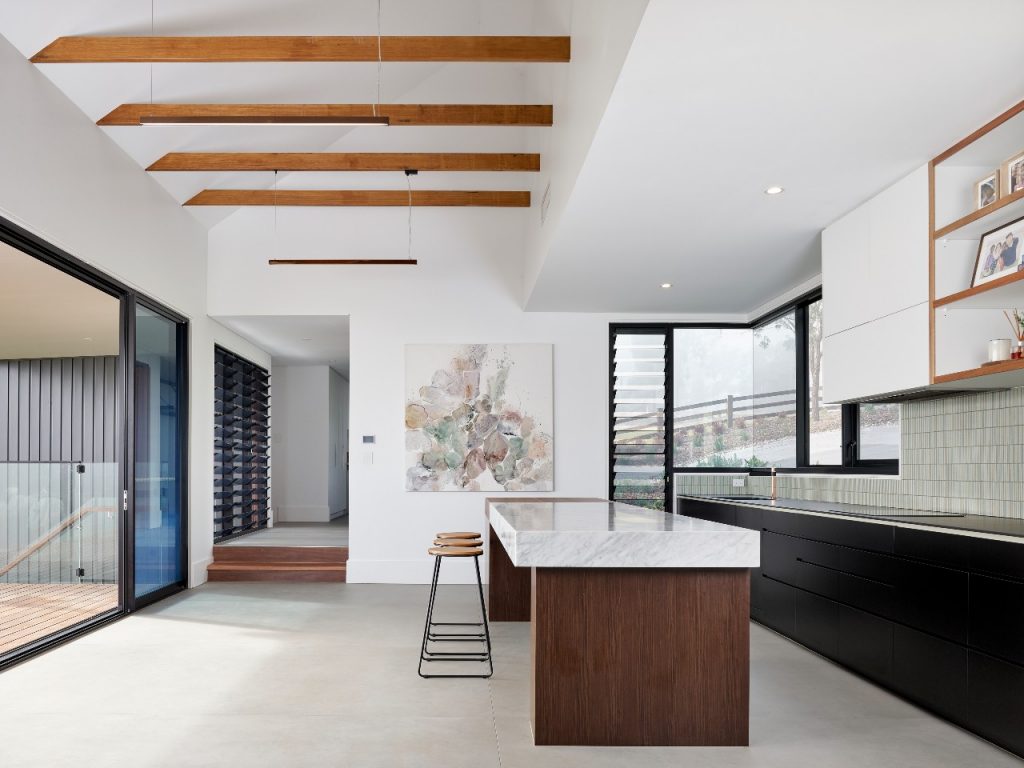 A north-facing deck overlooking the valley makes for an entertainer's paradise or relaxing spot for a morning coffee, and Sam says the family chose to include a small plunge pool rather than a large pool to keep with the theme of simplicity.
Now with two young girls, Olivia, aged three, and Sophie, almost one, the Bradshaws have built the house to be family friendly for those early years, with plenty of room to grow as they become older.
"It is very child friendly," Sam says. "There are no handles on anything; at no point do I ever worry that anything is going to be broken or damaged or that they can access anything."
Like stories about people doing great things? Help us deliver more by registering for our free daily news feed. All it requires is your name and email. See SUBSCRIBE at the top of this article
Sam says her favourite room is quickly becoming the lounge room, a cosy space set off the main entertaining area.
"I'm falling more in love with the lounge. When we first moved in, I didn't spend a lot of time in there but as we've added the little details in there I love being down there with the girls.
"We spend a lot of time in the kitchen and dining area too. It's a beautiful space for the girls to play."
The home capitalises on natural breezes and an abundance of light thanks to one of the more ingenious design aspects. Along the hallway, in the lounge room and master bedroom, sliding doors act as windows, and once opened, the timber balustrading creates a seamless indoor/outdoor space.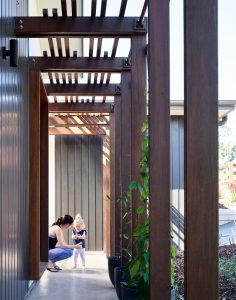 The home won the 2019 HIA Sunshine Coast Custom Built Home between $1 and $2 million award, and Sam says the 10-month build, which began in January 2018, was a surprisingly easy experience.
"We genuinely had a beautiful experience. We were both pretty relaxed going into it.
"The biggest change was probably the fall of the block. Initially we only had two steps down to the backyard, now there are eight steps plus more down to the backyard."
Sam has decorated the house herself, and while admitting she is no interior designer, her taste for simple, and warm colours of greys, blush pinks, deep greens and blues beautifully reflects the design aspects.
Perhaps one of the most striking styling features is the house's only piece of artwork, commissioned from Queensland artist Amica Whincop, who at the time lived locally.
While air-conditioning is installed for the scorching 40-plus-degree Gympie days, high-efficiency glazing on the windows and doors help manage the temperature and keep the house cool, and a solar power system is also installed for energy efficiency.
With a combined block size of about 1.7 hectares, the Bradshaws have extended their design aspect to integrate self-sufficiency where possible, irrigating water from the property's dam to water fruit trees and a vegetable garden.
A water tank has been built under the northern wing of the building and a sewage treatment plant combines to bring modern amenity to the rural lifestyle.
"It would be a goal to become more self-sufficient. Hopefully as time goes on we can be all about that."