Sunshine Coast beach volleyball talent Georgia Johnson and team-mate Caitlin Bettenay have capped a very special season with a victory on their home beach.
The 22-year-olds continued their remarkable run by winning the Queensland Beach Volleyball Tour Championships at Mooloolaba on Friday.
During their maiden Australian season, they have also won the Queensland, New South Wales and Victorian Opens, and made an impact in other events.
"It's been such a great season, especially considering it's our first proper season playing in Australia," Johnson said.
"It's been incredible and we're both proud of what we've achieved."
The duo had a four-year stint in the United States college system, where they developed their skills in division one.
Upon returning to Australia, they rapidly emerged of the best combinations on domestic circuits.
Victory in the New South Wales Open last month confirmed their status as rising stars on the Australian scene.
Like stories about Sunshine Coast people doing great things? Help us deliver more by registering for our free daily news feed. All it requires is your name and email. See SUBSCRIBE at the top of this article 
"We had some really stiff competition there and we beat some teams we had previously lost to," Johnson said.
"So we could see the progress we were making and that's really exciting."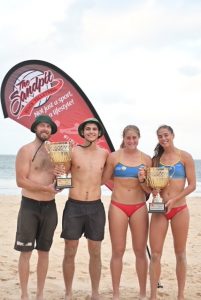 They cherished the competition at Mooloolaba, where they defeated Alisha Stevens and Jasmine Fleming in the final.
"Playing at home is always so exciting," Johnson said.
"Both of our families were able to watch us play that was really special.
"We both owe our families a lot because they've supported us incredibly."
The pair finished the season ranked first on the Queensland tour and fifth on the national tour.
"I think we've definitely turned some heads, in terms of being a new team on the circuit and making an impression along the east coast," Johnson said.
"I think our names are starting to be recognised, which is exciting for the future."
While qualifying for the Tokyo Olympics this year is essentially out of the frame, they have an eye on Paris 2024.
But for now, they will enjoy the off-season.
"We're going to take a bit of time off but will stay in the gym and then we'll be back on the sand in a few weeks and are excited to get some work done in the off-season."
Andrew Maclean and Mark Nicolaidis beat Matt Reeves and Joel Berry in the men's final at Mooloolaba.