Shaping a plan to move Coast into the future
Re SCN's article about the future of mass transit on the Sunshine Coast, solid numbers need to be available before the community can reasonably comment on the form of mass transport it prefers.
Decisions taken need to be strategic. Actually, whether the transport runs on tracks or rubber tyres, batteries or mains power, is the least of our worries.
What routes should transport services follow? Where will the Coast's population centres be located 25 plus years in the future? Where will industry and retail be located at that time? Where will the main education campuses be found? Demographic studies now are critical to future success.
How connected will the Coast need to be to population centres immediately to the north and south? Census results in 2021 will yield data for today. Investment of the size contemplated needs solid predictions based on the needs of future generations.
Does Council have transport corridors reserved across the Sunshine Coast? If not, when will land be set aside for that purpose? Should we be planning for elevated corridors to minimise land dedicated to transportation? Can future freight and parcel distribution be integrated into a people movement agenda?
Critical planning needs to ensure heavy rail, the airport, water transport and tourism mesh with local transport needs. Only a total solution must be considered. Otherwise the wastage of our finite and limited resources will rob the community of the future we deserve.
The questions will multiply as we plan a solution today fit for our children's future. It is way too early to be seduced by drawings of what tomorrow's transport may look like. First, let's get a plan we can all agree will give us a future!
JOHN BUSCH, Sippy Downs
Surely, the only people who will find it convenient to use public transport are the ones within easy reach of bus/tram/train stops at both ends of their journey.
They could be converted from car to public transport only if the timetables suit them. The rest will depend on their cars for speedy trips.
Those without cars, or access to cars, are the ones who need public transport the most, so should be the target for feedback. How should they reach their nearest departure bus stop? How do they travel from the arrival stop to their destination shop or appointment venue? Then there are the return trips.
Relieving congestion on major routes would therefore demand more frequent timetables rather than larger buses, etc. Would small buses suit? The choice of buses vs trains, etc. seems irrelevant if the timetables  are frequent.
Retirement village residents without their own vehicles already rely on Village buses for transport and must arrange their appointments and shopping around the Village bus schedules. Can that model be employed with integrated "sub" buses for the general public who are not near the transport routes?
Frequent timetables from and to everywhere should be the focus for public transport, not the type of vehicle to be employed (bus, tram or train).
KEN DOVE, Little Mountain
As a frequent public transport user I am astounded at the huge buses that are carrying usually between one and 10 passengers.
However, I think buses are the answer to the Coast's transport needs. They just need to be much smaller e.g. the size of a Toyota Coaster. Or even smaller for some runs.
Not only will they be cheaper to run and easier to manage in the traffic, but the money saved could be put to making more routes available
BEV ALLEN, Nambour
The options are numerous but still nothing providing a way to get to Brisbane if you don't drive.
It's so sad that it's only 80km away and it still takes nearly four hours to get there using the public transport system.
YVONNE WHITECROSS, Parrearra 
Warning as road fix leads to complacency
Residents of Little Mountain and Meridan Plains are no doubt pleased that with dual lanes now in operation traffic is flowing smoother and much more quickly outside the school/college on Parklands Boulevarde.
Unfortunately for me it will probably bring me my first ever traffic infringement notice in 52 years of incident free driving.
A police officer outside the service station may have caught my moment of indiscretion at school drop-off time.  Previously, I would be lucky to go through this patch of road averaging 5-10km/h.
You can never be complacent behind the wheel, so just a warning to other drivers who may relish these new conditions.
JOHN HANSEN, Little Mountain
PM needs to step up over gendered violence
While thousands of women and men rallied around Australia, and outside our national Parliament House, voicing their outrage at the gendered violence endemic not only in the Parliament but in workplaces, homes and elsewhere, the Prime Minister stayed put inside.
Mr Morrison refused to go out to meet with those at his doorstep. He was "too busy".
However, later in the week he did have time to fly to Melbourne to go to the footy. Announcing how good it was that the footy was "back", neglecting that fact that the AFLW's league has been on for weeks.
Perhaps, to his blokey way of thinking, women's footy is not real footy and is indicative of his true way of thinking. He is the prime minister for all Australians, not just himself and his footy mates.
ROBYN DEANE, Bli Bli
Clive draws fire over new plans for Coolum resort
If the protestors against development and mass transit systems are fair dinkum, they'll rise in protest at Clive Palmer's plan to turn his resort into a theme park far worse than anything the Gold Coast could imagine.
His Wonders of the World including the Trevi Fountain replica would probably be joined by the Great Pyramid and Great Wall of China among other monstrosities.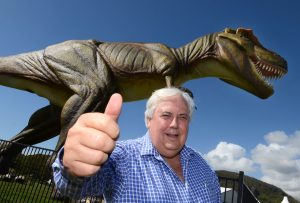 This would, in my view, be the most kitsch and embarrassing example of the expression of wealth and braggadocio that this individual could foist upon a region trying to highlight its natural attractions.
JOHN EDDS, Maroochydore
So where will Clive park the Titanic II?
BRIAN BOLTON, Twin Waters
What an extraordinarily stupid idea. Just use the money to fix the resort up. Our coastline is the wonders of the world.
MONICA CHRISTIANSSON, Plantation Retirement Resort
Do you have an opinion to share? Submit a Letter to the Editor at Sunshine Coast News via: news@sunshinecoastnews.com.au