The desperate needs of a rapidly-growing Sunshine Coast school have fallen on "deaf ears" after five years of seeking State Government funding for a new hall, its Parents and Citizens Association says.
Coolum State High School has seen a spike in enrolments since 2016 and subsequently outgrown its current hall for full school events.
To hold a school assembly is now impossible and with the estimated cost of a new facility at $10.5 million, Coolum State High School has been left with no other option than to start its own fundraising campaign.
It approached sunshinecoastnews.com.au to create awareness of the issue and seek support from the community.
Coolum SHS P&C treasurer Andrew Gorman said the current enrolment number sat at 1437 students, a jump from 800 five years ago.
"The school has just outgrown itself – that is the big problem," Mr Gorman said.
"We have this issue; we can't hold all of the school for assembly at the moment in the current hall.
"We have a hall, which is a combined basketball court and gymnasium, but you'd be lucky to get the original 700 kids in there.
"The school has been asking and asking the State Government for about the last five years (for funding) and it has just fallen on deaf ears."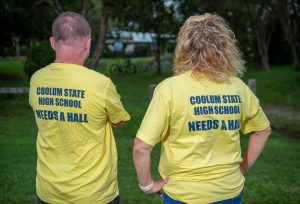 The school has been forced to hire the hall at Coolum Primary School for larger events, like awards ceremonies, and was even looking as far as Forest Glen for venues to accommodate year 12 graduation ceremonies.
Do you have an opinion to share? Submit a Letter to the Editor with your name and suburb at Sunshine Coast News via: news@sunshinecoastnews.com.au
A spokesperson for the Department of Education told sunshinecoastnews.com.au the project was on its list for future funding, but was not a high priority at this stage as it was not a classroom, or learning facility.
"The department works with principals to develop a list of priorities for new facilities at schools through a School Strategic Infrastructure Plan (SSIP)," the spokesperson said.
"SSIP proposals from all schools are submitted for consideration by the department and assessed through a prioritisation process to ensure the highest needs across the state are met."
Help keep independent and fair Sunshine Coast news coming by subscribing to our free daily news feed. All it requires is your name and email. See SUBSCRIBE at the top of this article.
It was also revealed the school received funding for a multi-million-dollar classroom block, built last year.
"The Department of Education has invested more than $14 million since the 2014-15 financial year for planning and construction of additional classrooms across the school, including a new $8.3 million two-storey classroom block completed in 2020 and now in use.
"The department will continue to work with Coolum State High School to ensure facilities cater for student growth into the future."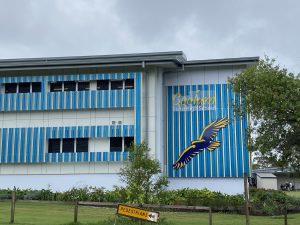 Mr Gorman said the explosion in enrolments was mainly due to population growth in Peregian Springs, which falls in the Coolum SHS catchment zone.
He said due to current area growth, the P&C expected student numbers to continue rising and potentially reach 1800 students by 2024.
While the hall would first and foremost befit the school, Mr Gorman hoped such a facility would also benefit the wider community and be hired out for functions or events.
With campaign shirts made, Mr Gorman said the P&C would now work to get the ball rolling on fundraising the $10.5 million needed for the hall.
"We are currently at square one and are looking for significant donations."
"Fundraising would take a lot of sausage sizzles to raise $10.5 million.
"We are hoping to get on someone's radar."
Mr Gorman said after a recent AGM, the P&C had created a bank account to accept tax-deductable donation and would look to organise official fundraising events in the coming months.
Enquires can be made to pandcexecutive@coolumshs.eq.edu.au.
Coolum State High School was established in 1985 and its enrolment catchment includes Coolum Beach, south to Marcoola, north to Marcus Beach and west to Yandina Creek and Verrierdale.